Texas has some of the best amusement parks in the world that offer a variety of fun and thrilling rides, as well as opportunities to interact with marine animals. The amusement parks in Texas cater to people of all ages and needs. All the parks discussed here are suitable for families with young children, just like single people.
Visitors can enjoy fun activities like traditional carnivals and modern arcade games and see and interact with marine life. Other fun games are spinning Ferris wheels and participating in thrilling rides and fascinating animal shows. Thus, there is something for everyone at Texas amusement parks.
However, before you visit any of these amusement parks in Texas, call ahead and confirm current opening times, current access fees, and other vital information. Hence, I provided the address and phone contacts of each park.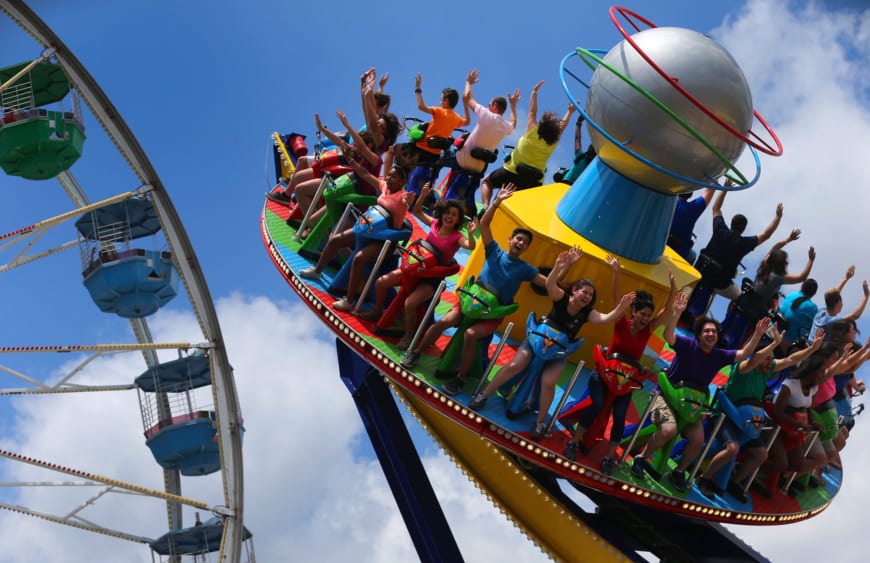 List of Best Amusement Parks In Texas
Below are the best parks in Texas for amusement and fun:
1. Splashway Waterpark & Campground
Located in the small town of Sheridan, about 90 minutes from Houston, Splashway Waterpark & Campground offers an escape from the hustle and bustle of the city. In addition to a giant water park with exciting slides, wave pools, and lazy rivers, the park offers a variety of other activities, including fishing, kayaking, and mini golf. Visitors can stay in one of the onsite cabins or bring their RV or a tent to the park. While at the park, visitors can buy food and other necessities at the general store, restaurant, or playground.
Address: 5211 Main St, Sheridan, TX 77475.
Phone: 979-234-7718.
2. Kiddie Park
Kiddie Park, built in 1925, is the US's oldest children's amusement park, with most of the original rides still running. You can find a colorful carousel, a flying saucers ride, and a mini Ferris wheel, among other ride games. This collection of children's rides makes this park one of the most favorite amusement parks in Texas for children.
Also available are traditional carnival games, modern arcade games, and face painting on weekends. To participate in these ride games, you need a participation ticket sold at the park. If you need food and drinks, you can easily buy them at the park's snack bar.
Address: 3015 Broadway St, San Antonio, TX 78209.
Phone: 210-824-4351.
3. Galveston Island Pleasure Pier
Galveston Island Pleasure Pier dates back to the late 1940s, initially intended for military entertainment. After being severely damaged by Hurricane Ike in 2008, the pier underwent careful reconstruction. It reopened in 2012, retaining its nostalgic feel while offering exciting rides like a roller coaster with four full inversions and a sea dragon ship swings riders out over the water. The pier also boasts an excellent selection of midway-style games, restaurants, and shops.
Address: 2501 Seawall Blvd, Galveston, TX 77550.
Phone: 855-789-7437.
4. Schlitterbahn Waterpark & Resort
If you're looking for the best amusement parks in Texas with a vast collection of fun activities, this is the park to visit. With locations in New Braunfels and Galveston, Schlitterbahn Waterpark & Resort is one of Texas's most popular water parks. Both sites have various water slides and attractions for visitors, including a unique uphill water coaster, a wave pool, and a lazy river. The parks also have several onsite restaurants, cabanas for rent, and plenty of areas for sunbathing and relaxation. Also, the park has cozy cabins or hotel rooms where visitors can stay.
Address: 305 W Austin St, New Braunfels, TX 78130.
Phone: 830-625-2351.
5. Wonderland Amusement Park
Wonderland Amusement Park in Amarillo, Texas, is a smaller park perfect for families with younger children or those who prefer a more low-key amusement park experience. The park has a variety of classic rides like bumper cars, a Ferris wheel, and a merry-go-round, as well as a small selection of thrill rides. There is also a park section dedicated to carnival games which visitors can participate in by purchasing tickets.
Address: 2601 Dumas Dr, Amarillo, TX 79107.
Phone: 806-383-3344.
6. Sandy Lake Amusement Park
Opened in 1971, Sandy Lake Amusement Park is a classic park with a laid-back, old-fashioned feel. The park offers a variety of rides for all ages, including a Ferris wheel, a tilt-a-whirl, and a small roller coaster, as well as several attractions like a miniature golf course, a petting zoo, and a paddleboat lake. Visitors are not required to pay an admission fee to enter the park. However, to participate in some activities within the park, visitors would have to buy tickets.
Address: 1800 Sandy Lake Rd, Carrollton, TX 75006.
Phone: 972-242-7449.
7. ZDT's Amusement Park
ZDT's Amusement Park is a small family amusement park located in the small town of Seguin, Texas. Arguably, this is one of the amusement parks in Texas suitable for families. The park's most popular attractions include a wooden roller coaster and a high-energy trampoline attraction. Also, there is a special water coaster that combines the excitement of a roller coaster with the thrill of a water slide. There is also a small selection of carnival games and a miniature golf course. Also, visitors can buy various snack foods and beverages at the park.
Address: 301 W Kingsbury St, Seguin, TX 78155.
Phone: 830-386-0151.
8. FunPlex Houston
FunPlex in Houston, Texas, is a family-friendly park with various attractions for visitors of all ages. The park offers classic rides like a Ferris wheel, a carousel, and a Tilt-a-Whirl, as well as several water rides and a small roller coaster. It also has a mini golf course and a place to play carnival games. Visitors can purchase single tickets to participate in specific events or get full-access, all-day access tickets to participate in all activities at the park.
Address: 13700 Beechnut St, Houston, TX 77083, United States.
Phone: +1 281-530-7777.
9. Six Flags Over Texas
Six Flags Over Texas, located just 15 miles outside of Dallas, Texas, is the first Six Flags theme park in the US, occupying a vast 212-acre property. Six Flags Over Texas will entertain visitors with over 100 thrilling rides, shows, and attractions. Like, Kiddie Park, Six Flags Over Texas is one of the famous amusement parks in Texas cherished by children. Among the park's unique roller coasters are the Joker, a free-fly coaster, and the Titan, a hypercoaster. There is also a special children's area with rides suitable for children. Also, live shows are held regularly at the park to keep visitors busy between rides. 
Address: 2201 E Road to Six Flags St, Arlington, TX 76010.
Phone: 817-640-8900.
10. Morgan's Wonderland
Morgan's Wonderland was founded by Gordon Hartman, who envisioned a place where anyone, with or without disabilities, could play easily. Morgan's Wonderland is the only ultra-accessible theme park in the US because everyone can easily access it, including people with disabilities.
At Morgan's Wonderland, visitors can enjoy entertaining rides and attractions as singles or families. The park's top side attractions and activities are the Off-Road Adventure Ride, Pirate Island playground, Water Works water fight, and the Whirling Wonder Ferris Wheel. Morgan's Wonderland is one of Texas's highly loved amusement parks for promoting the culture of inclusion of all people. As such, it gets massive visits every year.
Address: 5223 David Edwards, San Antonio, Texas 78233.
Phone: 210-495-5888.
11. Six Flags Fiesta Texas
Six Flags Fiesta Texas is a thrilling amusement park that opened in the early 1990s. Currently, it has around 40 exciting ride events. If you're looking for amusement parks in Texas with antique collections, visit Six Flags Fiesta Texas. The park is split into five sections: a 1920s-style Western town, a German theme village, a boardwalk, a 1950s theme area with a fictional high school, and an area known as Los Festivales, which hosts the park's most popular summer shows. Other popular attractions at the park include The Goliath roller coaster, a 4D Batman-themed roller coaster, and a whitewater rapids ride arena.
Address: 17000 IH-10 West, San Antonio, TX 78257.
Phone: 210-697-5050.