Los Angeles (LA) has some of the most exciting amusement parks in the world. From Disneyland to Universal Studios Hollywood, these parks offer visitors thrilling rides, interactive games, aquatic parks, picnic gardens, and hotels for relaxation.
LA attracts millions of visitors worldwide every year, all eager to experience the magic and thrill of its amusement parks. In this article, I show the top amusement parks in Los Angeles, from Disneyland to Universal Studios Hollywood. In the article, I discuss the opening hours, location, and entrance fees each park charges. Also, these parks are all wheelchair accessible.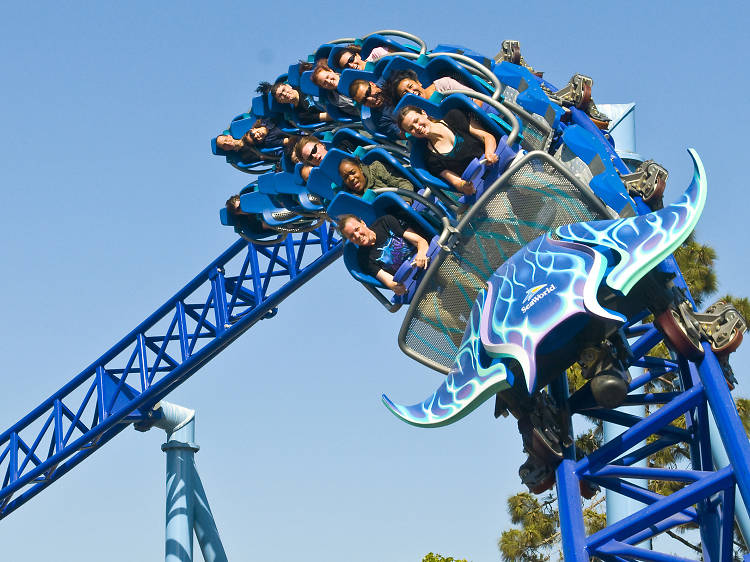 Top Amusement Parks In Los Angeles
Below are the amusement parks in Los Angeles:
1) Universal Studios Hollywood LA
Universal Studios Hollywood LA is a film studio and amusement park on Universal City County Island, California. It is one of the trending amusement parks in Los Angeles. Visitors can tour the exclusive Universal Studios sets to understand how movies are produced. Universal Studios Hollywood LA is the foremost studio theme park among many full-fledged Universal Studios Amusement parks operating globally. The historic and renowned Hollywood Film Studios is famous for its exciting, thrilling rides and attractions, including the Harry Potter and Simpsons Rides.
One-day pass at $84 per adult and $76 per child (3 years or below)
Mon to Fri from 10 A.M. to 5 P.M. and Sat to Sun from 10 A.M. to 5 P.M.
2) Disneyland LA
Disneyland LA is a renowned amusement park in Anaheim, California, half an hour southeast of Los Angeles. There are two parks in Disneyland LA – the traditional Disneyland Park and the California Adventure Park. These places provide visitors with magical experiences and an opportunity to have fun with the whole family.
Various admission tiers ranging from $153-$209 per person
Tier prices depend on the visitor's age and the day of the visit
3) Six Flags Magic Mountain
Six Flags Magic Mountain, located in Santa Clarita, California, offers a world of top-notch roller coasters and over 100 rides. This 262-acre amusement park is among the amusement parks in Los Angeles that provide visitors with a unique and thrilling experience with its state-of-the-art rides and entertainment.
One-day tickets at $92.99 per adult and $59.99 per child
Open on any day of the year
4) Knott's Berry Farm
Knott's Berry Farm is located in Buena Park, California. It started as a small roadside berry stand & Chicken dinner restaurant but has grown today into a world-famous amusement park in Southern California. This park offers exciting rides, shows, and attractions suitable for families with children.
Regular admission prices of $55 for adults and $49 for juniors and seniors
Closes at 6 P.M. daily, except during Halloween haunt
5) Legoland California Resort
Legoland California Resort, located in Carlsbad, California, is an interactive destination offering a fantastic amusement park experience for children ages 2 to 12. The park has more than 58 rides, hosts several shows, and houses the Sea Life Aquarium and the world's first Legoland Water Park. It is among the best amusement parks in Los Angeles for children.
One-day admission tickets at $95.99 for adults and $89.99 for children; second-day upgrade available at $30
6) Pacific Park
Pacific Park is an amusement park located on the Santa Monica Pier in Santa Monica, California. The park has around twelve rides, including a roller coaster and a solar-powered Ferris wheel. In addition to rides, there are also restaurants and other games on site. Pacific Park is the only amusement park on the United States West Coast located on a pier and the only admission-free park in Los Angeles. The park is wheelchair accessible and is family and kid-friendly.
Operating Times/Days: The hours of operation vary depending on the season, but generally, the park is open from 11 A.M. to 5 P.M. on Mondays through Thursdays and from 11 A.M. to 7 P.M. on Fridays through Sundays.
7) Aquarium of the Pacific
Aquarium of the Pacific is one of the most attractive amusement parks in Los Angeles that showcases different exhibits and marine life in the Pacific Ocean. Visitors can explore and learn about the various ocean habitats in Southern California, Baja California, the North Pacific, and the Tropical Pacific.
One of the highlights of the aquarium is the Shark Lagoon, where visitors can come face-to-face with some of the ocean's ultimate predators. Additionally, visitors can hand-feed lorikeet birds and interact with other marine life exhibits. Overall, this amusement park offers visitors a unique and educational experience for visitors of all ages who want to learn more about the wonders of the Pacific Ocean.
8) Raging Waters
Raging Waters is a water amusement park located in California, USA. The park is located north of Pasadena and near Pomona and is the largest water park in California (50 acres). Raging Waters aquatic recreation area offers visitors a variety of water attractions and activities. The top water activities that visitors can engage in are water slides, speed slides, rides, chutes, lagoons, children's activity pools, and beaches for sunbathers. The park is open during summer, and visitors can enjoy a fun-filled day with family and friends.