Discover the most beautiful beaches in the world.
The picture of a really beautiful beach is not difficult to conjure. A beach is one of the few places on Earth where beauty is both inexcusable in its presence and limitless in its reach. Most everyone loves the feel of crispy sand under their feet, the forever flung blue water of the sea, and where there are palms, there are bikinis, shorts, and glasses of pinna colada – the surfs not so far behind. Seems like every beach has got its own distinct and peculiar allure.
Top 10 Most Beautiful Beaches in the world
There is a dash of rocks and green-capped hills about some beaches, does it make them more beautiful than others? Well, we've seen some awesome beaches but we'd leave the ultimate judging to you while we present to you our ten most beautiful beaches.
1. Anse Source D' Argent, Seychelles
Here at this beach, Flora (not a lady, please) meets fauna in a most alluring alliance. The sands are so white it sparkles, and the granite boulders look like they'd drive out to sea any minute in this picture-perfect place of dazzling charm. This beach is on the island of La Digue, Seychelles. You'd need a camera for your time on this beach, with the many species of birds and the giant tortoises that roam its sands. It's the ideal beach to make memories of.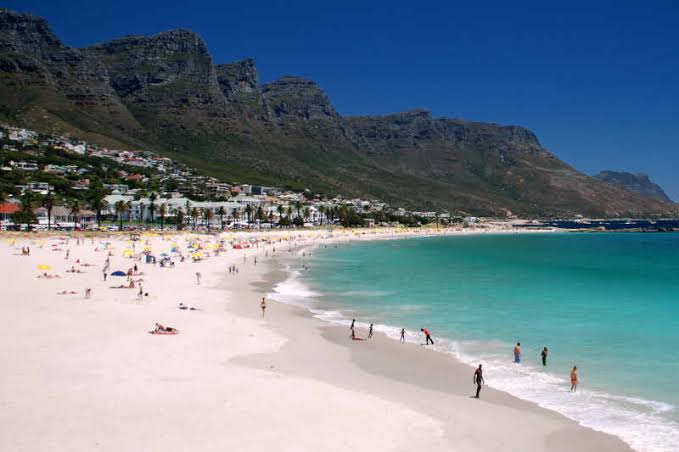 This beach is so beautiful Apple had to feature it in the advertisement for Watch Series season 4. And why not? Every holiday season the beach is flooded with visitors from around the world and South Africans alike.
Camp Bay has been a Blue Flag Beach since 2008, and it has continued to meet the standards of the organization that oversees such tourist places in the world. So take our word for it when we say camp Bay will wow you. It is hedged against the Atlantic by the Twelve Apostles mountains, the sand is dotted here and there with copper brown rocks and the sea is, O so blue. When the tides come in they bring with them the very breeze that makes the beach not just beautiful but cool to visit. And maybe you might run into the Supersport United midfielder, Dean Furman who lives in the area.
3. Polihale Beach, Hawaii USA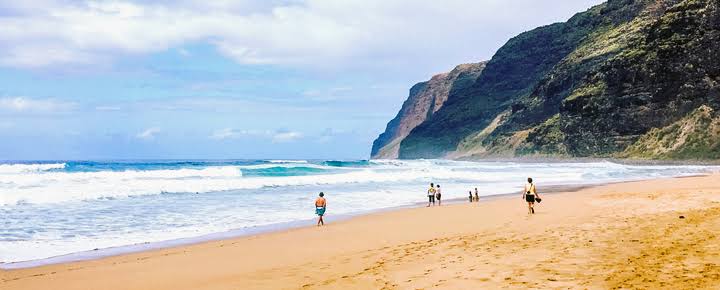 This beach is many miles long yet only the area of it that is known as 'Queens Pond' is safe for swimming. But we don't mind now, do we? That little slice of paradise is just enough to have this quaint beach on our list of fave beaches. Admittedly, to get to that piece of paradise you need an SUV preferably. Yet it is a well-known truth by all lovers of good and beautiful places that a combo of rich blue sky, turquoise sea, and a spread of white sand is enough to make a holiday unforgettable.
4. Maya Bay, Koh Phi Phi Thailand
The Maya Bay will always be a beauty to behold, it's clear waters and white sand so, unlike any other beach in the world. It is no wonder that the beach was used for the Leonardo De Caprio film The Beach. Up to 5000 people were visiting the beach every day – endangering the coral – before it was closed to be reopened in 2023. Maya Bay is one of a group of other ways in the archipelago.
The bay is stunning, hedged in by cliffs on three sides, sands, clear water through which it is impossible to miss the spectral Vista of coral down below. Snorkeling and kayaking are excellent throughout the bay, large water boulders encrusted with coral and brightly colored fish are numerous. Most tour agencies haul visitors to the bay to snorkel from nearby Phuket, Krabi, and Phi Phi Don. Also popular is sea kayaking. In all this beach promises so much fun.
5. Long Beach, Vancouver Island Canada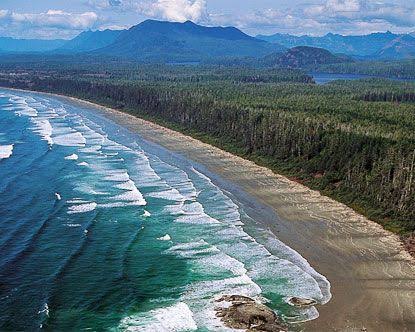 Long Beach will take your breath away. It is the longest and largest beach on the pacific rim, and that counts for something if you ask us. For a beach enthusiast, it is especially a must-see. It provides some of the most beautiful scenic views any beach attendee may ever find. It is located on Wickaninnish bay between Tofino and Ucluelet and hedged around by campgrounds and picnic areas. It is also one of the most popular surfing spots you can find, and that's what it's been on the Pacific benefits it.
Here are some warnings though about the long beach; it's ringed around with great swells. During storms, swimmers are advised to stay ashore as some have been known to drift too far out on account of the swells. Driftwoods are a common sight as well. Getting hit by one while swimming isn't cool at all Unsupervised swimming is discouraged and considered dangerous. Park visitors have been swept off shorebound rocks during storm season and for this reason, beach access is restricted during heavy storm weather. Yet long beach offers all the beauty of beach experience.
6. Baia Do Sancho, Fernando De Noronha Brazil
This is one beach that's too enchanting not to make it into this list, so all beach lovers have got to learn to pronounce that name. Baia Do Sancho beach is located in Brazil, found in the archipelago of Fernando De Noronha and when we say this beach is exceptional, you have either got to take our word for it or believe the World Health Organization which voted the beach a UNESCO World Heritage Site.
Brilliant blue waters backed by cliffs robed in forests, visitors either descend the cliffs to get to the beach or they have to arrive by boat – choose your arrival method. But we can bet top dollar that visitors love it still – this warm-up exercise before hitting the waves with surfboards. Some of the attractions for divers include the green and hawksbill turtles, whales, lemons and reef sharks, clownfish, anemones, and parrotfish.
Visitors get to pay a fee to be at this beach. But not to worry about this payment covering not just the chance to use the beach but since the beach is only a part of a larger park, visitors get to enjoy a full package.
7. White Havens Beach, Queensland Australia
Along the Whitsunday island Australia you'll find this 7 kilometer stretch of a thoroughly beautiful island. Visitors get here by boat, seaplane, or by helicopter. In 2008 it was awarded Queensland's cleanest beach. No pets are allowed and visitors can't smoke. It's got some of the purest sand on this planet  – a whopping 98% pure silica.
One amazing thing that gets us off with this beach is no matter how hot the sun is you can walk barefoot on it because the sand never retains heat. Wow. Every beach lover knows what that means – longer hours outdoor. A warning though; the sand on this beach is so fine that it can damage electronic devices like mobile phones and cameras. Visitors often polish their jewelry with the sand though.
There's one more reason to visit the beach in November —The Whitehaven Beach Ocean Swim. It is a 2-kilometer open swimming competition held every year as part of the Hamilton Island Triathlon. There is a lot to do at the beach other than swimming in the waters or walking on the bright white sand. Visitors often have picnics on the beach and BBQ parties. Why don't you get here this holiday, sink your feet into the sand, and wade in the water for an unforgettable experience?
8. Grace Bay, Turks & Caicos
Named after a former commissioner's wife Grace Bay is part of the Princess Alexandra National Park. Found in the Northeast of Providenciales this pristine beach is one good reason that makes visitors come to Turk and Caicos Islands. The beach prides itself on such rare facts as there were no rocks, no seaweeds nor pollution, and the water is so clean. The whole 4.8km of sand is consistently neat and pure. One top way to get a great view of Grace Bay is parasailing.
Unfortunately for snorkelers their so much sand that it isn't so easy to do this sport at the bay. There are no reefs nor snorkeling sites with the reach of Grace Bay. We'd like to say here that the Bay often suffers setbacks in security, and it's only from boats. Sometimes boatmen are lax in this regard so we advise that if you're visiting you should be wary of these guys. They'd knock you down in the water real good if you aren't looking. But of course, this in no way dampens the very essence of beach life in Grace Bay. We recommend, highly.
We'd like to remind you first that Greece is listed as one of the friendliest countries in the world. So, how's this got anything to do with beaches? Well, tourism!
Navagio means shipwreck, and the beach got its name from one that occurred in 1980 when a Freightliner ran aground on the island of Zakynthos. That ship, whatever way it's cargo, was left behind by its occupants and is still there getting busied under deposits of limestone gravel.
Around April 2019 this beach was reopened to the public but with rules. But has rules ever hampered enjoyment at beaches? The beach is enclosed in the ring of a hill, it's is a cove. In that semicircle of the hill there is the sand of the beach and on it is rusting brown hull of a ship. Visitors take boat rides into the cove to enjoy their holiday. The dark past of that beach does nothing to its beauty.
10. Tulum Riviera Maya, Mexico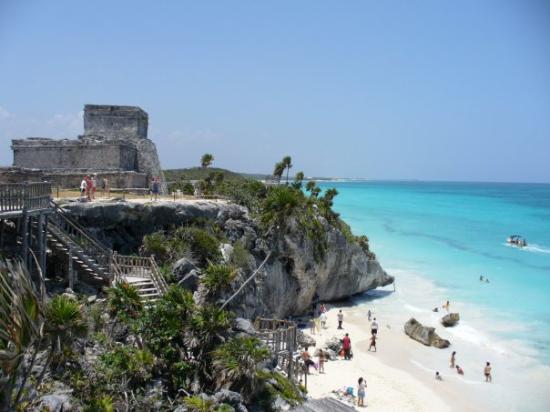 Here is one of the most interesting places on Earth according to Flashacademy. What makes the Tulum Riviera Maya beach stand out in this lineup is that visitors get to learn new things while having fun. And what'd they say about all play no work? Well, nothing yet. And that's why we are doing it at Travelguidea. The Riviera Maya is a tourist district south of Cancun, Mexico. Some of the attractions to this beach include snorkeling, jet skiing, scuba diving, swimming with dolphins, and sailing.
But what sets Tulum apart from the other beautiful beaches is the proximity to some of the most fascinating Mayan ruins in the city of Mexico. Visitors get to see the ruins of an ancient walled city, and feel the past come alive in the present while enjoying the environment. Tulum leaves visitors feeling exhilarated at the depth of memories in Mexico. We'd like to say this beach will rub off you, you can't help it.
And here we have an inexhaustible list of the world's most beautiful beaches. How did we come with this list? Well, next time you visit any of these beaches on your vacation how about you do the world a huge favor and take notes in a diary or something. Your documentation is on the list, hey. And it's the least you can do, hey.