There are many attractive places to visit in Lagos. Lagos is a bustling city in Nigeria; it offers and gives visitors an array of exciting places and attractive places to explore. Whether you're looking for a relaxing day at the beach, a taste of the city's rich history and culture, or a fun-filled night out, Lagos has something superb for everyone.
One of the top attractions in Lagos the former capital of Nigeria is the iconic National Museum, which boasts a wide collection of Nigerian art and artifacts. For those who love and cherish the outdoors, Lagos has a plethora of beaches to choose from, including the popular Bar Beach and Elegushi Beach. These picturesque stretches of sand offer visitors the chance to soak up the sun, swim in crystal-clear waters, and enjoy a variety of water sports.
For a taste of Lagos' vibrant nightlife, head to Victoria Island, where you can find an abundance of trendy bars, nightclubs, and restaurants. In other words, the area is a hotspot for locals and tourists alike, and there's always something going on, from live music performances to comedy shows.
10 Top and Attractive Places to Visit in Lagos
Lagos is a city that is very busy and can never sleep with endless attractions and activities to keep visitors entertained. Whether you're a culture buff, a beach lover, or a party animal, Lagos has something that will capture your heart and leave you wanting more.
Below are the top 10 attractive places to visit in Lagos: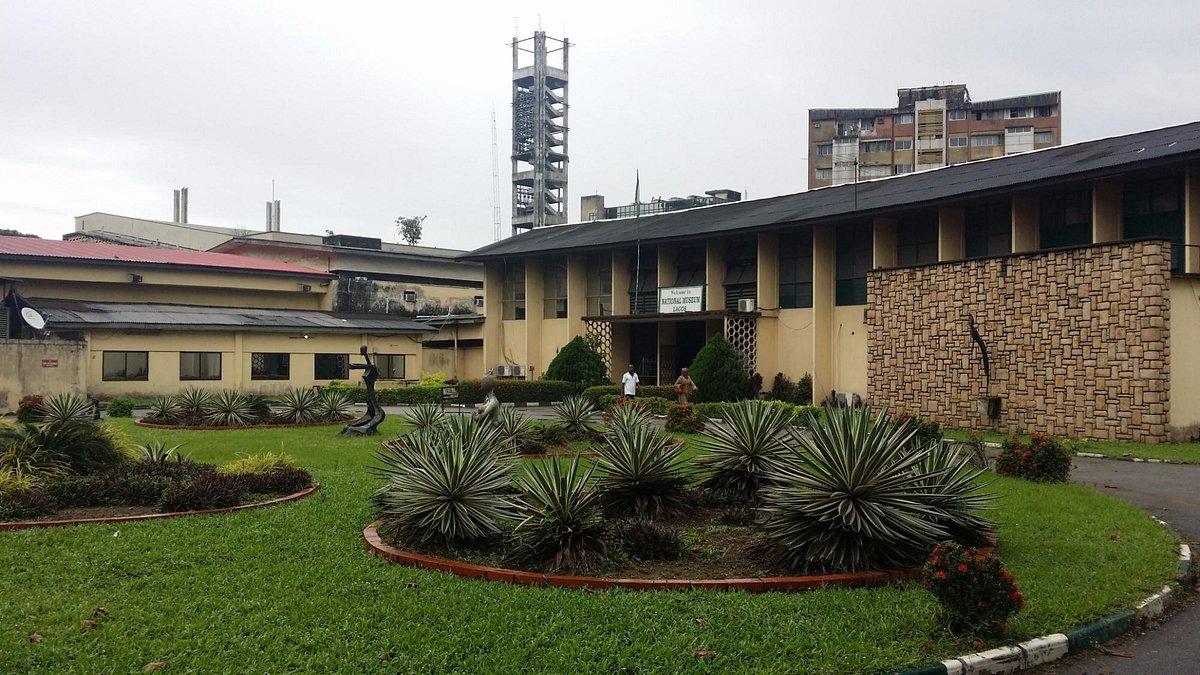 1. The National Museum Lagos
Located on Lagos Island, The National Museum, Lagos is a must-visit and interesting destination for history lovers. The museum showcases the history of Nigeria, from prehistoric times to the present day. You can learn about Nigeria's diverse cultural heritage and view a wide range of exhibits, including traditional arts and crafts, archaeological artifacts, and contemporary Nigerian art.
Address: Awolowo Road, Onikan, Lagos Island.
2.Lekki Conservation Centre
In case you are looking for a comfortable and peaceful escape from the hustle and bustle of Lagos, head to Lekki Conservation Centre. The reserve is home to a variety of wildlife, including monkeys, birds, and reptiles, and you can now explore the beautiful natural scenery by walking along the treetop canopy walkway, which is the longest in Africa.
Address: Lekki Conservation Centre Road, Lekki Peninsula II, Lekki, Lagos.
3. Nike Art Gallery
Art enthusiasts will love the Nike Art Gallery, which is one of the largest and most beautiful art galleries in Nigeria. The gallery showcases a large range of traditional and contemporary Nigerian art, including paintings, sculptures, textiles, and beadwork. You can also take part in workshops and classes to learn about different art forms and techniques.
Address: 2, Elegushi Road, 3rd Roundabout, Epe Expressway, Ikate Cross Road, Lekki Phase 1, Lagos.
4. Terra Kulture
Terra Kulture is a traditional and cultural center that celebrates Nigerian great art, music, literature, and cuisine. It is one of the top tourist centers in Lagos, Nigeria. You can watch live performances, and attend book readings and art exhibitions to enjoy delicious Nigerian food at the on-site restaurant. The center also offers language classes, dance lessons, and other cultural workshops.
Address: Plot 1376, Tiamiyu Savage, Off Ahmadu Bello Way, Victoria Island, Lagos.
5. Elegushi Beach
Elegushi Beach is a popular destination for locals and tourists alike. It is among the most attractive places to visit in Lagos. You can relax on the white sandy beach, swim in the clear blue waters of the Atlantic Ocean, and enjoy delicious seafood at one of the many beachside restaurants. The beach is also a great place to watch the sunset.
Address: Ikate Elegushi, Lekki Phase 1, Lagos.
6. Freedom Park Lagos
Freedom Park Lagos is a public park that was built on the site of a former colonial-era prison. The park offers beautiful gardens, fountains, and sculptures, as well as a museum that tells the story of Nigeria's struggle for independence. You can also attend special concerts and cultural events at the park's open-air amphitheater.
Address: Hospital Road, Old Prison Ground, Lagos Island.
7. New Afrika Shrine
The New Afrika Shrine is a cultural center and music venue that was built in memory of Nigerian musician Fela Kuti. You can enjoy live music and dance performances, sample Nigerian cuisine at the on-site restaurant, and learn about the history of Afrobeat music at the on-site museum.
Addresses: 1, NERDC Road, Agidingbi, Ikeja, Lagos.
8. Tarkwa Bay Beach
Tarkwa Bay Beach is a nice secluded beach that can only be reached by boat. It is an awesome place to relax and enjoy the sweet, natural beauty of Lagos. This is one of the most attractive places to visit in Lagos where you can swim, sunbathe, and explore the rocky shoreline. The beach is also a popular spot for water sports such as kayaking and jet skiing.
Address: Tarkwa Bay, Lagos.
9. The Cathedral Church of Christ
The Cathedral Church of Christ is a historic Anglican church that was built in 1869. The church features beautiful stained-glass windows, intricate carvings, and a towering bell tower. You can attend a service or take a guided tour to learn about the history and architecture of this iconic Lagos landmark.
Address: Marina Street, Lagos Island.
10. Lagos Island Market
Lagos Island Market, also known as Balogun Market, is one of the biggest and busiest markets in Lagos. Here, you can shop for a longer range of goods, including traditional textiles, jewelry, and souvenirs. The market is a vibrant and well-known also colorful place to explore but be prepared for crowds and haggling.
Address: Lagos Island, Lagos.
There are many attractive places to visit in Lagos and you've seen some of them in this article. In conclusion, Lagos is a beautiful busy city that offers lots of wealth and attractions also experiences for visitors. From cultural landmarks to natural beauty, there is something for everyone in this vibrant and dynamic city. So, whether you are a history buff, an art lover, or simply looking for a comfortable and relaxing beach vacation to cool your head then, Lagos is the perfect destination for you.