Welcome to this article on the 10 best Chinese restaurants in Abuja. Abuja is the administrative capital of Nigeria. It is a bustling modern and serene city with some of the best food and culinary services in Nigeria. One prominent feature of Abuja's hospitality industry is the presence of beautiful bars and restaurants. These nice eating outlets have made Abuja one of the best dining destinations in Africa. Among the many food outlets are Chinese restaurants that sell mostly Chinese cuisines and a few other meals from other climes including Nigeria.
The presence and impacts of Chinese restaurants in Abuja are huge as the city is dotted with some of the top Chinese restaurants which are not hard to spot. These restaurants serve traditional Chinese, westernized, intercontinental, and Nigerian dishes. The meals are served in abstract dining settings which make for an exciting stay while taking a meal.
10 Best Chinese Restaurants in Abuja
Below, I cover some of the best Chinese restaurants in Abuja. I have also included the exact locations of these restaurants in Abuja as well as their opening and closing times.
(1) Chopsticks
Chopsticks offer the best noodles which are mostly garnished with a variety of vegetables.  It is one of the best Chinese restaurants in Abuja with a huge collection of Southeast Asian dishes.
Address: 56 Mississippi Street, Maitama, Abuja.
Working hours: 11 am to 10 pm daily.
(2) Papillon Restaurant
Papillon Chinese is a choice restaurant in Abuja for Chinese meals. It attracts a lot of foreigners and locals as well. It is tastefully furnished and has a peaceful atmosphere that blends with the food to offer visitors a cool experience while there.
Located at: Sheraton Hotel, Abuja
Working hours: 7 am to 11 pm.
(3) The Palace Chinese Restaurant
The Palace Chinese Restaurant is renowned for its exceptional culinary services from friendly and young waiters besides serving delicious Chinese meals. It is beautifully furnished and has a variety of meals to make visitors' demands.
Address: 56 Mamman Nasir Street, Asokoro, Abuja.
Working Hours: 8 am to 5 pm daily.
(4) The Vue
The Vue restaurant in Abuja is one of the best restaurants in Abuja that sells Chinese meals on a budget. They have friendly and highly professional attendants and the meals are specially prepared by professional and highly experienced chefs.
Address: Novare Central Mall, Zone 5 Wuse Abuja.
Operating hours: 11 am to 10:30 pm.
(5) Oriental Restaurant
With generous service, Oriental Restaurant is one of the best Chinese restaurants in Abuja that offers visitors a highly satisfying dining experience. They have an open kitchen for dinner and on some evenings they serve buffets.
Address: Transcorp Hilton, 1 Aguyi Ironsi Street, Maitama.
Opening/Closing Times: 11 am – 10 pm.
(6) Sinoni Chinese Restaurant
Sinoni is renowned for having nice meals that are specially prepared by Chinese chefs. They have many private dining rooms which visitors can use for personal eating, romantic dinner, business meals, etc. So, if you need a restaurant in Abuja with lots of privacy then go to Sinoni.
Location: Zeto Court, Oshogbo Close, Garki Area 11.
Operating Times: Noon – 10:30 pm.
(7) Works And Koi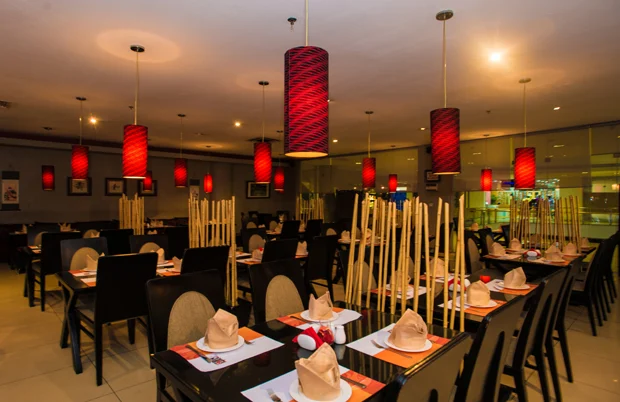 Woks and Koi serve tantalizing Chinese dishes in an aesthetically appealing atmosphere. They have quality and cool lighting, quality furnishing, and meals like Feng Shui which give visitors a great dining experience. It is one of the leading Chinese restaurants in Abuja with moderate pricing.
Address: 18 Durban St, Wuse 904101, Abuja.
Operating Hours: 1pmm – 11 pm.
(8) Banana Republic Restaurant
Banana Republic offers customers one of the best Chinese eating experiences in Abuja. You can choose from several delicious and well-prepared Chinese meals. The place is spacious, neat, and quiet most of the time thus offering customers the opportunity to relax and unwind.
Located at 37, Julius Nyerere Crescent, off Yakubu Gowon, Asokoro Abuja.
Always open from the hours of 10 am to 11 pm.
(9) Marcopolo Oriental Cuisine
Marcopolo Oriental Cuisine also known as Marcopolo Oriental Restaurant serves some of the best Chinese meals specially prepared with quality spices and flavors. They have a cozy environment, top-notch service, and a large eating space suitable for group eating (i.e. family get-togethers, luncheons, etc.).
Locattion: 911 Mall, Usuma Street, Maitama.
Opening/Closing Times: 11 am to 11:30 pm.
(10) The Silk Road Restaurant
Silk Road Restaurant in Abuja is the real deal for quality food at good rates. Their menu comprises tasty dishes from different parts of Asia including China.
Address: Sinoki house plot 770, off Samuel Ademulegun Avenue, Opposite Federal Ministry of Transport, Central Business District, Abuja, Nigeria.
Operating Hours: 11 am and close by 10 pm.
Chinese restaurants in Abuja offer quality and mouth-watering cuisines. Many of them have quality staff and waiters who offer professional services. Although some of them are expensive per the cost of meals, others are not. Note that although these Chinese restaurants sell mainly Chinese and Asian cuisines they sell Nigerian and African dishes also. Hopefully, from this list, you will find one that suits your food needs, budget, and experience.