When we talk about luxurious restaurants, we can not do without talking about quality service and top-notch dishes.
The top Restaurants in Ikeja that will give you that perfect service of both local and intercontinental dishes coupled with a very Porsche environment is all you will find in this article. 
As you know, Ikeja is the Capital city of Lagos state. Not only is it a memorable place to be for foodies but it also houses some notable landmarks in the state which include the Murtala Muhammed Airport, the popular computer village, and a lot of five-star hotels. 
There are a plethora of top-notch restaurants and hotels in the Ikeja area and it is hard to tell which is the best. 
Save yourself the stress of looking for a very luxurious restaurant by checking out this list I have put together for you. They contain a list of the 5 best restaurants in Ikeja that bask in great luxury and style.  Not only that, you can as well order food online from any of these luxurious Ikeja restaurants.
Top 5 Luxurious restaurants in Ikeja 2023
If you want to make your belly smile, and food smiling at your belly, and you also want to spend money, you want to splurge on a very cool luxurious restaurant, and you are around Ikeja area, look no further than these 5 places. Trust me, you will get value for all you pay for. 
1. The Place Restaurant and Bar
Having quite a number of branches scattered around the mainland and Lekki, this is a restaurant that serves a plethora of dishes which includes rice dishes, Asun, grilled chicken, and many more. 
It is situated not too far from reputable places like Regent luxury suites,  Lagos Airport Hotel, City View Hotel Ltd, Apartment Royale hotel and suite, etc.
There are some particular weekends when exclusive Djs would be invited as well as some musicians to spark up the moments at the bar and lounge in this restaurant. 
Otherwise, it is always an enjoyable experience for customers every weekday at exactly 5 pm
Address: No. 45 Isaac John Street, G.R.A, Ikeja, Lagos
Opening hours
10 am-12 pm from Monday to Thursday
10 am-5 pm on Friday and Saturday.
2. Jevinik Restaurant
It may be quite expensive for a regular person to visit, but if you want to spoil your significant other, then this is the ideal place at Ikeja
Not only do they serve variations of sumptuous dishes but they also offer the best service when it comes to restaurants and eatery management. 
Jevinik restaurants can be found around places like  Hotel Ibis Lagos Ikeja, Sheraton Lagos Hotel, Jerome's Garden and Suites, Wazobia Plaza hotel, and many more of them reputable hotels.
This is a place where you enjoy good food accompanied with quality service in the nicest environment. They also do home delivery of what they sell.
I heard that the approximate cost of eating in this restaurant at the very least  is ₦1800. Worth it, I'd say. 
Address: No. 21 Isaac John Street, Ikeja, Lagos
Opening hours
Monday-Sunday  from 9:00am to 10:00pm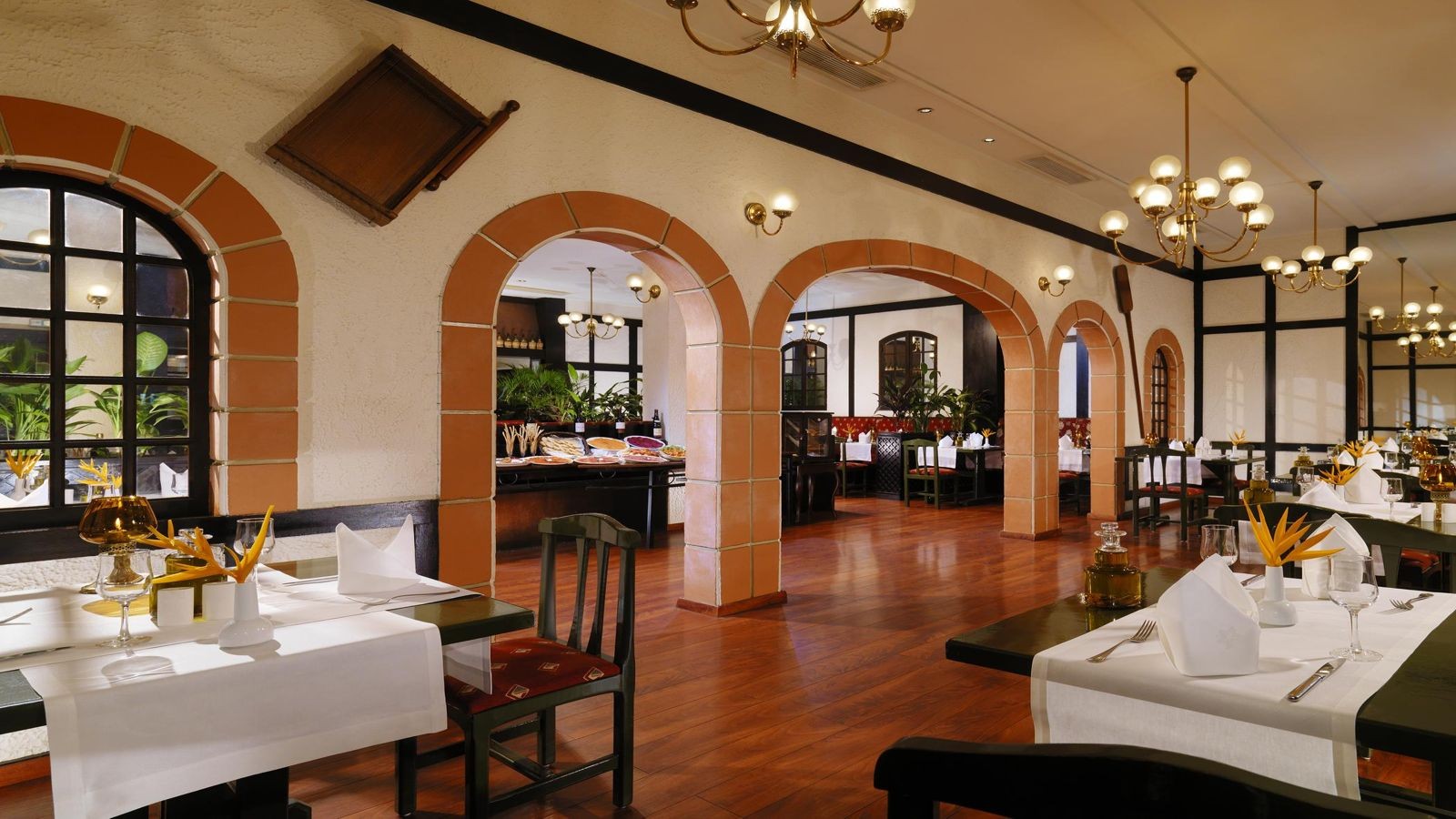 3. Crockpot Restaurant
The crockpot is sort of a  subsidiary of the Sheraton Hotel in Lagos. And similar to the previous one we just looked at, food is quite expensive here. They serve diverse dishes ranging from breakfast menus to dinner and beyond. 
There are also lucky days for customers where they get to receive intercontinental dishes like the Mediterranean to Indian and American dishes. This often happens during any of their themed nights. 
While The breakfast buffet is priced at ₦6,500, the lunch buffet at ₦7,500, and the dinner buffet at ₦8,500, every single penny you spend there is really worth it. 
Address: Sheraton Lagos Hotel, 30 Mobolaji Bank Anthony Way, Ikeja
Opening hours
Crockpot restaurant opens daily from 5:000am to 10:00 pm
4. Rodizio Restaurant and Bar
If you are specifically looking for a place to get special buffet menus and A la carte meals, then you've found Roddizio restaurant! 
Not only do they serve local dishes, deserts seafood and barbecue meat, but customers can also savor a plethora of different delicacies with just a sum of ₦6000
If you want to also enjoy a Latina dance part, visit Rodizzo on Tuesday night. They've got impressive live entertainment in this restaurant that will make you feel relaxed and forget some sorrows. LOL. Weekends, generally, are always about entertainment as they bring in a professional DJ to disseminate cool vibes on Friday night and a top-rated guest artist for a live performance every Saturday. 
Rodizio restaurant is indeed a place to be in Ikeja. 
Address: 29 Isaac John Street, Ikeja, Lagos
Opening hours
Rodizzio restaurant is open every day from 8:00 am to 11:00 pm.
5. Yellow Chilli
Lastly on our list of top restaurants in Ikeja is the Yellow Chilli. Do not underestimate this particular place as most people find it interesting. This is why it has become one of our top five. Situated at the center of Ikeja, they serve nothing but well garnished African dishes. You can get meals like – jollof rice, pepper soup,  spicy stewed snail, seafood okra, prawn, and so on at an affordable price. 
With just ₦3000 upwards, you can fulfill your desire to enjoy a well prepared and garnished Nigerian food. 
Yellow Chilli is the best restaurant to be in Ikeja if you crave for these kinds of meals. 
Address: 35 Joel Ogunnaike Street, Ikeja, Lagos.
Opening hours: 10:00 am to 10:30 pm (Monday to Sunday)
Wrapping up
These five restaurants that I have shown you are notable not just because they offer great meals but because they serve you with the best food experience you can ever have anywhere at Ikeja. And in reality, most of these restaurants feed the high-class people who visit or reside at Ikeja. 
Lastly, there are some best hotels in Ikeja that have restaurants too. These places are also ideal for both eating and lounging. 
Do have a nice time in any of these places I have shared. Let me hear your thoughts in the comment section as well. 
Thank you.