Discover some of the cheap best hotels in Ikeja and save yourself from expensive fees.
Hotel and hospitality management in Lagos is one of the prominent places that any visitor would first think of. And thankfully, we have a number of these hotels that are really great. But it is quite unfortunate that some of us end up booking a hotel in Lagos that will make us check out with disappointment and dissatisfaction. 
One of the causes of this is because we were not abreast of the best hotels to visit in Lagos before making any move. 
If you just landed in Lagos, and you are seeking for the best hotels to stay in Ikeja, this list has got your covered. 
Here, we will take a look at the best hotels you can find around Ikeja today. Some of which you will be surprised that they ever existed in somewhere like Ikeja. 
Best hotels in Ikeja and Prices 2023
Most of the best hotels that you will find around Ikeja are located in areas where we have landmarks such as The Ikeja Golf Club, Femi Kuti Shrine, and the likes. 
Most top hotels are situated around the  Murtala Muhammed International Airport, which perfectly fits into your convenience if you just landed in Lagos. 
You do not need to waste time traveling down into the island when you can get the best hotels around the airport in Ikeja. Fully reviewed, These hotels are as follows 
Radisson Blu Hotel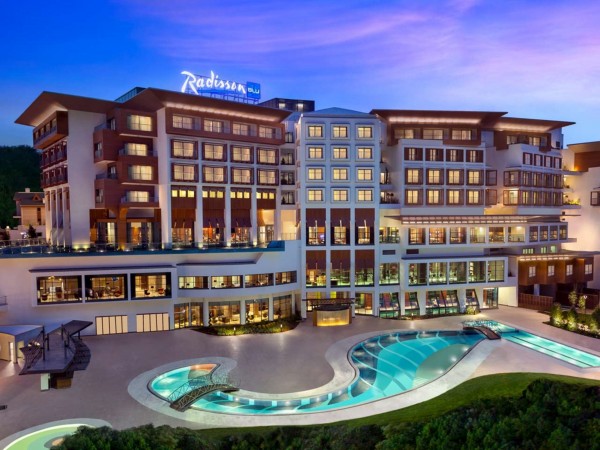 Address: 38/40 Isaac John Street, Ikeja GRA, Lagos
Price Range:  ₦90,000 – ₦95,000 per night
Check-In: 15:00 to 00:00
Check-Out: 12:00
Radisson Blu is a phenomenal and renowned hotel in Ikeja. As long as Fastlagos.com is concerned this is our first choice when picking quality services for hotels around the Ikeja area. And we will tell you why. 
They offer a  guaranteed, sophisticated hospitable service making your stay truly memorable.
It is very easy to locate Radisson Blu as it is surrounded by many notable landmarks in Ikeja. This landmark includes the National Railway Corporation Museum, Kalakuta Museum, and the Afrika Shrine. Just Google any of these places when you arrive at the airport and it will be very easy to spot this hotel out from the map. 
They have 155 large rooms fully loaded with air conditioners and luxurious furnishing. The hospitality and accommodation service offered by every staff in Radisson Blu is indeed tailored to soothe your convenience. 
In addition, you will find exceptional restaurants such as  Cut Steakhouse, Iyeru Okin, and Choco-Latte inside this hotel. They ensure that guests are being treated to flavorsome dishes. Both continental and local. Not to mention an array of pastries and cocktails. 
Among the top-notch Facilities to be enjoyed at Radisson Blu, some of them include a 24-hour fitness center, meeting rooms, two restaurants, and Wi-Fi.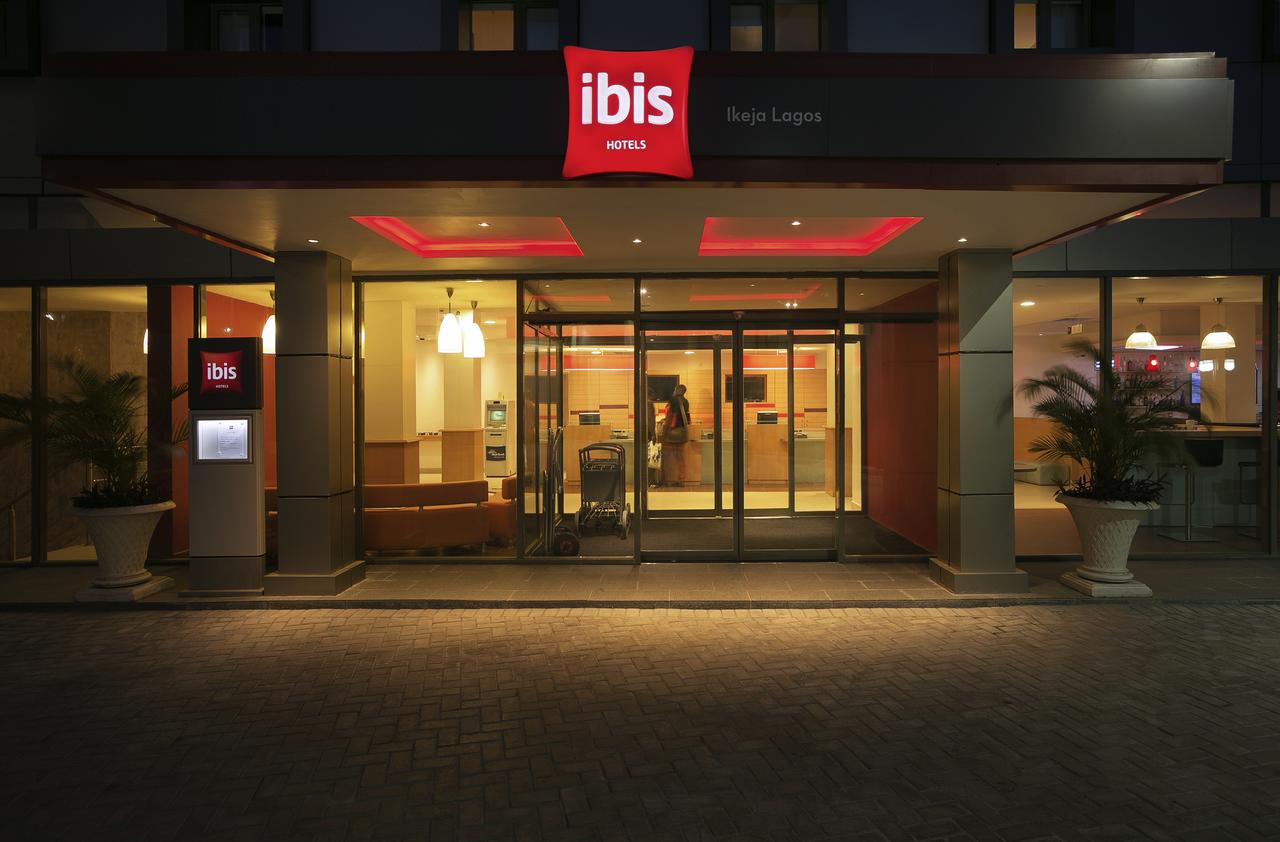 Hotel Ibis
Address: 23 Toyin Street, Lagos
Check-In: 12:00
Check-Out: 12:00
Price Range: ₦26,000 – ₦37,000 per night
Have you heard of hotel Ibis before? You need to be there. Not only will you be amazed by their economically friendly accommodation, but their Facilities is also something that will interest you. These facilities include parking, airport shuttle, babysitting, car hire, Wi-Fi, currency exchange, a swimming pool, two bars, and four meeting rooms.
It has made it to our top #2 hotel in Ikeja today because it is Ideal for business travelers, plus fully equipped to provide you with the ultimate hospitality to ensure your business trip is made luxuriously comfortable.
This 3-star hotel in Ikeja that is an approximately 15-minute drive from Murtala Muhammed International Airport and Ikeja Golf Club. 
In addition, you will get the luxury of the hotel's epic pool which you deserve after a hectic day jostling between the streets and markets of Ikeja. 
Watercress Hotel
Address: 48, Oritse Street, off Obafemi Awolowo, Ikeja, Lagos
Price Range: ₦25,000 – ₦29,000 per night
Check-In: From 12:00
Check-Out: By 12:00
This is one hotel that is very convenient for any business person who is seeking for accommodation in a very nice environment. Since it is situated around a business area in Ikeja, this hotel is ideal for guests and travelers who need top-notch accommodation services. 
It is a 4-star hotel that provides classic hospitality and pretty much affordable. Judging from the services of the watercress hotel, one could tell that The aim of the hotel is to exceed all your expectations and ensure that you experience a fantastic stay.
One of the things that interest me about this hotel is that they create categories of their moderately priced rooms and exceptional services. This will make guests feel like queens and kings while spending money on good things. A 15 minutes drive from Murtala Muhammed International Airport will land you there, it is not too far from the Ikeja Golf Club too. 
Special Facilities to access at the watercress hotel include an outdoor pool, air conditioning, fitness center, Wi-Fi, in-room safe box, car rental, airport shuttles, and a conference room.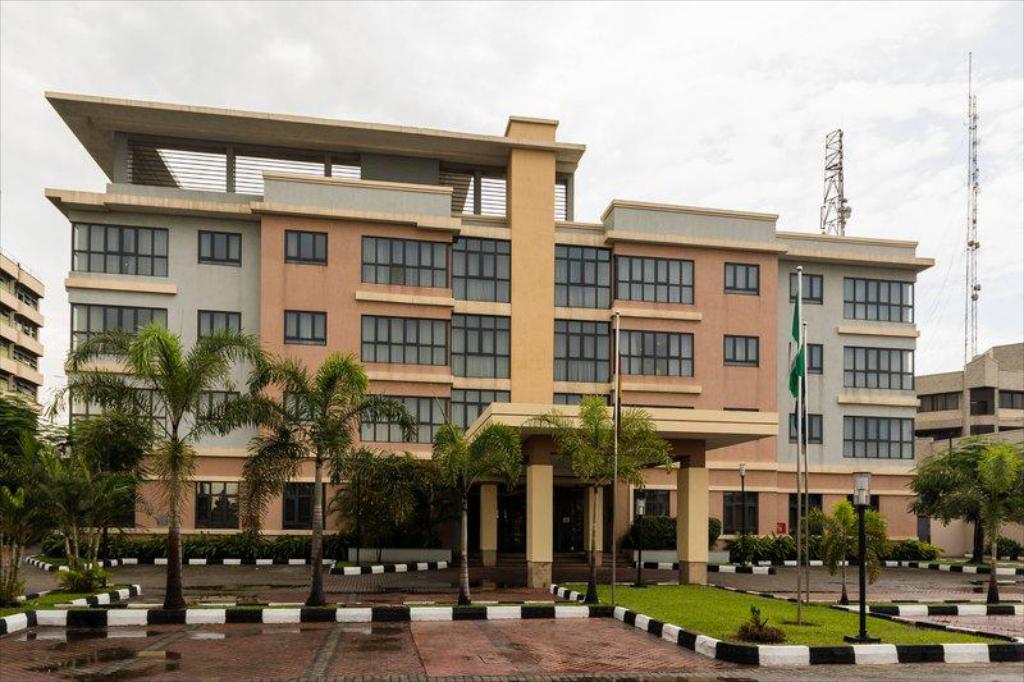 Protea Hotel by Marriott Ikeja Select
Address: Plot 2, Assbifi Road, Ikeja, Lagos
Check-in: 14:00
Check-out: 11:00
Price Range: ₦60,000 – ₦68,000 per night
It is a 4-star hotel. And quite expensive. But you will definitely spend your money on facilities that are worth it. The hotel is located in a tranquil environment and availability of 177 rooms that are big enough to contain escorts! 
These rooms are luxurious styles and fitted with the basic necessities you would require for your stay in Ikeja.
 You also get to enjoy the fantastic experience in their restaurants as they offer an endless list of both foreign and local dishes, which includes a heartwarming buffet breakfast, dinner, and an à la carte menu.
While it is not too far from Muritala airport, this hotel is magnificently seated across the road from Ikeja Shopping Mall.
When you lounge at Protea hotel, do not forget to explore some of the special facilities which include a fitness center, pool, restaurant, bar, airport shuttle, meeting rooms, free Wi-Fi, and parking.
Citiheight Hotel
Address: 6, Sheraton Opebi Link Road, Ikeja, Lagos
Price Range: ₦18,000 – ₦29,000 per night
Check-In: 12:30 – 05.30
Just a  20-minute drive from Murtala Muhammed International Airport will bring you to one of the magnificent hotels located in the heart of Ikeja. Just like the ones we've reviewed earlier, Citiheight is an internationally inspired Citiheight Hotel that is best for travelers and those seeking exotic leisure. 
Interesting Facilities to be enjoyed at Citiheight Hotel are a restaurant, pool, bar, gym, spa, boardroom, and Wi-Fi and a host of many others. 
You do not need to be like those people who will Lounge in a hotel and go outside to get food. The restaurant at city heights is always ready to fill your hot plate with both local and sumptuous. 
"Citihieghts offers a world-class experience with the luxury that encapsulates  light, height, and space"
You should try out this hotel because most people who have visited there have  Rated the hotel excellent. It is indeed a fantastic choice to look into when searching for the best hotel around Ikeja. From the contemporary interiors to the expensive artworks in the rooms, you will hardly find a fault in this epitome of elegance. 
Is there anyone that we forgot to mention? Let me know what you think about these best hotels in Ikeja in the comment section below.