An excellent representation of Lagos city is the Vitoria island as it is the most deluxe and luxurious area to live in Lagos and Nigeria at large.
There are many amazing places to visit in Victoria Island, Lagos which makes it a perfect place to host foreign guests and business travelers.
Spending a week or more in this expensive neighborhood may not be enough to witness all the attractions, nightlife, affordable dining, and drinking as well as shows for live music.
In the entire Lagos city, Victoria Island is the perfect hub of entertainment, luxury, and a comfortable lifestyle that is quite free from the city's harsh bustle.
Needless to say, most of the hotels in this area of Lagos are built with topnotch facilities and amenities. Let's take you through the best, luxurious, affordable, and popular hotels in Victoria Island, Lagos.
Best hotels in Victoria Island Lagos
The Avenue Suites
Address: 1390 Tiamiyu Savage Street, Off Ahmadu Bello Way
Average price per night: NGN54,000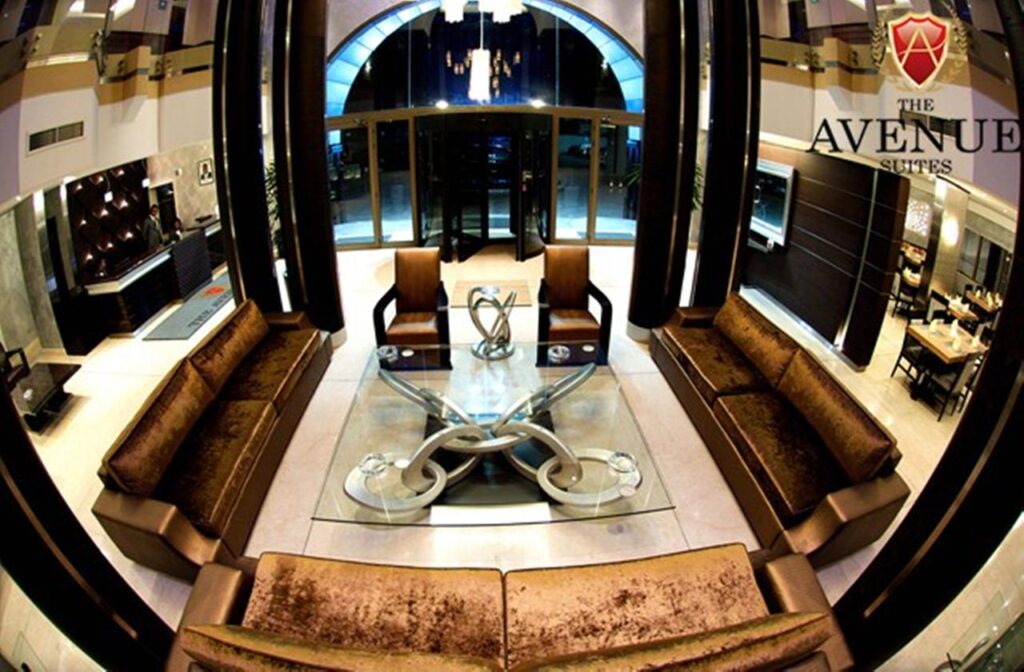 The best luxurious hotel on the island that we recommend for business travelers, tourists, and foreign guests is The Avenue Suites. It is very famous among the rich folks of the island as a result of the professional and generous staff who deliver immediate service and sharp response to guests' requests at any time of the day.
It is not just a hotel but an ideal place where couples can spend time together in the night club among neighboring clubs.
Each room in this hotel, regardless of the class, is really spacious and equipped with a TV with cable channels, A sitting area to entertaining visitors, a breathtaking view of the Atlantic ocean from the room window, and a King-sized bed.
Of course, there is a steady power supply and well-trained security personnel. The hotel is beautified with stylish designs and top-notch facilities
Along with a free wifi and bar area, guests can also enjoy distinctive dishes from their well-established restaurants.
The Federal Palace Hotel
Address: 6-8, Ahmadu Bello Way, Victoria Island, Lagos
Average price per night: NGN76,000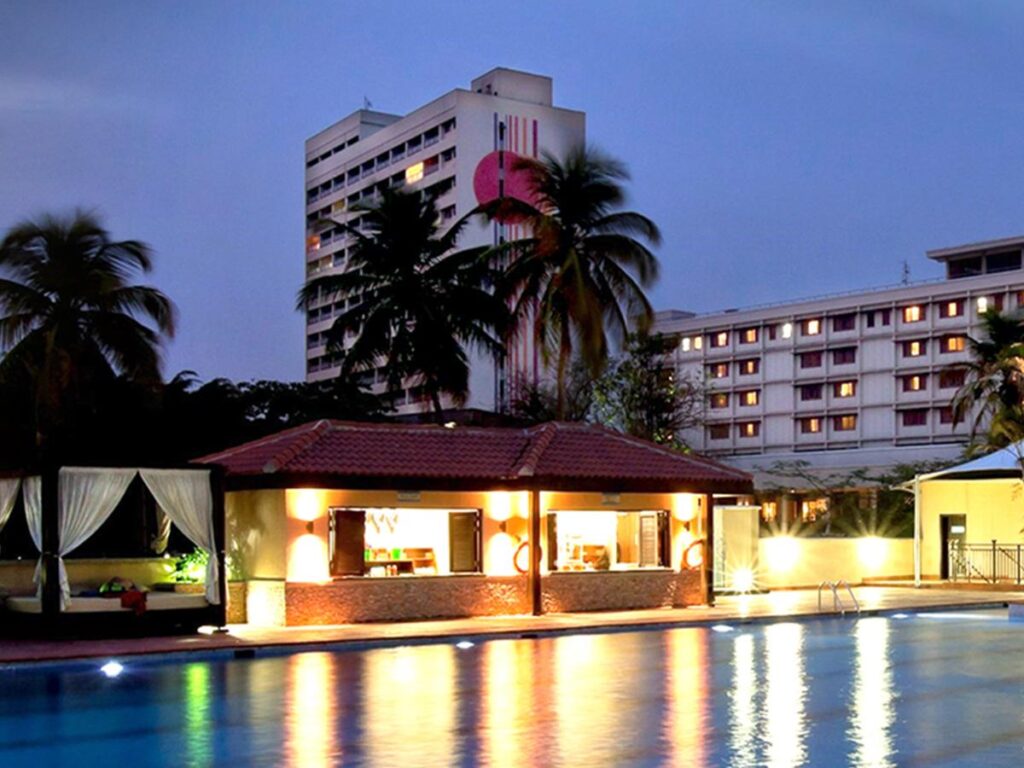 Who hasn't heard of The Federal Palace Hotel located at Ahmadu Bello Way, Victoria Island, Lagos?
It is among the best and most popular hotels in Lagos that is creatively built with astonishing architectural design.
The hotel boasts of lit and spacious rooms fully air-conditioned with the latest facilities. It is a top choice for foreigners who visit Lagos. The rooms at the federal palace hotel are categorized into Twin rooms, King rooms, Junior Suite, 1 bedroom apartments, and 2 bedroom apartments.
The interior decor of each room is simply amazing and high grade. Each room contains flat-screen television sets with multi-channel satellite connection, key card security system, luxurious beds, sofas, wireless internet connection, en-suite bathroom with jacuzzi plus work desks, and chairs.
It is worth every dime and time. Guests can also enjoy other facilities and services along with accommodation which includes a well-equipped restaurant, treated outdoor pool, casino, bar/lounge well stocked with the finest quality wines, security personnel, event hall, ample parking space, conference facilities as well as a well-equipped gym.
Landmark Hot tiel, Victoria island
Address: 7th Floor, Landmark Towers, 5B, Water Corporation Road, Off Ligali Ayorinde, Victoria Island
Average price per night: NGN46,000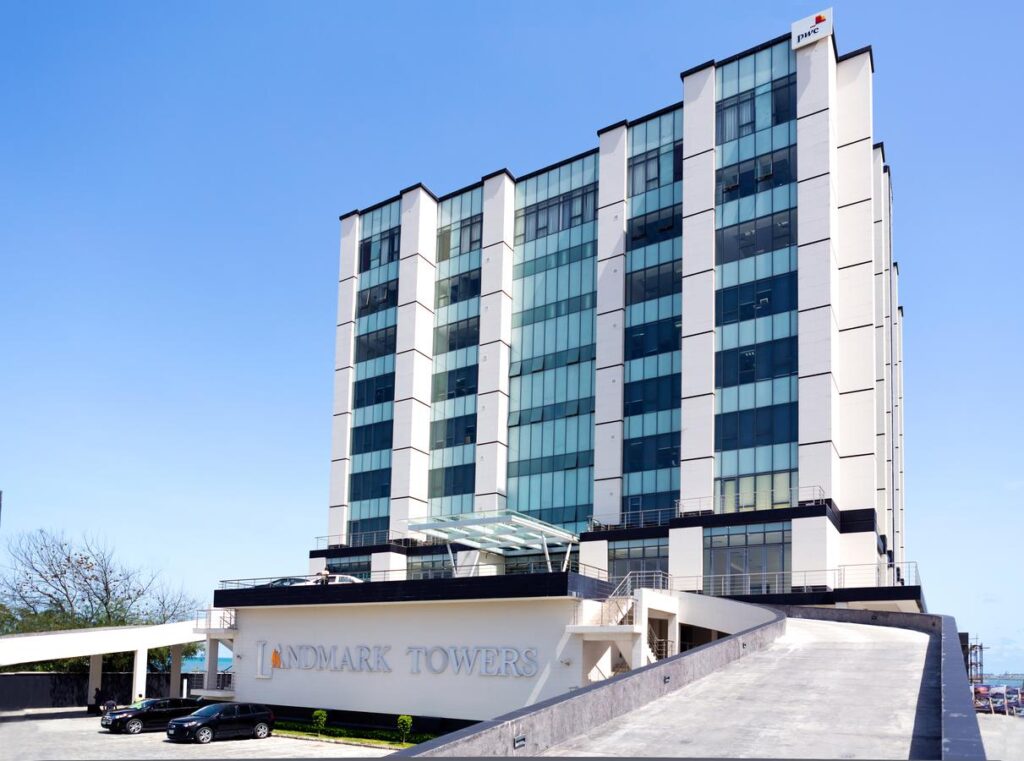 Eighteen luxurious rooms are ready to accommodate any type of guest at the Landmark Hotel, Victoria Island. The hotel assures guests the best hotel services with well-trained staff and prompt services. The hotel is not far from the Muri Okunola Park and the exclusive Club Quilox, making it a perfect choice.
This is one hotel on the island where one can get a perfect hospitality service that assures comfort and convenience without compromising safety. Each room is categorized into Classic Room (Sea View), Classic Suite, Executive Suite (Deluxe), and Executive Suite.
The ergonomically designed and fully air-conditioned rooms contain work desk, telephone, a minibar, flat-screen TV with local and international channels, a fridge, armchairs, toiletries, and a balcony
While there is a large pool for guests to cool at, the hotel provides an adorable view of the Atlantic Ocean from the room windows.
Other special services include cleaning, daily maid service, ironing service, dry cleaning/laundry service, and a meeting/ banquet facility.
Perfect View Hotels Ltd
Address: 204B, Etim Inyang Crescent
Average price per night: NGN10,000
So far, this is the best hotel I have seen that offers top-notch hotel services at a far less expensive cost. Formerly known as La Bugatti Suite Limited, Perfect View Hotels Ltd offers a pocket-friendly hotel service at 204B Etim, Inyang Crescent, Victoria Island, Lagos, Nigeria.
All the rooms in this hotel are designed with modern amenities to suit any guest's taste, regardless of the category.
The hotel is ready to trigger your taste bud with sumptuous dishes from the restaurant. Guests can also enjoy an assortment of drinks from the bar section of the hotel.
The Hedge Suites
Address: 194B Jide Oki Street off Ligali Ayorinde Street, V.I
Average price per night: NGN11,000
This 3-Star hotel is best recommended for business travelers as it provides an environment of tranquility, comfort, and safety.
It is an affordable hotel with spacious rooms and a well-furnished interior. Each room at Hedge Suites contains a luxurious king-sized bed, flat-screen television sets with access to a variety of local and international TV channels, sofas, study desks and chairs, intercom telephones, en-suite bathrooms with complimentary toiletries, shower facilities and bathtub, air conditioning, in-room safe as well as tea and coffee making facilities.
There is steady electricity coupled with tight security. They also offer karaoke night for guests and visitors.
It is a nice place to have fun in Victoria Island, Lagos.
Beni Apartments
Address: Plot 37 Ahmed Onibudo Street off Adeola Hopewell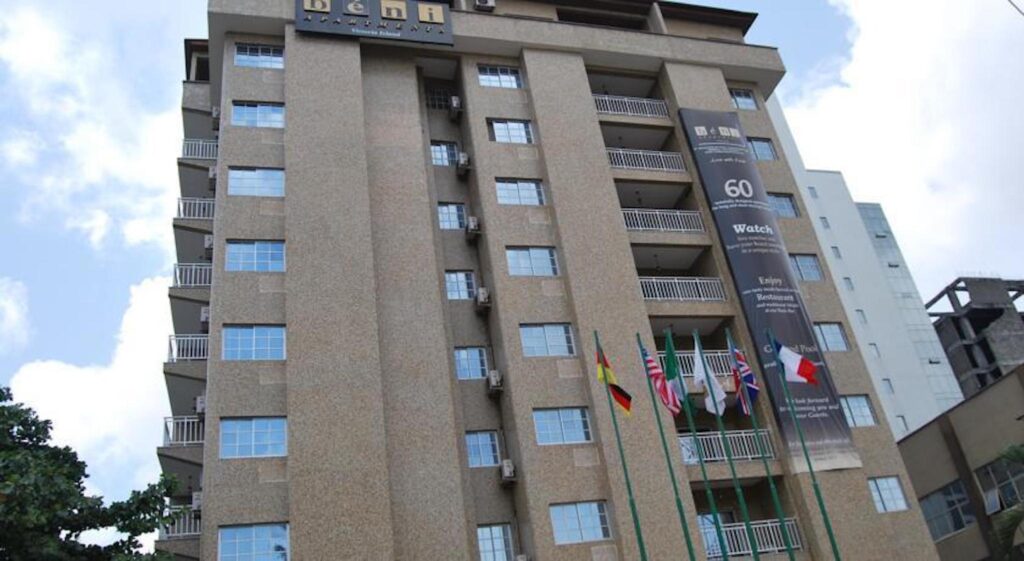 This hotel is really a good choice as a result of the close proximity from the British Embassy and 60 well-furnished rooms. The rooms are categorized into Classic Twin apartments and Classic Deluxe apartments.
Both categories are actually good enough to make one feel at home. Modern facilities, air conditioning, refrigerator, tea & coffee making facilities, direct telephone line, satellite TV and balcony/terrace and all are all available.
Other facilities that guests can enjoy at an affordable fee in Beni apartments include the restaurants, a conference hall with audiovisual devices, a well-equipped bar, a business center with a printing machine, well treated and large swimming pool, a gym center, and a Spa.
Other services that attract extra fees offered by Beni apartment hotel include 24hrs room service, 24hrs reception, babysitting service, airport shuttle at a nominal fee, currency exchange, personal chef service on request, valet service, free uncovered parking, and laundry service.