If you have ever been to Surulere in Lagos, Nigeria, then you should be aware that this is a very lively area with a Fascinating blend of upscale cocktail bars, pulsing clubs, prestigious hotels, and laid-back beer parlors on busy Ojuelegba Road. 
Coming all the way from the airport, and looking for a very good hotel to spend some days in, you will be greeted by the Street food stalls mainly selling suya, or traditional meat kebabs hustle scattered around the area. 
While there are many other places and tourist attractions around Surulere, Lagos, we want to take time to list out the best hotels that can be found in Surulere. 
Most hotels in Lagos are an indispensable ingredient when it comes to enjoying the luxury that Lagos has to offer. We want you to feel the luxury and top-notch facilities of hotels in Surulere available for both people who are on a budget and those who want to scream out the definition of luxury. 
5 Best Hotels in Surulere, Lagos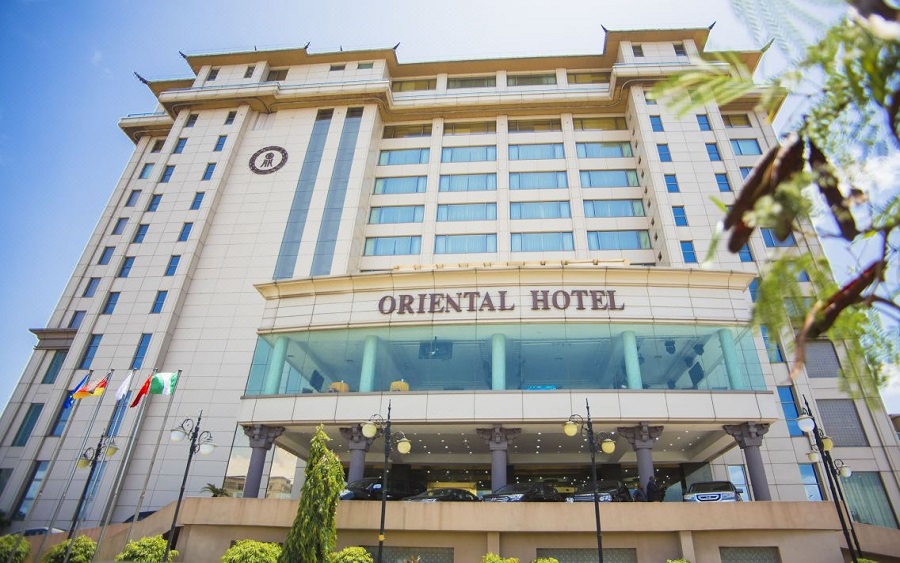 1. KSF Place (Adeniran Ogunsanya)
Address: 10, Mba Street, Off Tafawa Balewa Crescent Off Adeniran Ogunsanya Street.
The KSF Place (Adeniran Ogunsanya) hotel is topping our awesome list of Best hotels to find in Surulere. Not only does it offer quality facilities for guests to have a good stay but also offer a restaurant and bar. Guests can enjoy free Wi-Fi and private parking available on site.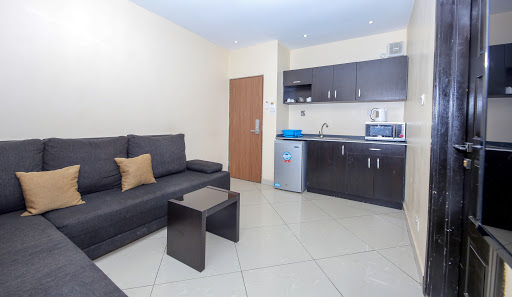 The rooms in this hotel are made with modern interior decor and finesse. Unlike other basic holes, the KSF place is a hotel ever ready to host any type of guest. The rooms are all in tiled flooring, air-conditioned, equipped with telephone, king-sized bed, flat-screen TV with satellite channels, Sofa, and an en-suite bathroom.
It is relatively affordable as the rooms have been made available in different affordable categories. This includes classic, supreme, and deluxe.
Guests can also enjoy a 24 hours food and beverage service in this hotel where they will be served top-notch alcoholic and nonalcoholic drinks as well as sumptuous meals. The hotel also features cleaning/Laundry service and round the clock security.
 Terms and Conditions of KSF place
 Cancellation policies vary according to room type. 

Pets are not allowed in this hotel

Allows only payment in cash.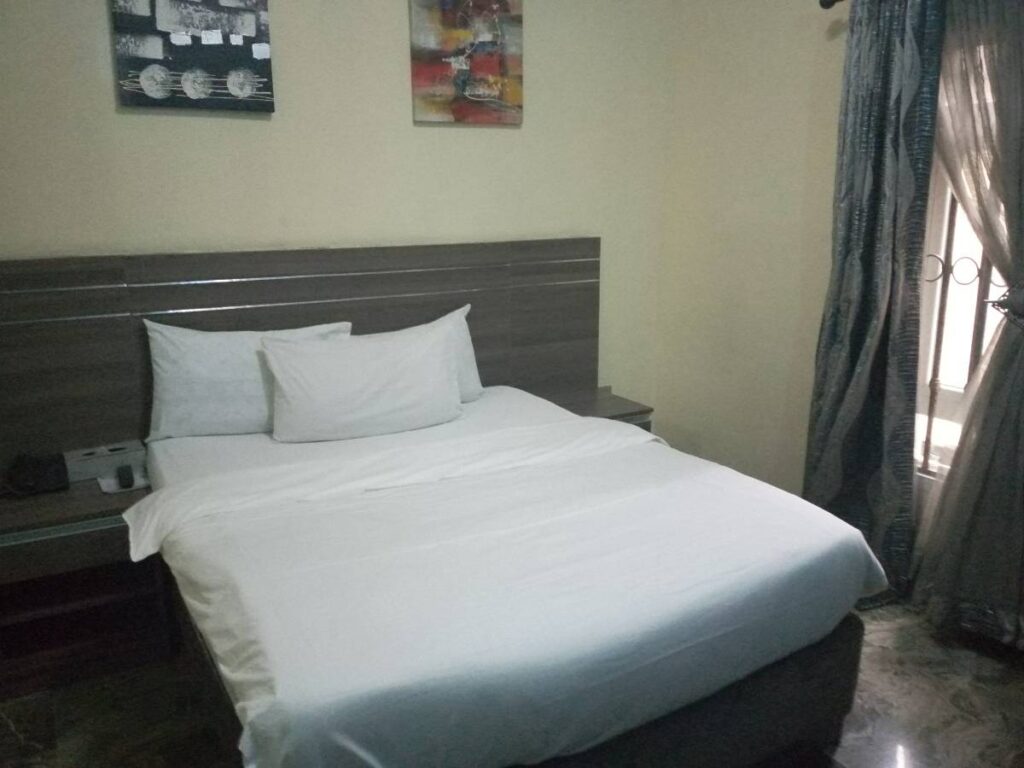 2. House 46 Suites Limited
Address:  46 Tafawa Balewa Crescent, Off Adeniran Ogunsanya
This is yet another amazing hotel located in Surulere that every traveler exploring Lagos should visit before leaving. The  House 46 Suites delivers nothing but an outstanding effort from well-trained staff as well as hospitality facilities. 
The hotel contains  15 Luxury Suites. And these suites are all fully equipped with modern amenities including Flat Screen HD TV with DSTV reception, private bathrooms, wardrobes, ornate lampshades, sofas, Wi-Fi connections, reclining chairs, air conditioning units, mirrors, king-size beds, study desks and chairs, intercom system as well as toiletries.
It is a  3-Star hotel that can boast of an environment that speaks nothing but comfort and perfection in hospitality and hotel management. 
You can be sure to experience 24hours standby electricity throughout your whole stay and enjoy an array of well-prepared meals in their well-furnished restaurants. 
The hotel also has a gym section where guests can pay an affordable fee to access gym equipment to keep the body fit. 
Terms and Conditions of House 46 Suites Limited
Check-in: 12:00 pm (ID Required)

Check-out: 12:00 pm

Allows all forms of payment including Cash, Cards, and Cheques (Pay at check-in)

Cancellation: Free Cancellation

 No pets allowed

The maximum age of 12 can stay for free. 

3. Rita Lori Hotels
Address:  1-4 Taoridi Street, Off Babs Animashaun Road
One of the significant factors that have made Rita Lori Hotels a popular one is that it is Close to a particular landmark at Surulere named the  Leisure Mall and Make Me Salon. 
If you have ever been to Rita Lori Hotels, you will agree that the rooms are well furnished and designed with the latest decorations and contains top-notch facilities which include, king-sized bed, refrigerator, air conditioner, the wardrobe, sofa, flat-screen TV with satellite connection, and telephone. 
It is a hotel for everyone as the rooms have been made available in affordable categories ranging from  Budget Room, Mini Standard, and Deluxe rooms.
Rita Lori hotel also features a restaurant that serves A variety of local dishes as well as alcoholic and non-alcoholic beverages. It is among the Best hotels in Surulere that has a very wonderful swimming pool and gym section in the hotel. When on the premises of this hotel, guests can enjoy a free internet connection. 
Be sure to get maximum security in this hotel even as a foreigner. They also offer other services which include Laundry, car hire and airport shuttle 
Requests for these services can be made via their official website. 

4. Easy Homes Hotels
Address:  33 Eric Moore Close off Eric Moore Road
While it is a 2 steel luxury suite located in Surulere, this is another ideal hotel to get the best hospitality service in Surulere. 
As you'd expect, the rooms are fully equipped with modern facilities. The staff in this hotel are really polite and well-groomed to attend to all your needs. 
It is among the Best hotels in Surulere to spend a honeymoon in Lagos and an ideal hotel for travelers or visitors. The rooms are equipped with facilities such as air-conditioners, king-size beds, satellite television, telephones, minibars, tables and chairs, and en-suite bathrooms with Jacuzzi baths in some of the rooms. All these to make you feel at home. 
They also have a very good restaurant there that will attend to all your hunger needs and serves the best cocktail. 
The hotel has got  CCTV cameras, security personnel, and a key card system to ensure the safety and security of guests within the hotel. There is also standby electricity that will never go down during your stay. 
Terms and Conditions of Easy Homes Hotel
Check-in: From 12:00 pm (ID card required)

Check out: By 12:00 pm

Only cash payment is allowed.

Pets are not allowed. 

Children below age 14 stay free. 

5. De Rigg Place
Address:  6, Alhaji Rafiu Shittu Street, Alaka Estate, Stadium Side, Behind Zenith Bank Plc By Funsho Williams Avenue
Lastly on this list but definitely not the least is De Rigg Place. It is yet another wonderful hotel, that has a 3-star rating located in Surulere Lagos. 
The hotel is sandwiched by two prestigious stadiums in the country which is the  Teslim Balogun Stadium and the National Stadium. 
When it comes to spacious and well-equipped rooms of hotels, then DE  Rigg Place is among the Best to be chosen. 
 These rooms are in the categories of Standard double, Executive room, Deluxe, and Crown. 
You can contact their official website to enjoy other services such as  Dry cleaning services, business center, car hire services, luggage storage, and round-the-clock room service.
Interesting amenities you'd find in each room include  Luxurious beds, air conditioning, sofas, flat-screen television sets with multi-channel cable connection, safes, free wireless internet connection, and en-suite bathrooms with stand-in showers.
Terms and Conditions of DE Riggs Hotel
Check-in: from 2:00pm

Check out: by 12:00pm

Children: Free stay

Only cash payment allowed 

Pets: Not allowed.