When you lodge in a hotel, one of the things that will make you remember your stay in that hotel is the quality service and top facilities enjoyed. I have taken ample time to research the best hotels around Ojo Lagos that visitors can visit. 
Hotel management in recent times has gone beyond providing a conducive environment for visitors to stay while far away from home. 
Modern hotels in Lagos are now motivated to incorporate activities that will make visitors feel very much at home as a result of the uprising competition in the city. People now go to hotels, not just to meet accommodation needs for a short period of time, but also to spend quality time with their significant other. Or even for business meetings and social gatherings.
In this article, I have provided a list of Best hotels you can find in Ojo. Varying from pocket-friendly hotels, luxurious and popular hotels. 
If you find yourself around the Ojo area of Lagos State, here are the best hotels you can think of. 
List of best hotels in Ojo, Lagos
Dawn Carrington Hotels & Suites 
Address: 6 Emmanuel High Street Ogudu GRA
Average price per night: NGN12,000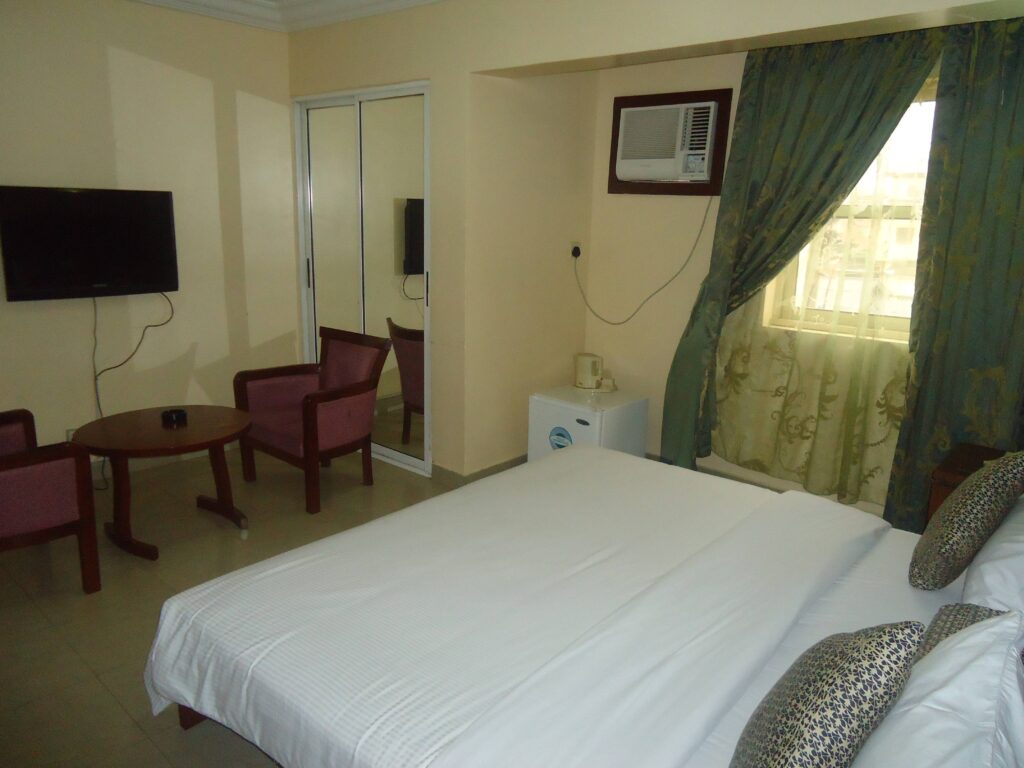 Also known as Ree-Danielles Hotel, it is located in a prominent part of the Mainland and rated 3-Star. It is among the best hotels in this area as they provide classic rooms for visitors. 
The rooms are classified into affordable groups which are  Standard rooms, Deluxe rooms, Executive rooms, and Business Suite. Whichever class you book for, you can be sure to enjoy top-notch amenities in each room such as luxurious beds, wardrobe, flat-screen television sets with access to cable channels, free wireless internet access, en-suite bathrooms with stand-in showers and complimentary toiletries. 
It is our number one choice for the best hotels in Ojo, Lagos as they boast of quality hospitality service and a conducive environment for guests. While Power supply in this hotel is never interrupted, guests are assured adequate security throughout their stay. 
There is also an event hall for events as well as a large car parking garage. The hotel arena is equipped with CCTV cameras for tight security. 
Dawn Carrington Hotels & Suites has a beautiful swimming pool and a gym center for visitors to keep fit. Visitors will also appreciate the extra services offered at Dawn Carrington Hotels & Suites which includes live band entertainment, suya spot and room service. 
Ellis suites
Address: 22/26 Oremeta Street, Ojodu Berger, Ikeja
Average price per night: NGN12,500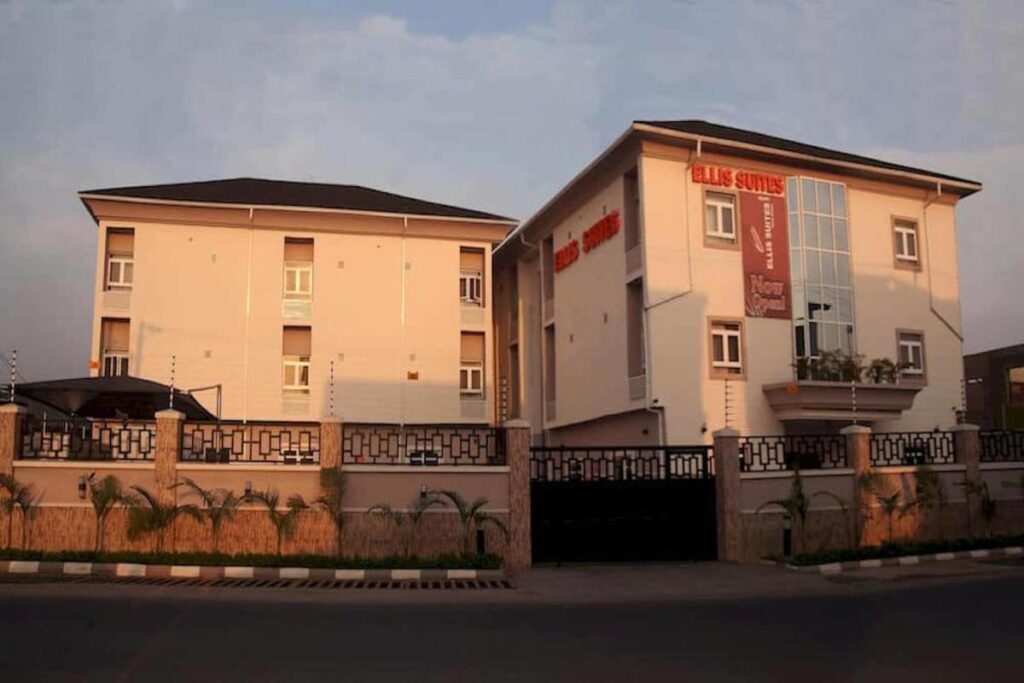 Classy and affordable! 
Ellis suites are not only among the best hotels but among the popular hotels in Ojo, Lagos. 
All the facilities in these hotels are exclusive and ready to offer nothing but comfort. This hotel is the deal for any traveler. Rooms are categorized into Standard, Classic, Executive Suite, and Ellis Suite. 
Spacious rooms are fully equipped with the basic amenities to make guests feel at home. These amenities include a king-size bed, LCD TV with DSTV channels, an air conditioner, sofa, a center table with two chairs, a wardrobe, a private bathroom en-suite, and an intercom system.
Guests can also enjoy fast and free internet access in the Ellis hotel. They also manage an exquisite bar where beverages of all types are served. 
Ellis hotel goes the extra mile by providing a well-lighted restaurant to trigger the taste buds of guests. And an event hall for conferences. 
Roth Hotel and Suites
Address: 10 Omolara street,Saabo Ojodu, Lagos
Roth Hotel and Suites has spacious rooms to offer and are adorned with modern designs. The rooms are beautifully decorated with astonishing furnishing.
Each of the rooms are well equipped with everything to make a good looking home. Free wifi with high speed is also made available. 
The hotel boasts a large swimming pool on the premises where visitors can relax. They also offer extra services which include laundry and car rental service.
You don't need to be bothered about safety as the security here is tight coupled with 24 hours power supply. They also have an on-site restaurant where you can enjoy both local and foreign dishes at an affordable cost. 
List of Cheap hotels in Ojo Lagos
Hotel De La Rue
Address: 71 Alaberu Street Kember Town Okokomaiko
Average price per night: NGN2,000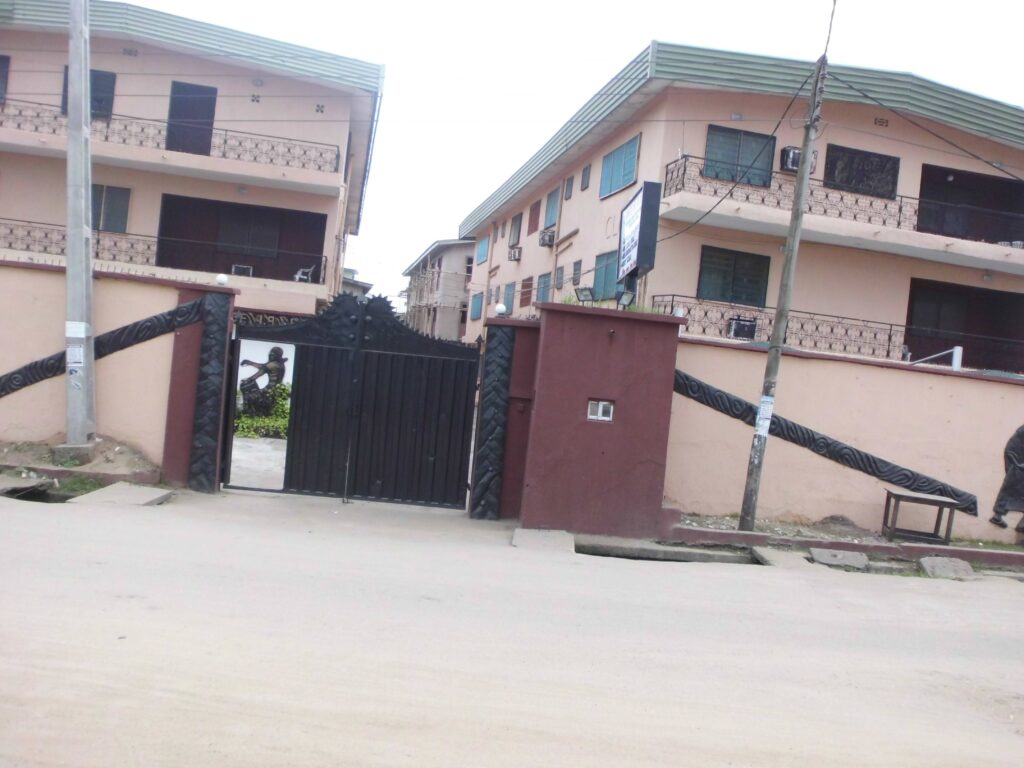 Most people think that cheap things come with less quality. But Hotel DE LA Rue goes against all the odds. 
It is a beautiful place to be despite the cheap cost of the service. Their rooms are adorned with the basic amenities and beautiful services to ensure that guests have a memorable and delightful stay.
They offer tight security and unfailing power supply. It is not yet a 5 star rated hotel but it is definitely among the best you can find in Ojo. 
What piqued our interest in Hotel De La Rue is not only the affordability but the extra services they offer in the hotel. The bar is made available where guests can sit and Gist while consuming chilled beverages. 
They also run a restaurant that is set to trigger your taste bud during your stay. Be sure to have a memorable experience at Hotel De La Rue. 
Hogan International Hotel
Address: 94 Emmanuel High St .
Average price per night: NGN4,500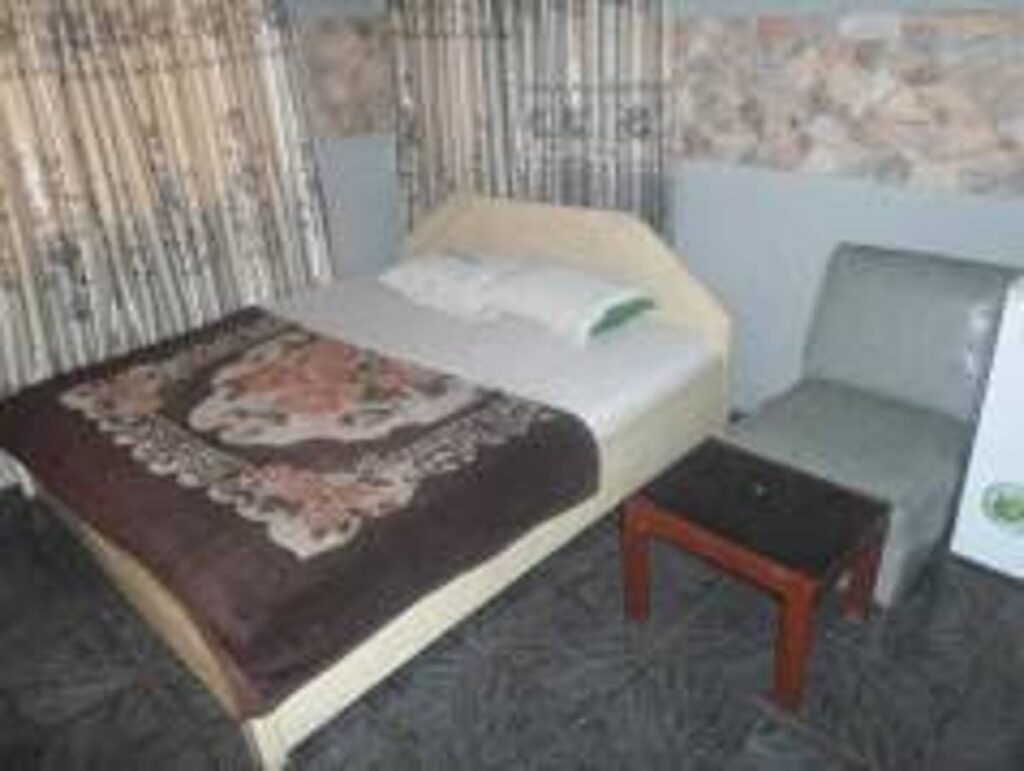 Hogan International Hotel is an elegant hotel at Ojo where comfort and luxury hug guests with pleasure. The staff at this hotel are well trained to offer prompt service at any time. 
Located at No. 94, Emmanuel High Street, Ogudu in the Ojota area of Lagos State, Hogan International Hotel offers guests an array of spacious rooms equipped with air conditioners and modern furnishing.
Although it is less expensive, each room contains a flat-screen TV with DSTV connection, refrigerator, chair, a big bed, uninterrupted wireless internet coupled with 24 hours of electricity. 
Just like every perfect hotel, sumptuous delicacies ranging from foreign to local dishes can be enjoyed at the on-site restaurant. 
Light House Guest Inn
Address: Km 23, Badagry Expressway Lasu
Average price per night: NGN3,000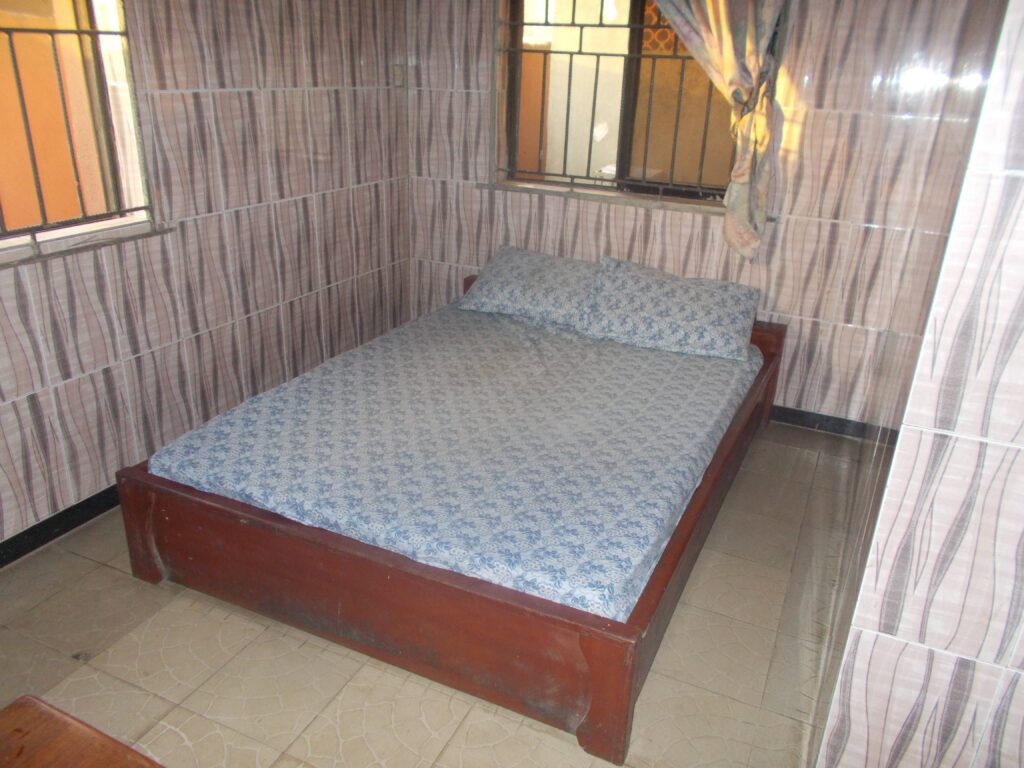 If you are on a budget and you want to lodge in a hotel with a conducive environment, head to Light House Guest Inn. 
They offer amazing rooms with enough space for three to four guests. They offer quality accommodations facilities, not just for travelers, but for those who want to take a break from the bustle of city life. 
The rooms at Light House Guest Inn are fully equipped with air-conditioners, double beds which are plush and downy, and other basic amenities to facilitate a comfortable experience. 
Being a very affordable hotel, they allow any type of payment if you do not want to carry cash around. Perhaps, for security reasons. Even at that, Light House Guest Inn boasts of tight security and constant electricity supply. 
We salute their packaging and the conducive environment! 
Popular hotels in Ojo 2023
Below are the most popular hotels in Ojo. No doubt because you will definitely see them anywhere in Ojo.
Sarah Sam Hotels Limited
Address: 115 Ogudu-Ojota Road Ogudu GRA
Average price per night: NGN12,500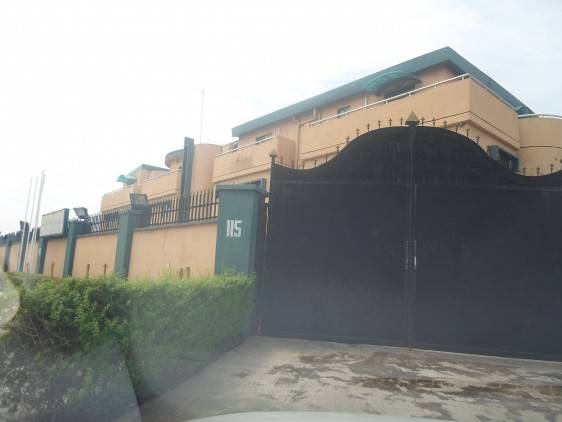 There are some hotels around Ojo that are not really expensive but super popular. 
Any avid traveler who happens to inquire from the locals of Ojo about the best hotels around, Sarah Sam Hotels Limited is likely to be the first result they will give you. 
Sarah Sam Hotels Limited is a very popular hotel in this area, they operate in a conducive and comfortable environment to suit any type of guest. They offer an array of luxurious amenities to make their guests comfortable.
Their rooms are beautifully designed with modern furniture, intricate mirrors, and executive chairs.
While enjoying your stay, do not forget to visit their on-site restaurants where you can get mouth-watering dishes. They also manage a bar where guests can drink both alcoholic and non-alcoholic beverages. 
Ausken Royal Hotel
Address: 16, Toba Daoudi Street, ojo lagos.
Average price per night: NGN6,300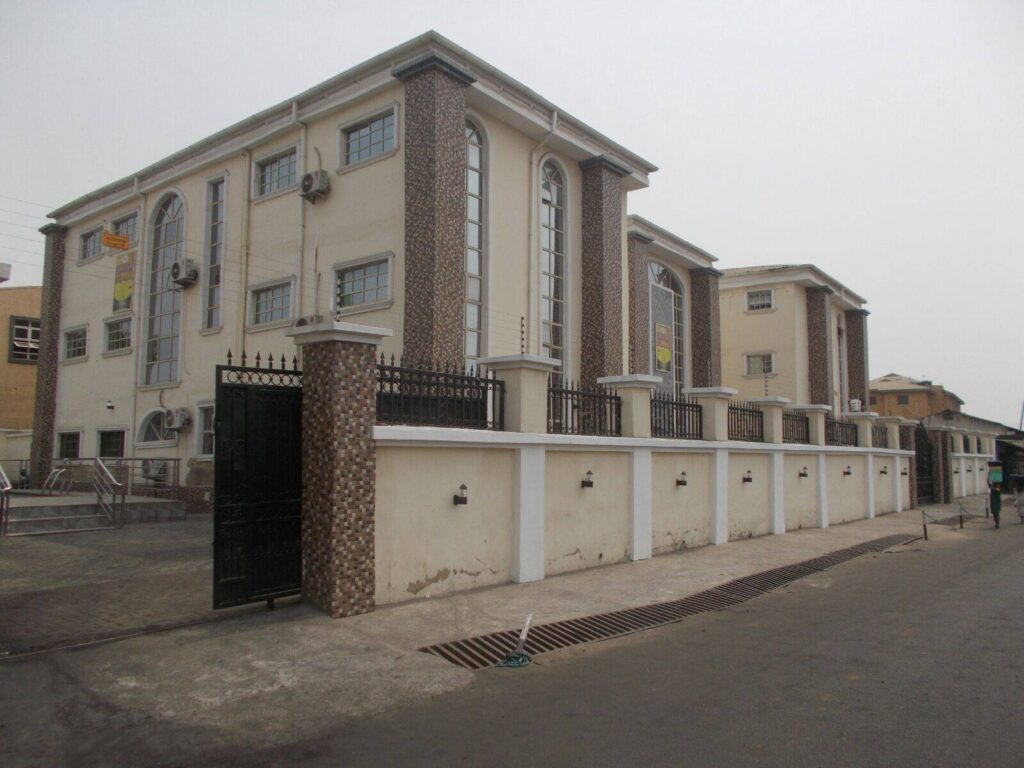 This hotel is said to get daily guests as a result of its proximity from Alaba International Market. 
Ausken Royal Hotel is well known for its soundproofed rooms which are equipped with air-conditioning units, a minibar, refrigerator, flat-screen TV with satellite reception, and an en-suite bathroom. The rooms also have a balcony and complimentary breakfast is served daily.
It is among the affordable hotels in this area as the rooms are categorized to suit the taste of your pocket. You can even change your currency at this hotel. It is among the extra services they offer along with luggage storage, laundry/dry cleaning, car hire, and airport shuttle. 
Just in case you run out of cash, there is an ATM machine around the hotel premises that dispenses cash 24 hours. 
Adequate Security and constant power supply is certain in this hotel. We wish you a very happy and memorable stay at Ausken Royal Hotel as they offer sumptuous meals from their on-site restaurants and luxurious beverages from well-equipped bars.