I think by now, it is needless to say that Lekki Is a high brow area, home to the affluent and rich dwellers of Lagos. Situated to the east of Lagos state, Lekki remains a center for luxury, entertainment, and fun.
Lekki and similar locations on the Lagos island have prestige for being some of the most expensive real estate assets in Lagos State.
It is believed that to have the best of Lagos as a visitor, the island is the best place to be. This is certainly true because there are innumerable opportunities for fun including several numbers of beaches and resorts and hotels. It is a sure location in Lagos to enjoy the nightlife.
Speaking about hotels, you will scarcely find a wack hotel in Lekki phase one. Allow me to take you through the best hotels in Lekki recommended for visitors and business travelers who are far from home.
List of best hotels in Lekki, Lagos
NO 95 Suites
Address: 95 Omorinre Johnson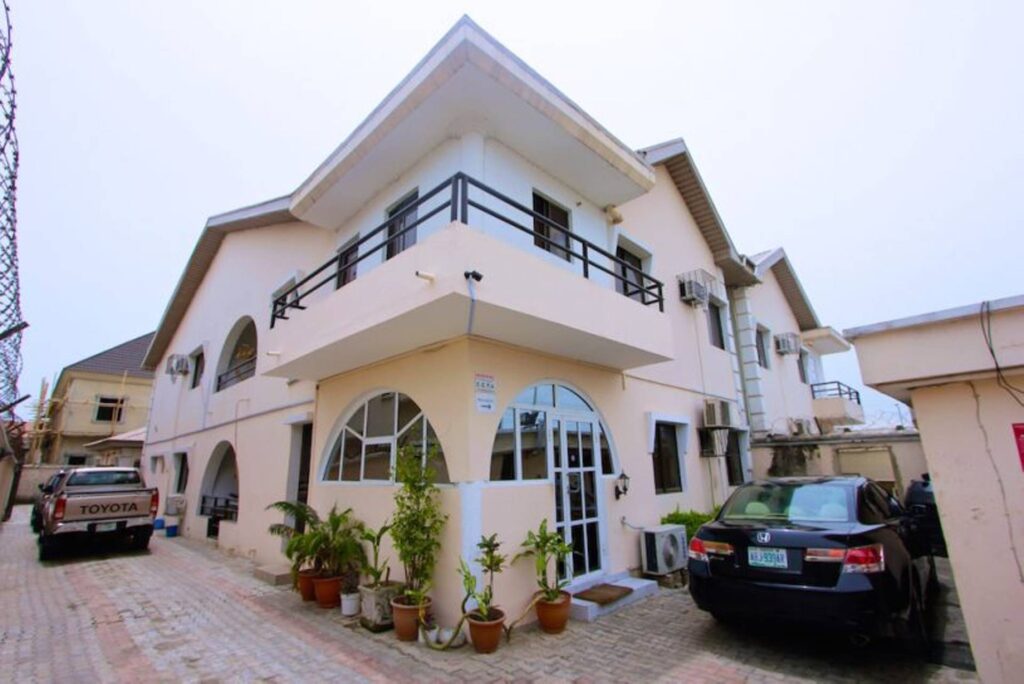 NO 95 Suites is a reputable guest house located in lekki phase one. It is well known for its outstanding service in providing a cozy environment for relaxation.
It is an excellent guest house that boasts of rooms that are well equipped with modern facilities such as 32/42 inch flat-screen TV with DSTV connection, comfortable sofas, chairs and stool, air conditioner, Internet access, and access to an additional lounge.
They provide a cool bar to serve chilled beverages accompanied by mouth-watering dishes from the well-established restaurant onsite. Rooms in this hotel are categorized as some of high cost has top facilities like dining table and chair, fridge, a fully equipped kitchenette with mod cons and cooking utensils, sitting room, washing machine and an en-suite shower cubicle with power shower.
The Lilygate Lagos
Address: 2, Olubumni Owa Street, N.B.D., Lekki Phase 1.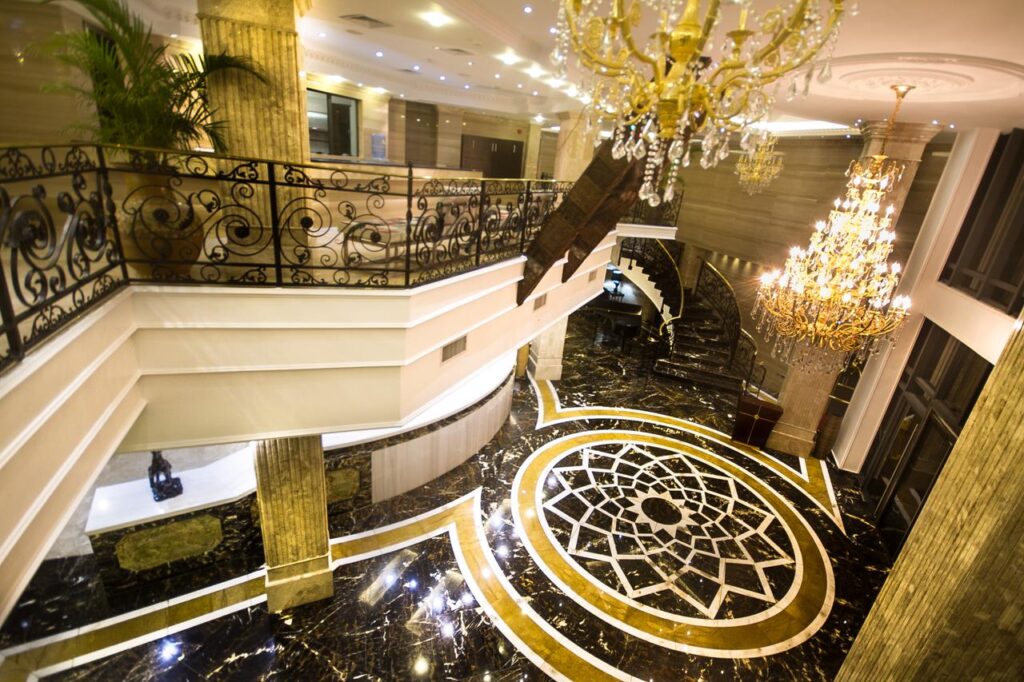 The Lilygate hotel offers professional hospitality in a modern style. It is a luxurious hotel housing the most sophisticated and comfortable accommodations for guest travelers who desire comfortable lodgings and excellent hospitality services.
It is close to the elegushi beach and lekki conservative center making it the best choice for an avid traveler. The hotel boasts of 74 luxury rooms fitted with The king-size beds, an ornate lampshade, a flat-screen TV with both local and foreign channels, a desk, a sofa, and an en-suite bathroom.
Enjoy delicious African and intercontinental dishes from their restaurant as well as exotic drinks from well-equipped bar. There is also a free internet connection for guests.
An event hall has been set up to accommodate conference and seminar at an affordable cost
There is constant power supply coupled with round the clock security personnel to keep guests safe. The Lilygate hotel offers extra services such as laundry, ironing, concierge, and room service from the hotel but at a fee.
Austasun Place
Address: 4 Emmanuel Adebayo Close Off Baderinwa Alabi Street Behind Cannan Mall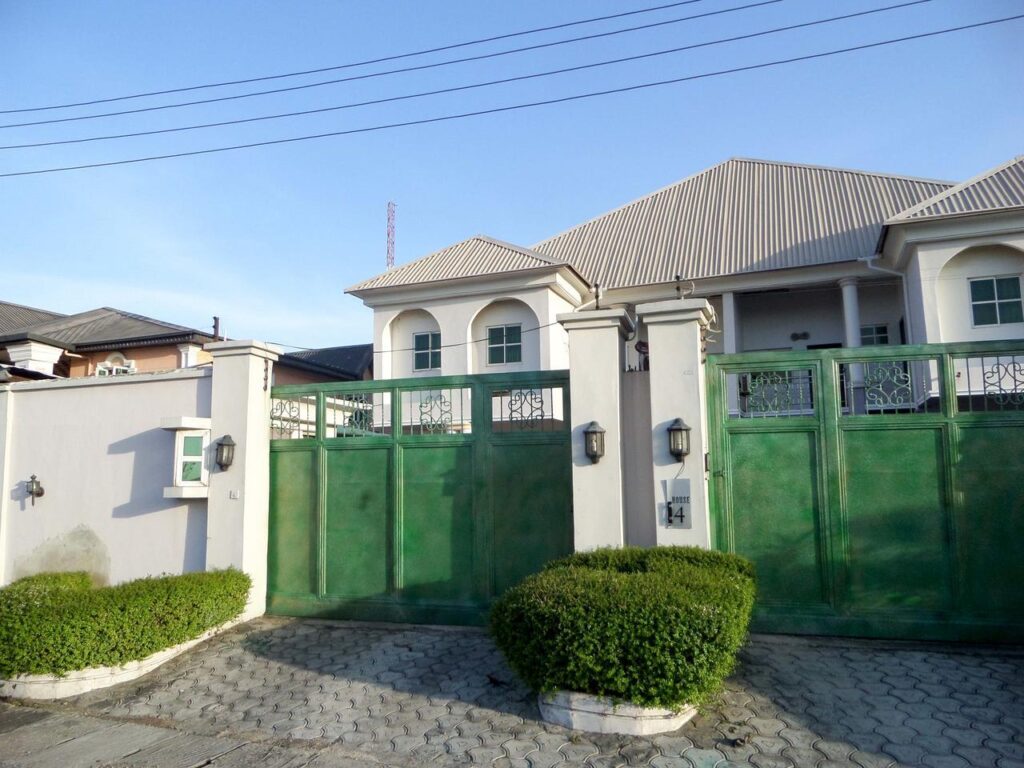 Most visitors choose Austasun Place hotel because they provide state-of-the-art infrastructure for guests to use at their leisure.
I personally salute their quick and efficient services and how timely they process guests requests. The hotel is a few distances away from the well-known Atican Beach and Lekki Mall.
They flaunt spacious rooms fully air-conditioned with great furnishing and modern designs. The private bathroom comes with a shower.
Interesting things in the premises of Austrasun Place include an exquisite bar, well-established restaurant, wide swimming pool, and spacious packing space backed by tight security.
Lekki Waterside Hotel
Address: Plot 2B, Wole Olateju Cresent. Lekki Phase 1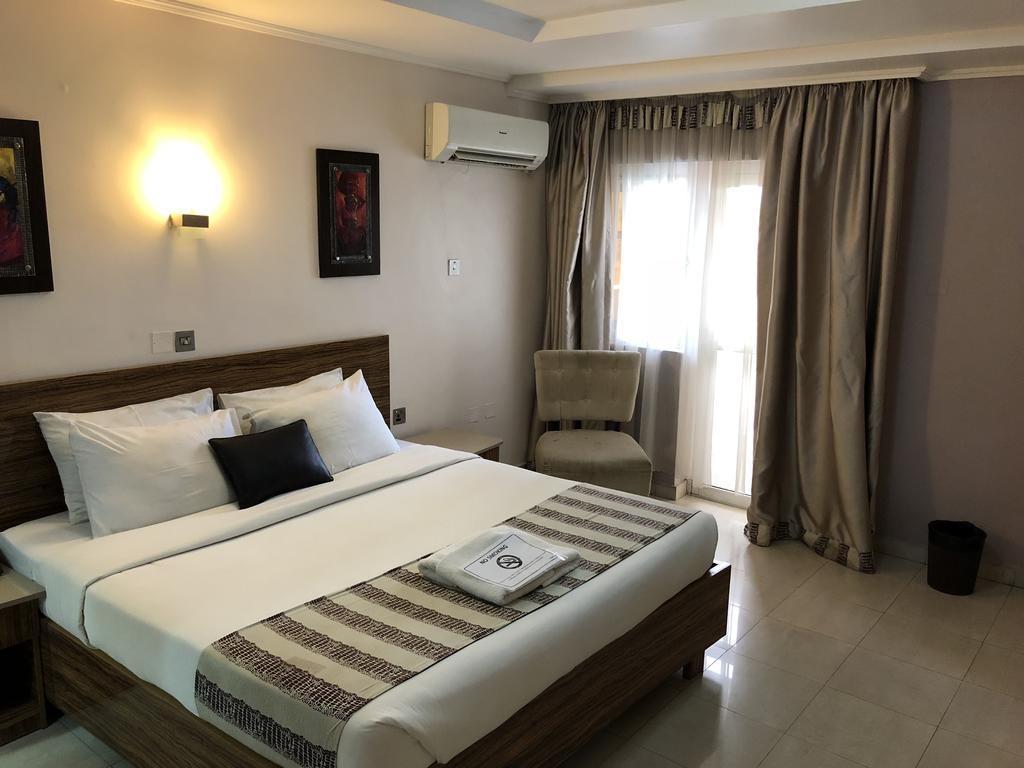 Lekki Waterside Hotel is remarkable for the modern facilities blended with a tranquil environment to assure guests optimum relaxation.
Each room at Lekki Waterside Hotel is adorned with telephone, an air conditioner, a work desk, and chair, a luxurious bed, flat-screen television set with a multi-channel cable TV subscription, en-suite bathroom, and bathtub with shower facilities and complimentary toiletries, refrigerator and swift, free internet access.
It is quite an affordable hotel with categorized rooms varying from Standard rooms to Superior rooms, Executive standard rooms, and the Executive Suites. Each category comes with varying costs.
You can be sure to get nothing but high-quality hotel service from well-trained staffs at Lekki Waterside Hotel
Extended Stay Grand Hotel
Address: 21 Oladimeji Alo, Off Freedom Way Beside Canadian Embassy, Lekki Phase 1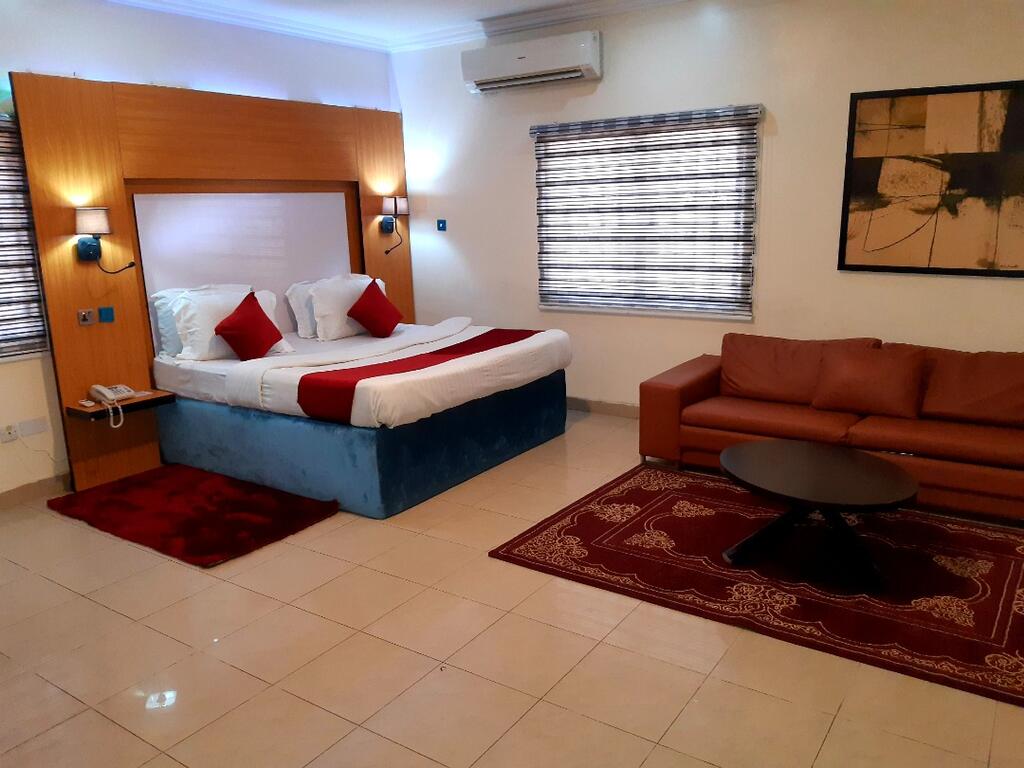 Extended Stay Grand Hotel is not only among the ideal hotel to lodge in lekki but a sure place to catch fun and spend a good time with friends and family.
The hotel provides comfortable accommodation to guests with its spacious rooms equipped with a king-sized bed, cable connected TV set, refrigerator, bedding items, and air conditioner. The bathrooms in each room are really spacious.
It is not far from elegushi beach and Muritala Mohammed International Airport. The hotel assures 24 hours of electricity, accessible routes for the disabled, and maximum security.
Other things to enjoy at the premises of the hotel includes an onsite restaurant, free internet access, a swimming pool, and a bar.
They offer extra services which include shuttle service from Muritala Mohammed International Airport, dry cleaning/laundry service, and ironing service on request. Please note that these extra services attract additional costs.
Limeridge Hotel
Address: Plot 10, Chevron Drive
The Limeridge Hotel Lekki is encompassed by the famous Alpha beach and the Lekki Conservation Centre. It is an ideal hotel for travelers in lekki.
The hotel provides rooms with classic designer decor and high-quality amenities. It is the best of its kind.
Having 85 luxury rooms and suites fully equipped with bathrooms en-suite and refrigerators, free Wi-Fi connection, cable TVs, room safes, lampshades, and workstations, guests are assured nothing but extraordinary comfort.
The rooms come in different categories such as Classic Queen, Superior Queen, Classic Queen, Classic King, Executive Room, Royal Family, Royal Suite, and Royal King.
The hotel boast of well-qualified staff and security personnel to serve guests in the best way. Other extra services are as well available at this hotel at affordable fees.
Other interesting facilities on the premises of Limeridge Hotel include a swimming pool, restaurants, and an exquisite bar.
Peninsula Hotel
Address: Block 94, Plot 16, Lekki-Epe Expressway, (Providence Street) Lekki, Phase 1 Lagos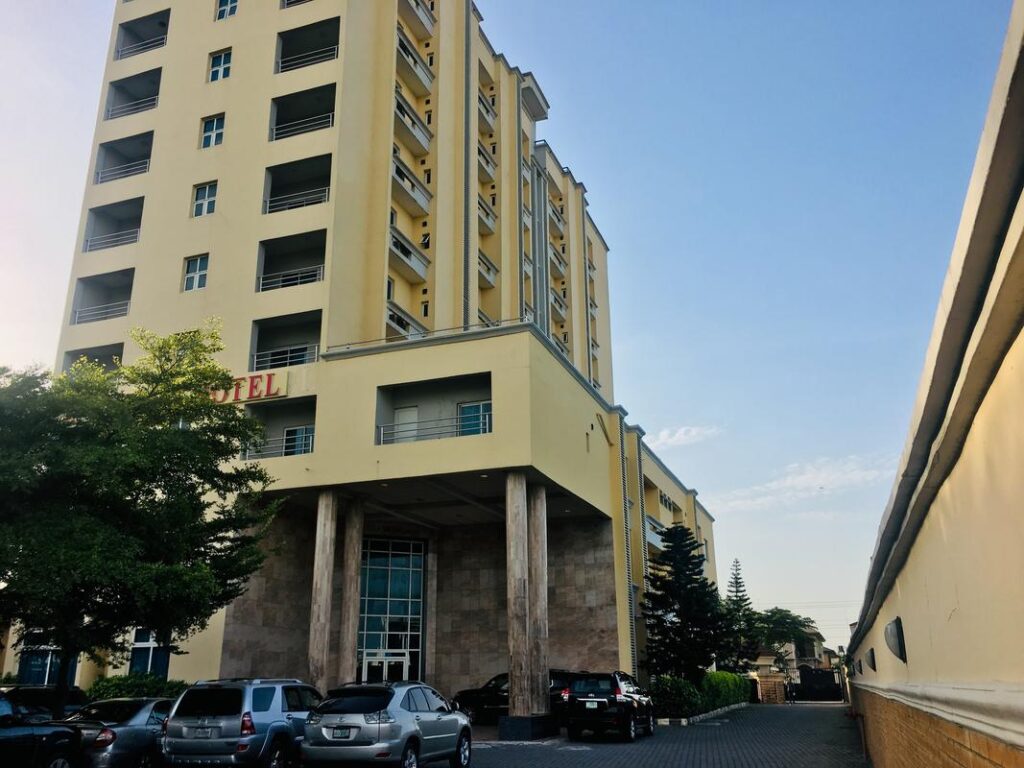 Dwellers of Lekki should know about the prestigious Peninsula Hotel. The building stands magnificently and gigantic encompassing a surrounded layout of the sea.
The view of this hotel is breathtaking and awe-inspiring. Rooms at The Peninsula Hotel offers comfort and an environment for uninterrupted relaxation. Facilities to be enjoyed at each room of this hotel includes work table and chair, telephone, air conditioning, King-size beds, high-speed wireless internet access, digital safe box, flat-screen television sets, and private bathrooms with stand-in shower facilities.
The restaurants at the Peninsula Hotel are ready to trigger your taste bud with both local and intercontinental dishes. Guests can also enjoy chilled beverages at the bar/lounge area. Keep fit during your stay by using the top gyming equipment in their gym house.
The hotel offers extra services like laundry and car hire services attracting additional charges.
Eastgate Lekki
Address: 4, Dreamworld Africana way Olugborogan Olusesi, Chevron Round-about, by the second Lekki Toll. Lekki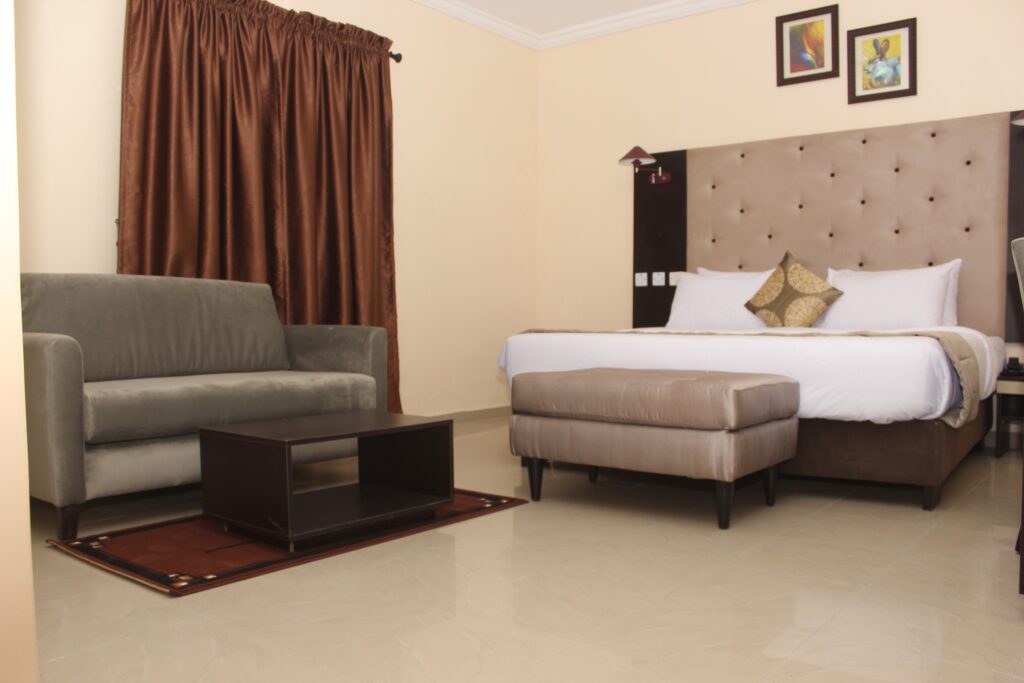 57 well-equipped rooms fitted with luxurious king-size beds, study desks and chairs, flat-screen television sets with multi-channel satellite access, sofas and center tables, wardrobes, air conditioning, en-suite bathrooms with excellent shower facilities and free toiletries, plus free wireless internet connection is what the Eastgate Lekki has to offer to guest and business travelers.
Not only that, but it is also located in a tranquility area where couples can decide to go chill out. It is a luxurious, yet budget-friendly hotel with categorized rooms such as Mini Standard, Standard, Executive, Studio, Suite, and Business Suite.
They also have an onsite restaurant, we'll establish a bar, swimming pool, gym house as well as a large parking space.
It is definitely among the best hotels to lodge at lekki, Lagos.
Marysville Hotels
Address: Plot 12 Otunba Adeleke Adesina Street, By Jeremiah Ugwu street, Off-Road 47 Admiralty Way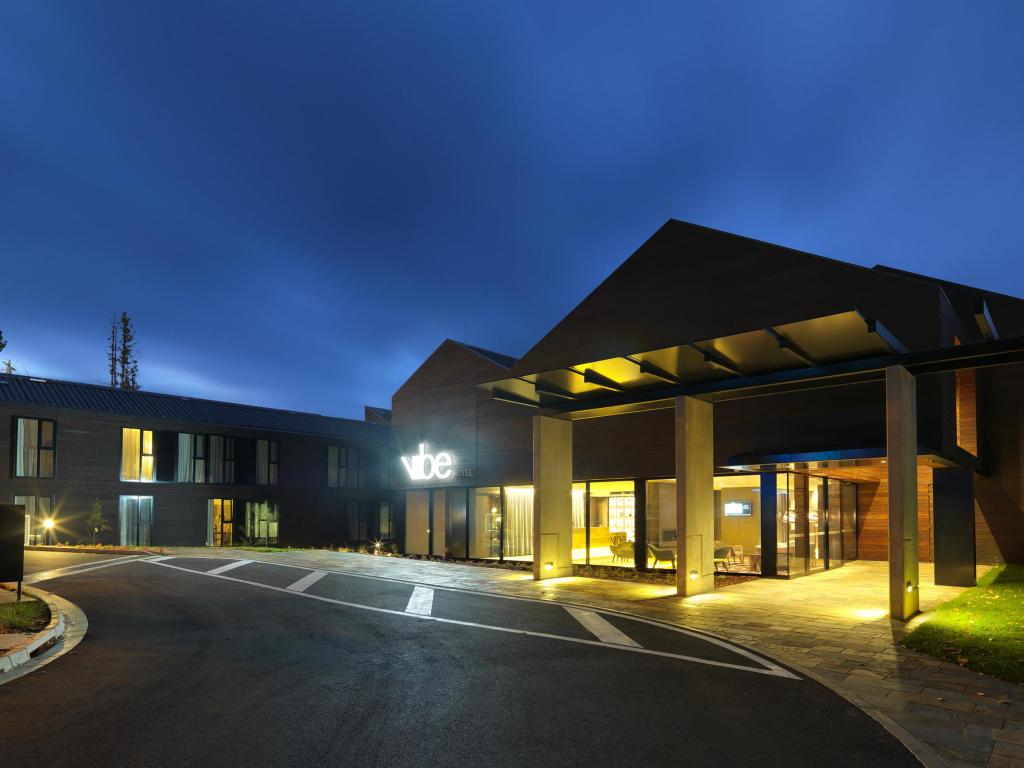 Well-stocked bar, sumptuous dishes from the restaurants, outdoor pool, and all other amazing stuff to keep you comfortable and relaxed while far away from home is all available at Manyxville Hotels.
The rooms at this hotel have everything needed to make you feel at home. Facilities include air conditioner, refrigerator, flat-screen TV with cable connection, work desk, intercom, and wall portrait. Toiletries are also available in the bathrooms.
Spacious rooms are classified into the standard room, standard double, studio suite, mini-suite and presidential suite.
LekkiAstor Tourist Inn
Address: Plot 115 Ayo Babatunde Cresent, Off Frank Kuboye Oniru Estate By New Ebeano Supermarket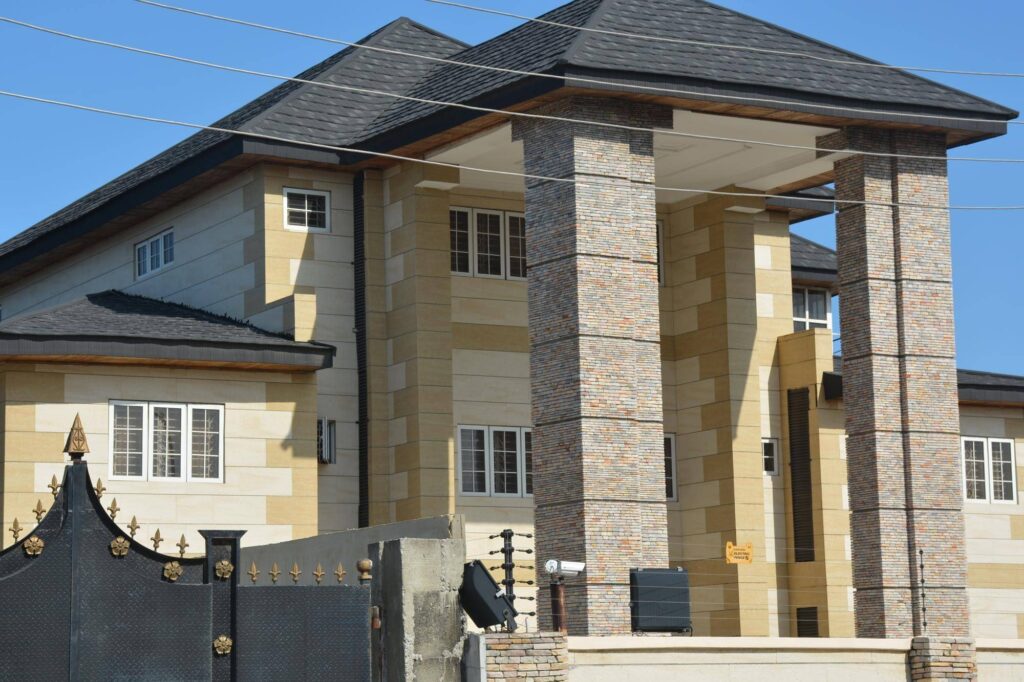 Lastly on our list of best hotels in lekki is the reputable LekkiAstor Tourist Inn. It is a very nice hotel situated not too far from Ebeano Supermarket and the Lekki Coliseum.
Any visitor or tourist would love this hotel because of the beautiful view of the outdoor pool, and well-furnished rooms. The hotel also makes available swift internet access for guests coupled with An Outdoor dining that is located by the poolside.
There is an array of both African and intercontinental dishes made available to guests at the restaurants as well as chilled beverages in the bar section of the hotel.
They boast of spacious rooms that are fully air-conditioned. Facilities in each room include a king-sized bed, flat-screen TV with cable connection, sofa, intercom, wardrobe, refrigerator, work desk/chair, and an ensuite bathroom with toiletries.
While the LekkiAstor Tourist Inn provides extra services like car hire at an additional charge, it is among the best, affordable hotels in Lekki, Lagos.
The cost of living in Lekki is incredibly expensive. This can be really intimidating to those with slim pockets. The environment houses classy, yet simple folks. I hope this article has been able to become your friendly guide in choosing the best hotel in Lekki to lodge in.
Do have a good trip.