Discover the top hotels in Yaba, Lagos, and save yourself from an expensive night stay.
There was a time the popular comedian 'Elenu' made a very interesting and shocking joke on a particular show about his real-life experience in a hotel in Lagos. 
If you were present in that particular edition of Ay live at Eko hotels and suite some years back, you will agree with me that some of the stories were rather fabricated by the comedian. However true or untrue Elenu's story may seem, it did make people laugh out their skull in the show.
I am reminiscing this memorable experience because it kind of links to why there are hotels in Lagos that supersedes others. 
Not just because of the competitive nature but because of how hotel managers in Lagos have invested so much to entertain, feed, and provide hospitality for the teeming, productive Lagosians. 
In this article, we shall take a closer look at the best hotels you will find in Yaba, Lagos. 
Yaba is one of the most popular hubs or cities on the mainland. Apart from the remarkable educational institutions in it, there is an avalanche of hotels and restaurants that one could visit in Yaba. 
Couples with Lagos madness, this is one of the places you get all the drama. All the stories and all the tales of city life. 
Speaking of the avalanche of hotels in Yaba, we are here to show you the best among them that stand out. So if you are planning a trip to this city hub, do not neglect any of these hotels. They'll serve you well! 
Top 5 Hotels In Yaba 2023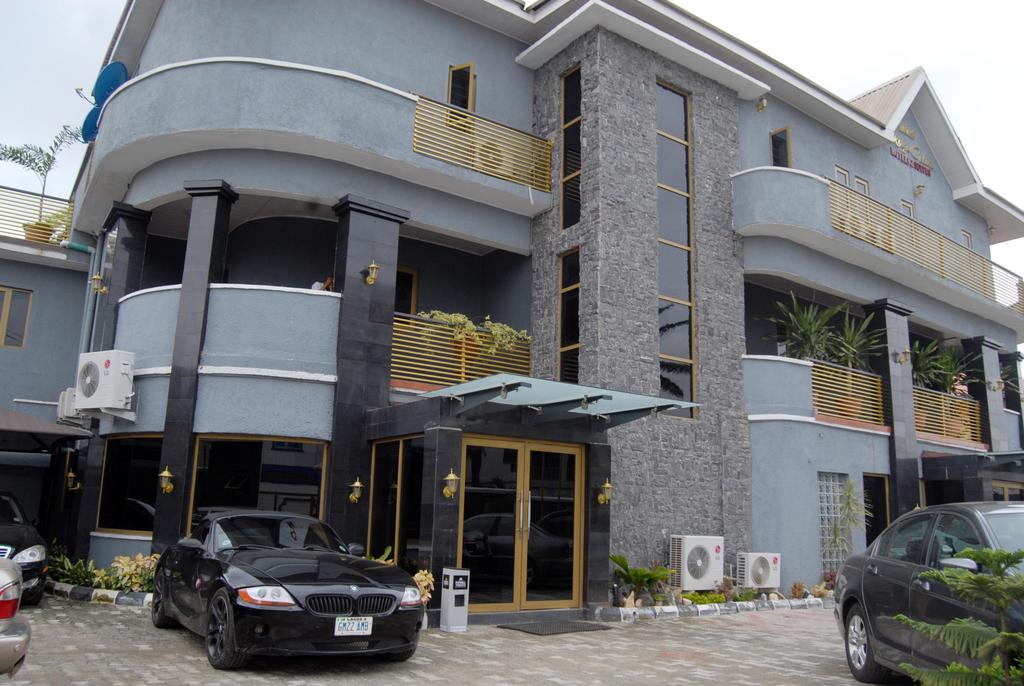 1. Kings Celia Hotel And Suit — No 8 Jibowu Street
This is a hotel where guests can enjoy the quality of service provided by the staff at the hotel and still under a friendly budget. 
Trust me when I say their rooms are classy and well furnished. According to how much money you can afford, they have Standard Room, Deluxe Room, Executive Room, and Super Executive Suite (this one is the baba of them all).
No matter the category you choose, your room will have uninterrupted electricity throughout your stay in the hotel, free wifi for customers in the hotel, flat-screen TV sets, air conditioners, as well as in-house dining.
The hotel offers additional services on requests such as 24-hour front desk, shuttle service, Luggage storage, and Express check-in/check-out
A number of facilities are available at Kings Celia Hotel And Suite which includes:
Adequate Parking

Air Conditioning

Airport pickup

Dry Cleaning

conference facilities

Car Hire

Swimming Pool

Free WiFi

Bar/Lounge

Restaurant

90 number of rooms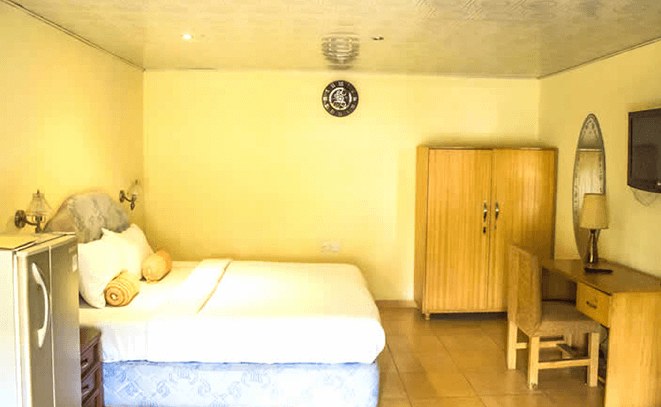 2. Unilag Guest House — University Of Lagos Akoka
Not only is this hotel among the best hotels in Yaba, the Unilag guest house also  has boardrooms that are fully equipped to provide the right atmosphere for business meetings. 
It is a very affordable and luxurious hotel that is situated in the capillaries of the University of Lagos, Akoka. 
This is a hotel that gives you that magnificent, scenic view of the Lagos Lagoon. 
Their rooms are categorized into Studio, Classic, Superior, Deluxe, Royal, and Ambassadorial rooms. Yes, you guess it's as good as mine. These rooms vary in features and cost. 
Just like the hotel we talked about earlier on, Each of the rooms in Unilag guest house is individually air-conditioned, has a flat-screen TV with satellite channels, a refrigerator, a king-size bed, a study desk, a soft sofa, an intercom, a wardrobe and an en-suite bathroom. 
 There is also a well-treated pool for people who love to swim and have fun after hitting their well-equipped gym. 
Other facilities in the Unilag guest house at Yaba include the following. 
Parking Garage

DSTV

Flatscreen TV

concierge

King-sized bed

Study Desk

Intercom Telephone

Wardrobe

Sofa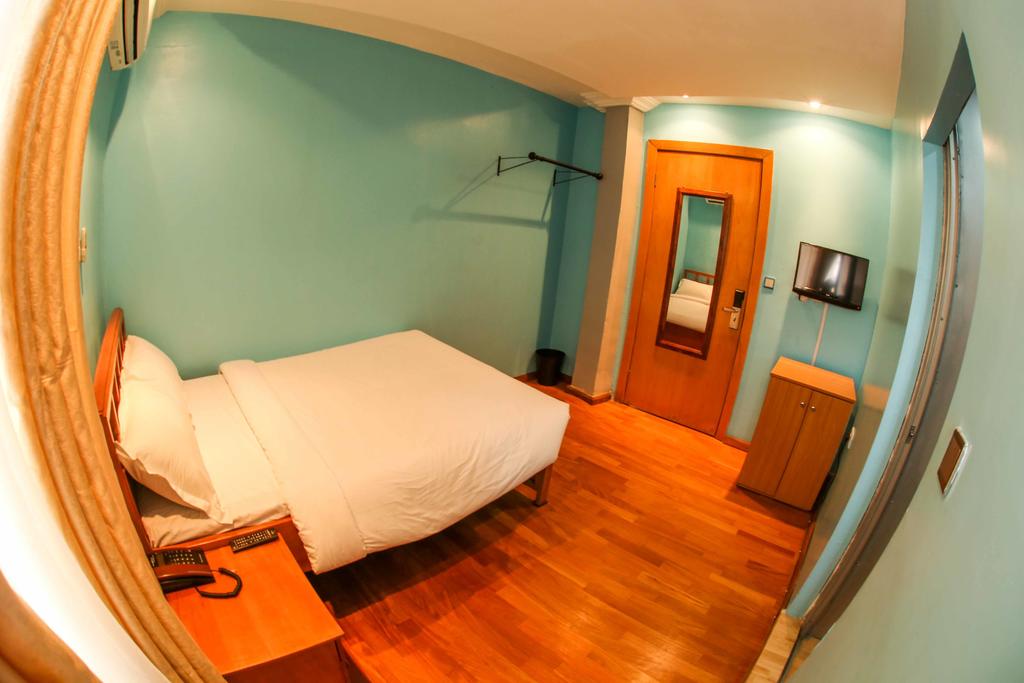 3. The Snug — 30 Commercial Avenue, behind First Bank, Sabo, Yaba
Now, most of the 5-star hotels we have in Lagos are located on the island. But when we talk of the king and queen hotel in the mainland, the Snug is a two-star hotel that has Great hotel amenities available for customers such as: a restaurant with buffet facilities, Bar/lounge, Conference hall, and a meeting room.
Their Rooms are categorized into Extra Snug, Snug Classic, Snug Deluxe, and Snug Classic. 
And for sure, these rooms come with great facilities to ensure maximum comfort and satisfaction of guests
So the amenities to enjoy include perfect air conditioning, flat-screen television with a multi-channel cable subscription, en-suite bathrooms with complimentary toiletries, mini-refrigerators, and wireless internet connection which is free.
Some other facilities in the Snug hotel include top-notch security, stable power supply, and adequate parking space and the following 
Restaurant

Security

Wireless Internet

Air Conditioning

24 Electricity

Meeting Rooms

Bar

Room Service

Refrigerator

Flatscreen TV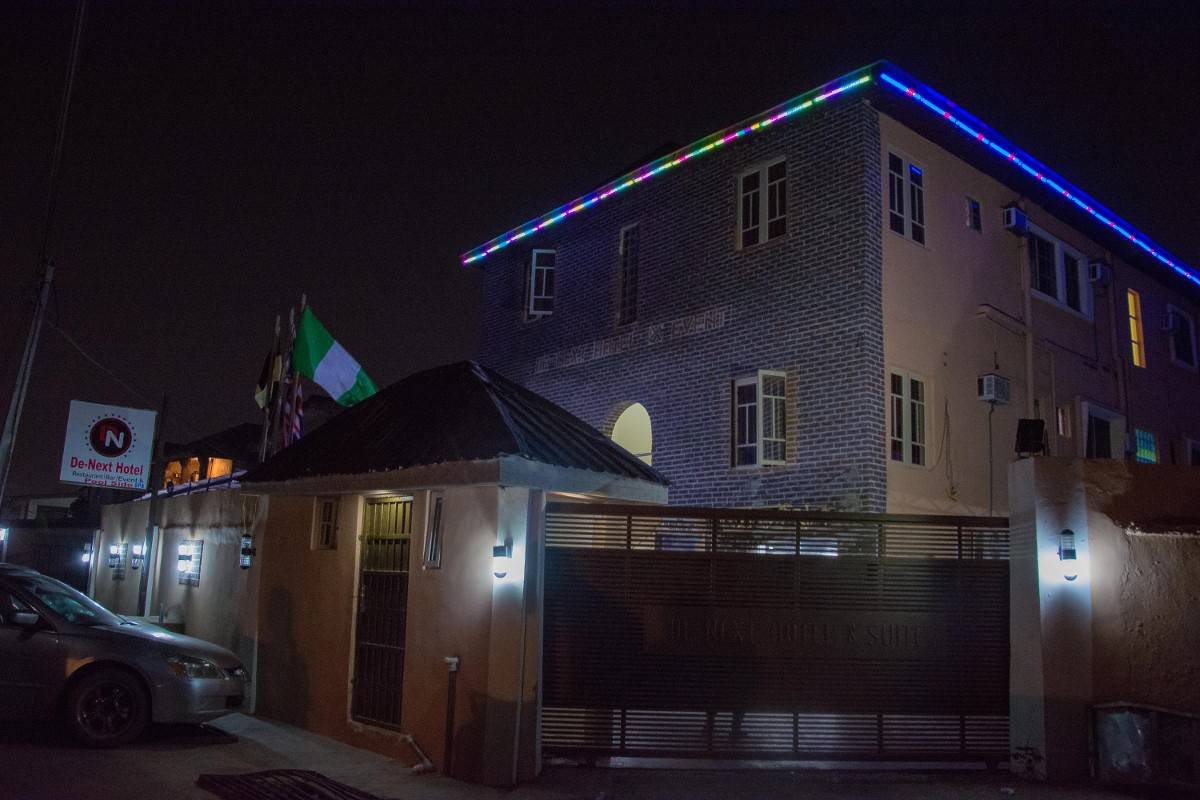 4. De-Next Hotel — 2 Wulemotu Ajoke Street, Chemist Bus Stop
Located at 2 Wilmot Joke Street, Chemist bus stop, Akoka, Lagos, Nigeria this is a 2-star hotel that combines modern lodging facilities with premium customer service to see that their guests are satisfied. It is a few minutes distance from the UNILAG
De-Next Hotel is a budget-friendly hotel that has guest rooms of various sizes and amenities ranging from Presidential Suite, Executive, Diplomatic, to the Studio room. 
Just as the rooms, the guest room is well equipped with DSTV reception, en-suite toilet, and bathroom, telephone, fan, Wi-Fi Internet access, 24 hours electricity and wardrobes. 
Additional facilities available in De-Next hotels include the following below.
Restaurant

Bar/Lounge

Security

Air Conditioning

24 Electricity

DSTV

Double bed

Wi-fi Internet Access

Air Conditioning

Telephone

Wardrobe

Fan

Flatscreen TV

POS

Shower

Room Service

CCTV camera
5. Placido's Place — No 5B Alakija Street, Jibowu, Yaba
A hotel that is located directly after the WAEC office at Jibowu and not too far from the Yaba College of technology. This hotel boasts of its remarkable swimming pool and gym equipment coupled with its nice rooms to keep fit for those arduous business meetings. 
Placido's Place is a budget hotel in Yaba, Lagos where Each room is individually fashioned with red brick and stone chippings with very prominently utilized architectural works because of their cool and earthy effect. 
In all the rooms of this Hotel, you will find all rooms, fridge, and stylishly crafted wardrobes.
The durable TV  for viewing and Ideally suited as a venue for select, intimate events and parties makes it a top pick.
Some Other facilities enjoyed by the customers of Placido includes:
Restaurant

Bar/Lounge

Wireless Internet

Event Hall

Dry Cleaning

Clothing Iron

Kitchen

24 hours of Electricity

Swimming Pool

DSTV

Refrigerator

Laundry