Hotels in one of the busiest places in Lagos, Oshodi, would do anything to assure guests great comfort, convenience, and security.
Oshodi, Lagos is well known as an area for thriving in the city. From the daily bustle and hustle of city life to the thrive for daily needs coupled with different kinds of people on the street and thousands of kiosks selling similar goods in every road and every corner.
Best Hotels in Oshodi Lagos 2023
As a business traveler who finds himself in oshodi and looking for a nice hotel to lodge, it can be a very difficult task to find one because you can hardly tell. (except the hotel is very popular).
But not to worry, we have made everything easier by curating a very interesting list of the best hotels you can find in Oshodi, Lagos.
Presken Hotel at International Airport RD
Address: 50, International Airport Road, Ajao Estate Busstop, Mafoluku, Shogunle.
Average price per night: NGN10,750
It will be unforgivable to list out the best hotels in oshodi-Isola without mentioning Presken Hotel @ International Airport RD. Why? They are claimed to be the best and most affordable in its class.
Presken Hotel @ International Airport RD boasts as a top choice hotel for tourists and business travelers who visit Lagos or oshodi precisely. In addition, it is an ideal place for families on vacation in Nigeria, couples on honeymoon, and corporate people. When it comes to a luxurious hotel, this is relatively the most affordable one.
It's situated near landmarks such as Murtala Muhammed International Airport, Domino's Pizza, Oshodi Market, Ikeja Golf Club, Computer Village, and Police College Ikeja. These factors make it a top choice for travelers in Lagos.
The hotel runs a very cool restaurant where top meals are prepared with modern cooking equipment. They also have an on-site bar where guests can enjoy any sort of beverage. You should also check out their gym center and swimming pool. They hold everything required to deliver world-class service.
The hotel infrastructure includes an elevator, free onsite parking, billiard, fitness center, an outdoor swimming pool, a restaurant, and a bar.
Above all, the rooms guests stay in at Presken Hotel are really spacious and fully air-conditioned. Each room is fitted with wall arts, cable connected LCD TV, mini seating area, room heater, wardrobe, and a private bathroom. In Connection, The bathroom is fitted with gleaming tiles and a stand-in bathtub.
You can be sure to have a good time there.
Chalon Suites
Address: 2, Ekiti Close, Ekiti Avenue Off Okota Road
Average price per night: NGN13,000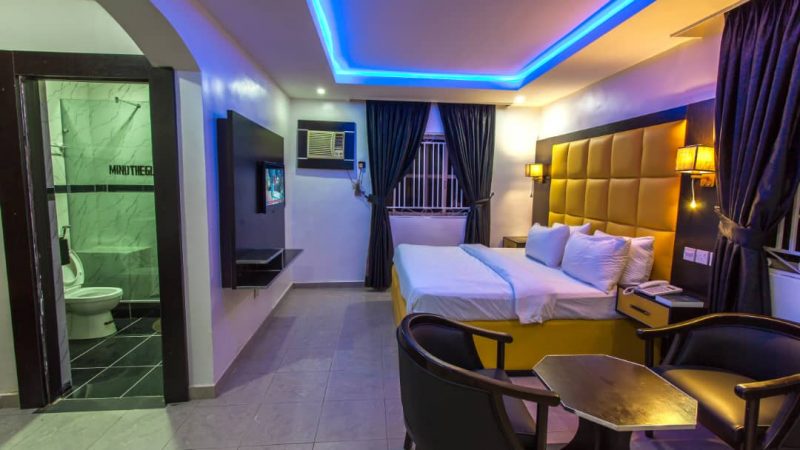 Any visitor coming from the Murtala Muhammed International Airport would prefer a nearby hotel. The Chalon Suites is among the best hotels you can assess from this location as it is not far from the airport. The hotel's fundamental aim is to see that guests are served pleasure and comfort at a satisfactory price.
The rooms at this hotel are enormously fitted with all of the amenities needed for a room to be lit for one or two individuals. Each room is tiled with air conditioner, work desk, telephone, flat-screen TV with satellite channels, a fridge, armchairs, and an en-suite bathroom with toilet paper, towels, and linen provided free.
While there is an unrestricted internet connection for guests to bask, the hotel also runs an onsite bar where assorted beverages are served at it's best.
Chalon hotels offer extra services which include cleaning services, daily maid service, ironing service, dry cleaning/laundry service, a meeting/ banquet facility, and absolute security.
Macclesfield Hotel And Event Centre
Address: 35, Seine Calisto Crescent, Off Oshodi, Apapa Expressway
Average price per night: NGN11,000
If you are to list out the best hotels with top lodging facilities in Oshodi, it will be very difficult to leave out Marblefield Hotel And Event Centre.
The entire hotel is entirely festooned with elegant layouts to provide nothing but a cozy and decent environment for guests.
Macclesfield Hotel is made up of 41 well-appointed guest rooms and suites with electronic key access. Each of these rooms is fitted with air-conditioners, wardrobes, TV sets with cable reception, work tables, sofa, tea/coffee facilities, sofas, and comfortable beds.
For affordability, the hotel rooms have been categorized according to the level of luxury. The hotel also guarantees guests well-served meals of both local and continental in their restaurant as well as awe-inspiring dining options in their exotic bar.
Rigid security is assured in the hotel as there is 247 power supply anyway, anytime.
Sky Suites Nigeria Limited
Address: 58, Igbehinadun Street, Bolade, Oshodi
Average price per night: NGN7,500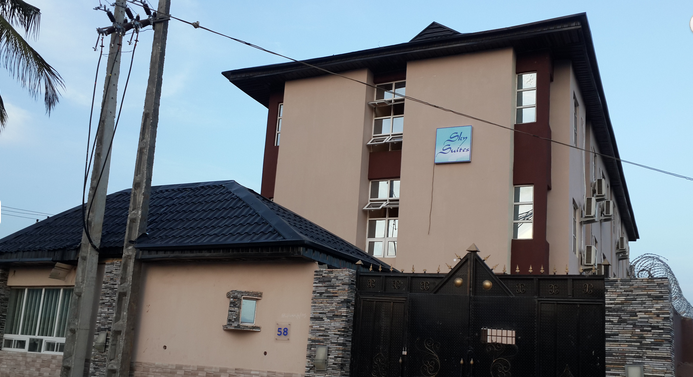 Second to the last on this awesome list isSky Suites Nigeria Limited. I do not just list out hotels based on how porshe they are but how positive real people take about them.
Most reviewers across various websites say that this hotel seems to be among the top choice for tourists in lag is as a result of it's short proximity to The Arena Shopping Mall.
Rooms in Sky Suites Nigeria Limited are grouped into various categories for luxury and budget reach. And yes, The price of these categories varies according to each category of choice.
Top rooms in this hotel have a living room embedded. Each room in total has a bathroom, a refrigerator, a flat-screen TV, toiletries, and air conditioners.
Visitors who lodge can also enjoy free wifi connection, restaurants with affordable meals as well as meeting rooms, banquet halls, and exotic bars.
They equally provide extra services for new guests just as it is done at Marblefield Hotel And Event Centre.
Arc Reception
Address: 57, Dr. Fasheun Avenue, By Century Bus Stop, Ago Palace Way, Oshodi-Isolo
Average price per night: NGN4,500
I have reserved this hotel for those who are on a budget and still want to relish a satisfactory hotel service and accommodation. The hotel can be located around Remembrance arcade at 57, Dr. Fasheun Avenue, By Century bus stop, Ago Palace way, Oshodi- Isolo, Lagos.
This hotel is well known by the locals of that area as one with top facilities and large rooms. This hotel also shares free interest access with guests who lodge.
All of the rooms at this hotel are equipped with Flat-screen televisions, cable connection as well as private bathrooms. They also have an event center built inside the hotel premises where social events are carried out at a certain cost.
There is always a wide range of African dishes at the restaurant managed by this hotel. Guests can be guaranteed safety and round-the-clock power supply.
These hotels I have just shown you are really cool and will give you nothing but a wonderful lodging experience in Oshodi area of Lagos state.
Do let me know in the comment section about the best hotels you know around Oshodi.