As a Lagosian, if by now you have not heard about a place called Mega Chicken at Lekki, then you are missing out big time! Among the best eateries and restaurants in the mainland, I am about to briefly show you an interesting review of one of the top five on any list. 
Not only do they provide a wide range of both local and foreign dishes with various kinds of soup, the huge and magnificently built eatery also maintains a very clean and cozy environment. 
If you are currently in Lagos, and you are looking for a place to chill out then you've found this place ideal. Located in Ikeja, Lagos, They have a bar where guests are treated with a nice variety of drinks as well both alcoholic and nonalcoholic at affordable prices.
Being a 5-star restaurant, they produce first-class cuisines by international and local best Chefs of very high repute in the food and catering industry.
Ever since their inception in 2008, they have been consistent in engaging their proficient food experts from various backgrounds and cultures to achieve that natural taste you will always love.
What Makes Mega Chicken The First Choice For All?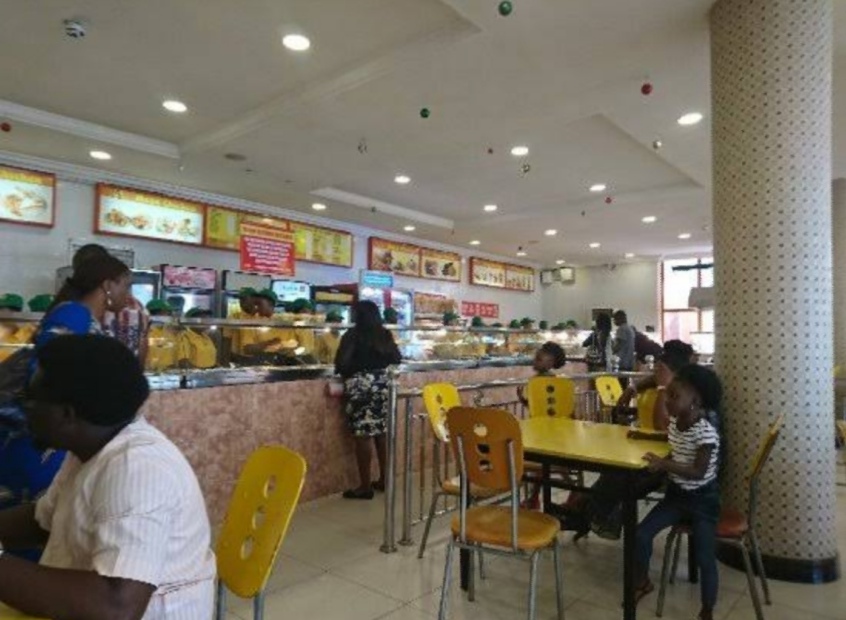 They have been able to maintain a solid front line position amidst the tough competitive environment of the restaurant business in Lagos by making professional use of only most modern and proven equipment for an extensive, diverse, and imaginable array of foods thereby offering foods under the most hygienic conditions.
At Mega Chicken, every national always feels at home, courtesy of our array of food products for many nationalities and tribes. 
Their restaurants are tastefully furnished and embraced with a very relaxed environment which offers the perfect ambiance to enjoy your eating experience. 
Above all, what we enjoyed at this eatery is their sumptuous foods well served by well-mannered and decent staff. ( I can't count the number of times I have complained to my partner about rude staff in some eateries, especially in Lagos here! But this does not apply to the attendance we got at mega chicken)
How To Get To Mega Chicken (Agidingbi)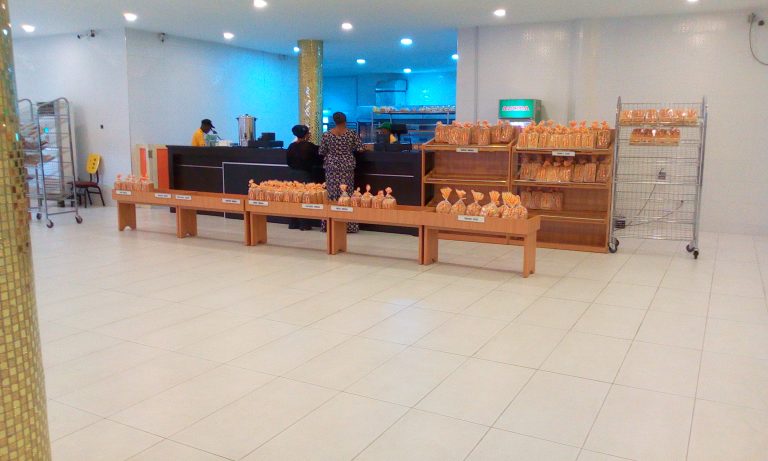 The aroma of baked loaves of bread from this section enticed our very sense of smell
You can locate this place easily from any part of Lagos. The Google map maybe your buddy as well as other landmarks that surround the eatery.
If you are coming from the Oshodi axis, take a Danfo from the Oshodi Isale bus stop that is heading toward Ogba Bus Park. Get off at Ogba Bus Park.
Then take a cab from Ogba bus park heading towards Ojota Bus Park and get off at Agidingbi bus stop.
From here, you need not anyone to tell you where mega chicken is exactly as you will now be able to see it from a close distance. If you are going by public transportation, this shouldn't cost you more than #250 and 36 minutes estimated travel time.
The same description applies if you are going with your private car.
Located at Lateef Jakande Road | Ikeja, Lagos, Nigeria, This place is ideal to spend luncheon with a friend or loved one.
Other Freebies To Enjoy at Mega Chicken Includes: