Hey guys, let's talk about  local meals like you've never had.
As a multi-ethnic city, Lagos is a fertile ground for fabulously delicious delicacies. From the east, west, north and south to virtually every corner in-between the center of excellence, there are a plethora of spice-rich flavorful dishes that tie Lagosians together. Speaking about local dishes, there are a lot of places to get wonderful native delicacies. One could opt for a local restaurant around or head to any bucataria. What we all know as 'mama put'.
Well, if you are looking for a nice restaurant where you can get real Nigerian food that will get you started on this journey of tastes. Join us as we explore one of the best in Lagos – A gem hidden in the heart of abulegba!
The truth is, Not everyone would want to settle for mama puts's service when it comes to enjoying assorted native meals like pounded yam, garri, and the likes.
People actually want to go local, but in a more sophisticated level. If this is you and looking for something new to try, fastlagos has an interesting idea for you. In  this piece, we bring you one of the best place in Lagos to get real  Nigerian native  food accompanied with top-notch lush and luxury.
We made our way to Abule Egba, Lagos to spurge on restaurants that offers the best of this particular class.
Ibile foods and lounge, Abulegba
Eating good food can define our life. In the wake of various illnesses and various health problems. Thinking of where to get the best of it in Lagos?
Ibile Foods and Lounge Restaurant provides authentic Nigerian, African and Continental dishes that evoke not only your taste buds but deep seated satisfaction for all your senses.
They offer refreshing menus of local foods which include variety of 'swallow'. With well attentive staffs, cozy indoor and air conditioned environment, it remains our top choice.
Affordable meals are made for everyone in the best reserved manner.
Their  fresh, flavorful and rich meals served in a cozy environment will take you on a culinary experience you will not only want to have over and over and over again, but also, want to share that experience with your friends and loved ones.
While it is a bit too sophisticated and doesn't really go with the 'ibile' notion, Ibile Foods crave to bring you right 'home', where you enjoy real local delicacies and savour the moment remains consistent.
It is a one-storey building with a small spaced packing lot at the gate entrance. Sales of shawarma and grilling foods also take place here.
Address: 9 Ilupeju Byepass, Ilupeju, Lagos
Open Mon-Sat: 8AM – 10PM
Local meals offered at Ibile Foods and lounge
1. Efo Riro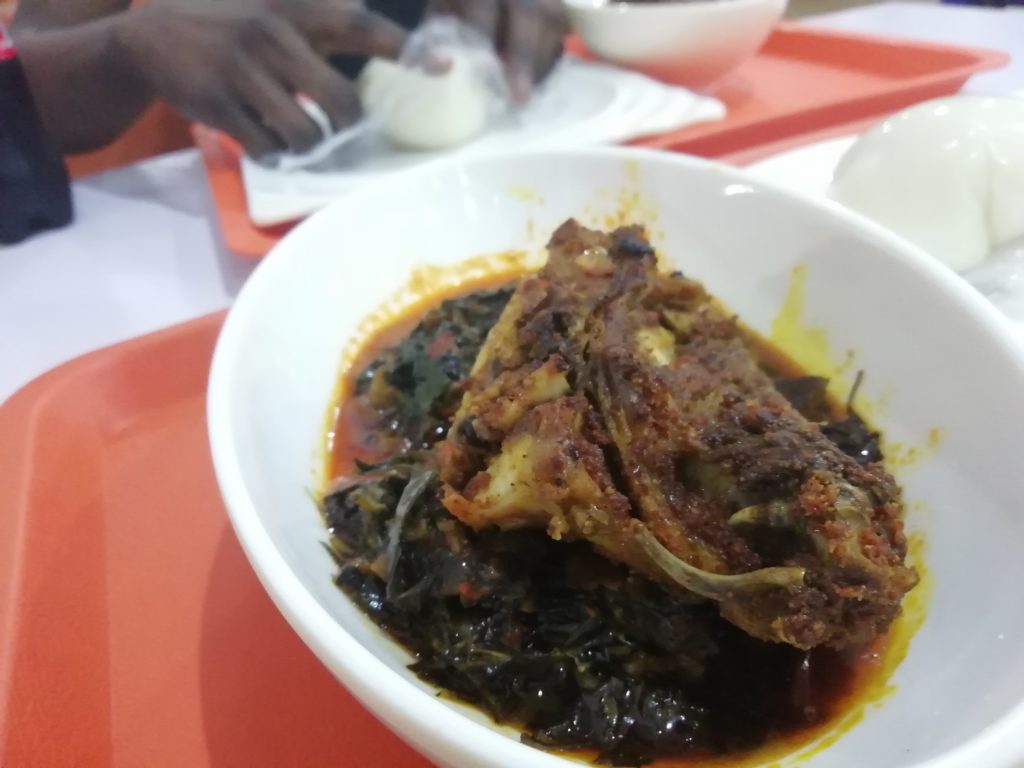 Efo Riro is a mix of pumpkin green leaves, meat, like chicken and offal or smoked fish. Efo Riro is a Yoruba delicacy originating from Western Nigeria.
2. Afang Soup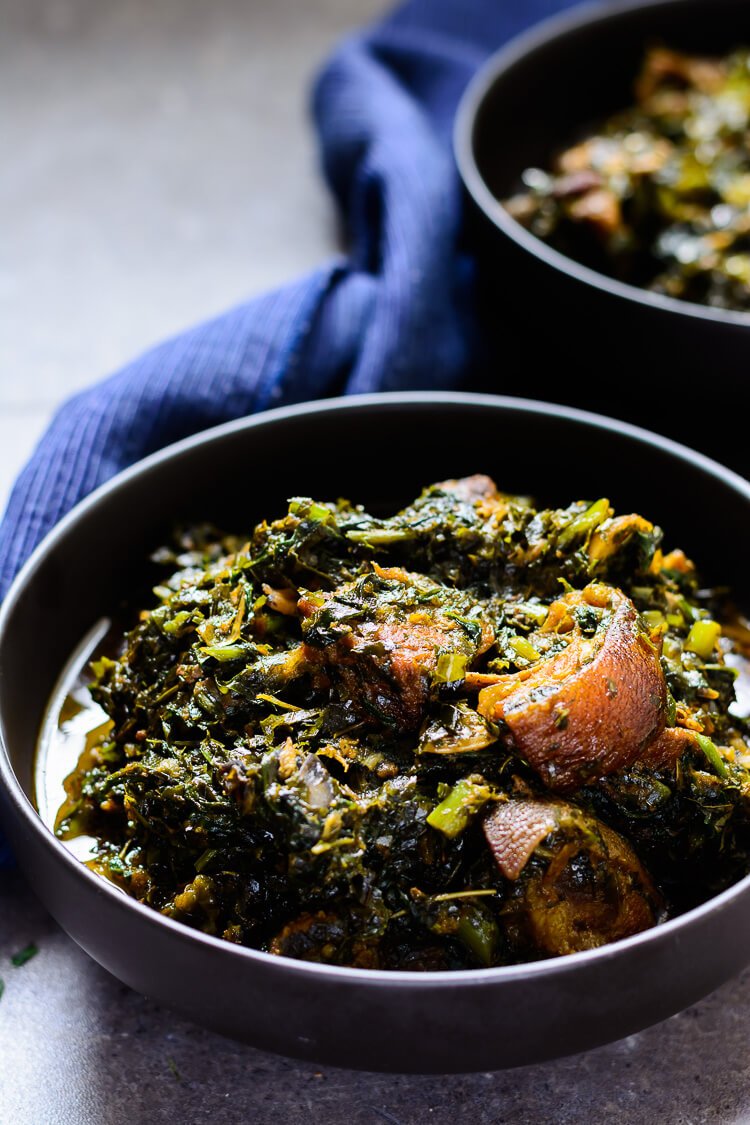 The soup is made with local Afang leaves and water leaves together with dried fish, meat and snails, as well as seasonings. The meal takes about an hour to prepare, and is often served with Pounded yam, fufu and Garri in Ibile restaurants
3. Moi Moi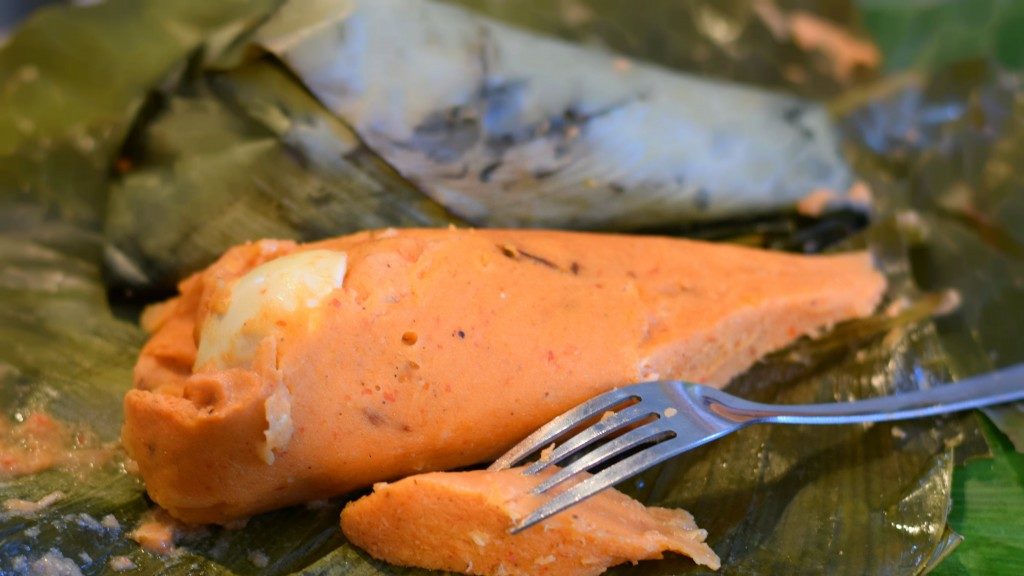 Moi Moi is a Nigerian steamed beans pudding which has its origin in South West Nigeria. Moi Moi can be served with other Nigerian dishes or eaten alone as a snack.
4. Pepper Soup
They also offer mout watering pepper soup. If you feel too tired to prepare for yourself at home, then head straight to ibile foods at abulegba
The plate of pepper soup we had was with aromatic spices, pepper, ginger, garlic and onions which gave it an unforgettable taste.
5. Pounded Yam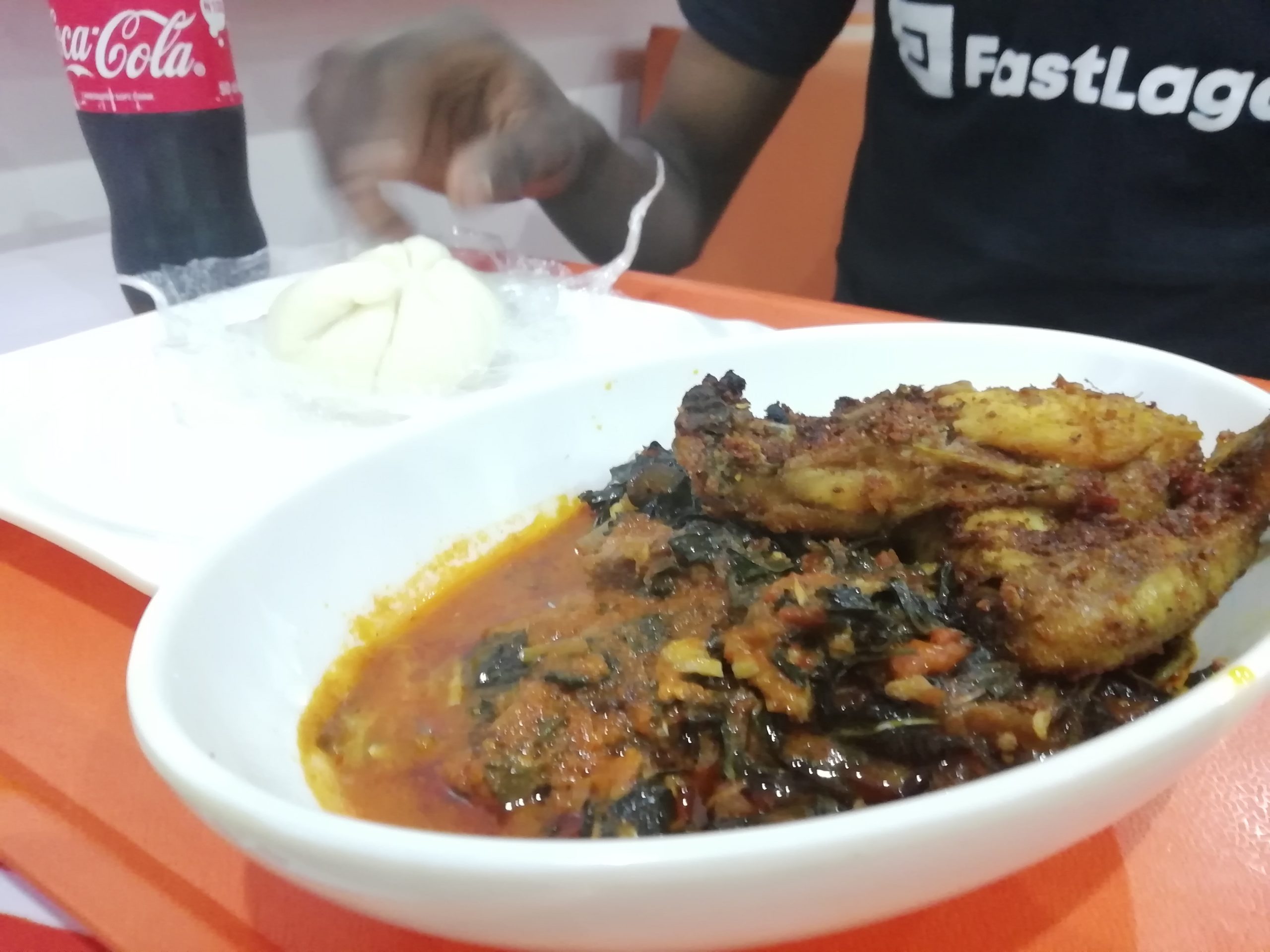 Pounded yam is one of Nigeria's most popular dishes that can be served with a variety of soups like Egusi, Ogbono, Vegetable and Okro soup. This is what we had and I wasn't satisfied, no one is sponsoring our movements yet.
Yam, which is widely available, is boiled and pounded into a smooth mash. You'll most likely find people eating pounded yam with Egusi, Banga, Ogbono or some other meal in this restaurant. Well, we had ours with vegetable soup. And it tasted really nice.
6. Garri (eba)
Garri would pass as the king in the land of Nigerian dishes, as it is a household food in almost all Nigerian homes. There is a popular joke in Nigeria that, though Garri has no advert placement, yet, it sells more than other food products that advertise. Although we didn't order for Eba from our menu card, but with the way customers were smiling, licking drains of soup from elbow to finger, one could tell that they did well in preparing this food item.
7. Egusi Soup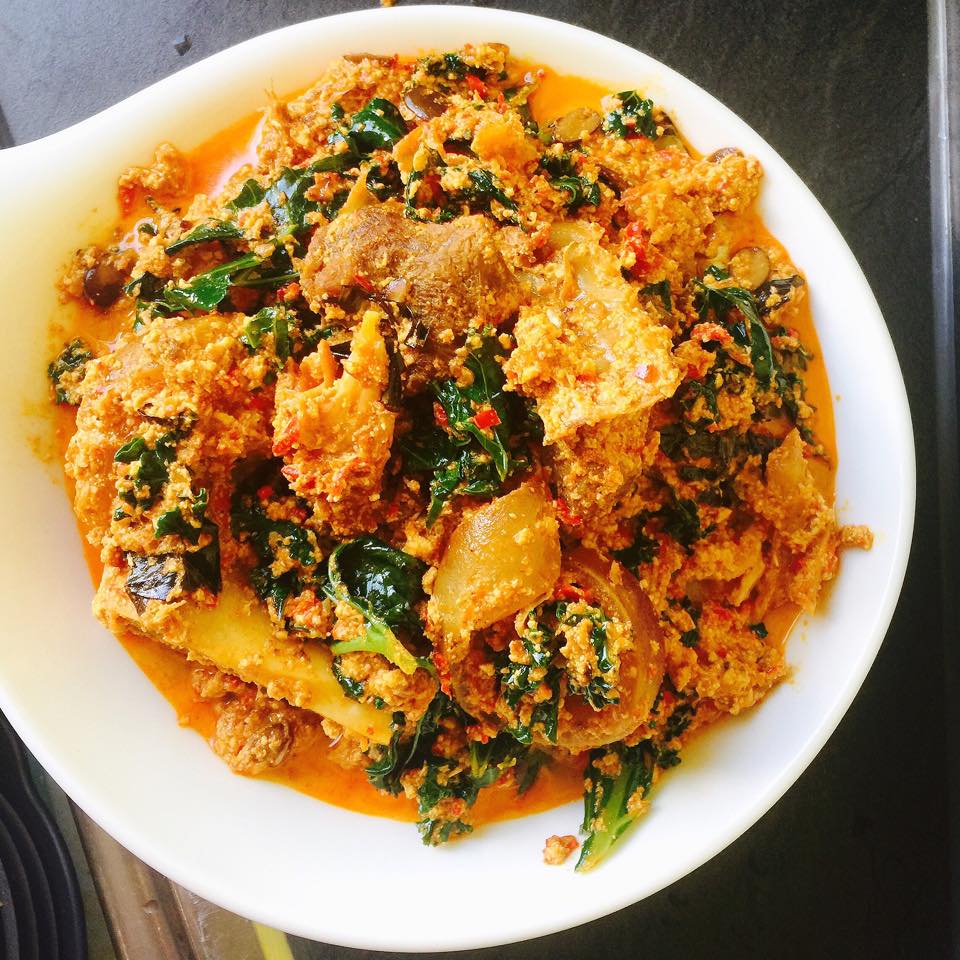 This soup is widely consumed in lagos. Most customer had this on their table at the restaurant.
8. Jollof Rice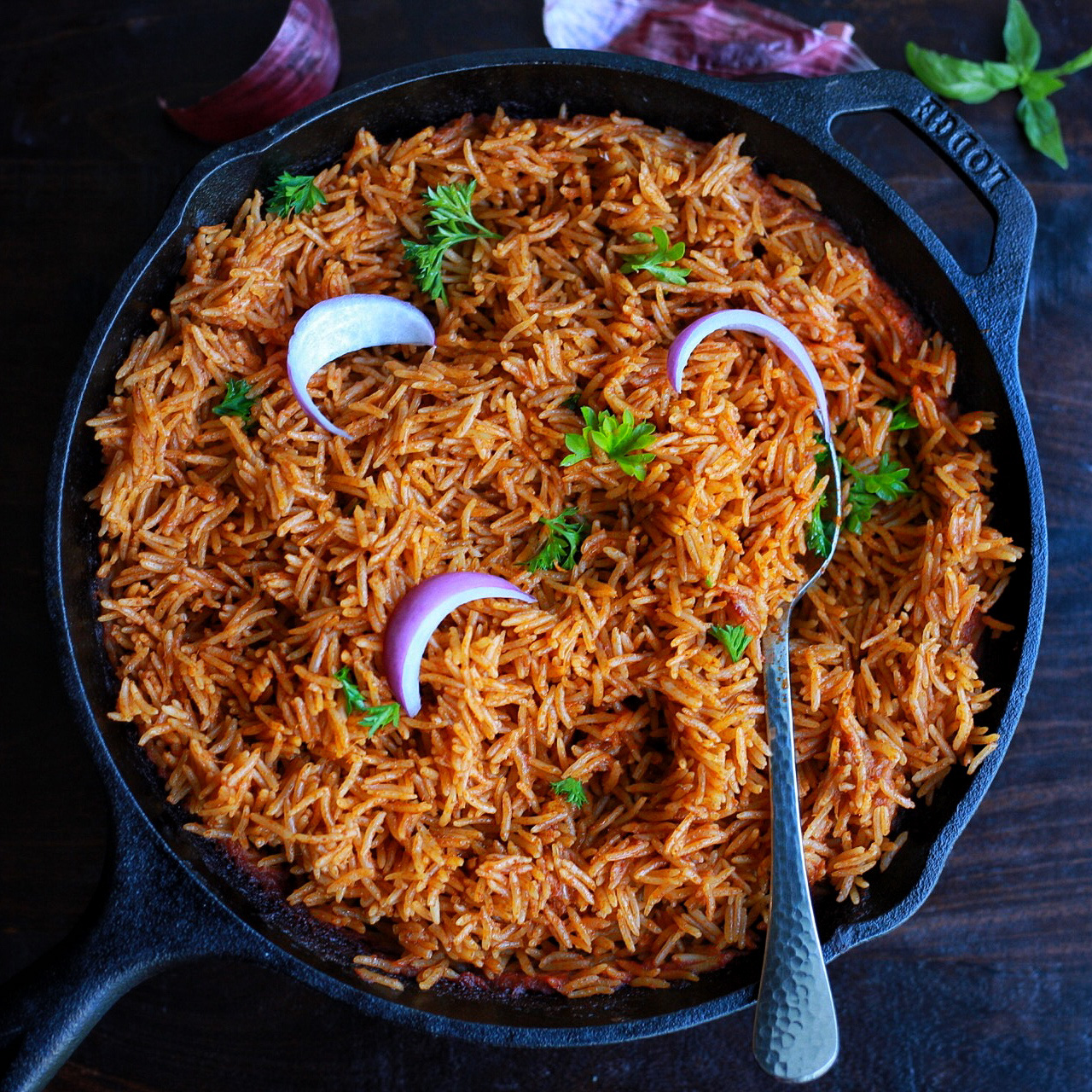 We all know that  Jollof rice is commonly served on special occasions and at social events.
9. Nkwobi
Nkwobi is a popular Ibo delicacy prepared from spiced cow leg marinated in a richly flavoured sauce of Utazi leaves and palm oil. For people looking to have a nice outing, a meal you can take as the African equivalent of an appetizer would either be – pepper soup and a dessert could be Nkwobi. You'll likely find them well served at Ibile restaurant.
10. Amala and Ewedu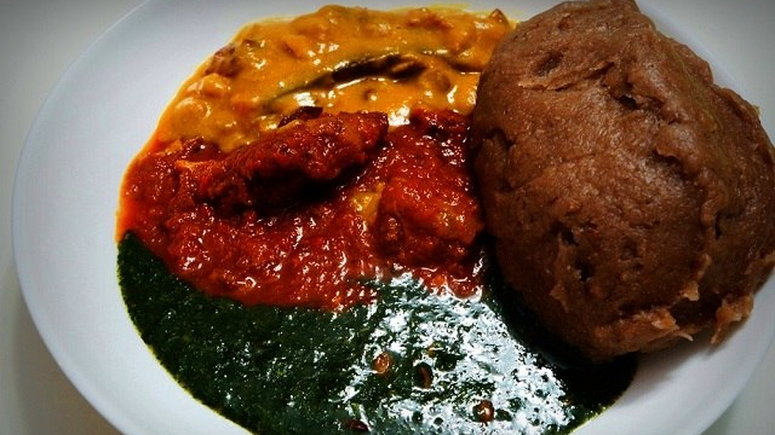 Amala and Ewedu soup is a classic Nigerian food, mostly eaten by the Yoruba people, especially people from Oyo state, but it is appreciated by other ethinc groups. You want to enjoy a well served plate of amala and ewedu? Ibile is an ideal place.
11. Ogbono Soup
Ogbono soup is a popular Nigerian dish made with ground Ogbono seeds, with considerable local variation.  Some people add onions and iru. (Fermented locust beans) and this delicious soup can be eaten with pounded yam or with rice. In fact, I'm salivating already.
12. Ofada Rice
Here, Ofada Rice is produced locally. What makes theirs special is its unique flavour and aroma. Most Nigerians will jump with excitement at the sight of Ofada rice and stew
13. Snacks
Snacks, freshly baked bread, popcorn, fruit juice and other food supplements are sold as well.
As you take care of your physical looks, it's very important to care for what you put inside too.  If you are around Alimosho local government area, Ibile foods and louge is the best place to have locally made foods that are rich with healthy traditional recipes.
What's more? You can also place an order online or via a single phone call using  +234 811 710 4668
That look when you just finished eating Pounded Yam with Efo riro, we enjoyed our visit to Ibile foods and lounge at Abule Egba, Lagos.
Have you been to ibile foods and lounge? What can you make of this place? Let's hear your thoughts.