Hey guys!
Who else is excited that restaurants are now fully opened in Lagos after some months of lockdown due to the pandemic? This means that most restaurants and chill spots in Lagos will not just be offering pickups alone anymore. Still, they are now resumed to allowing customers to sit in comfortable premises to enjoy their sumptuous meals.
Speaking about sumptuous meals, we decided to unwind by visiting a cool restaurant in the mainland of Lagos. Yeah.. the MAINLAND of Lagos.
The most restaurant gets traction as a result of their catchy name, among our bucket list for restaurants in the mainland of Lagos, we found snail cafe at Abule Egba as our next stop.
As you must have probably presumed, Snail cafe is a restaurant where you get various types of snail recipes. But their service spans beyond that as they function as a restaurant with a total package.
Located in the heart of Merian community in Lagos, snail cafe is popular among the people living around the area. There are many things you will love about this place that we are about to reveal to you
Snail cafe in Lagos – what is the place about?
Snail cafe is actually one of the best restaurants recognized in Ajasa command, command Lagos state. Based on our experience, they run a restaurant dedicated to serving great food and drinks and not just a variety of snail recipes.
It is recognized as one of the most established and renowned places to chill and eat well-prepared dishes of both foreign and local recipes.
The restaurant is constructed with decorated glass and welcoming flowers dispersed around the building. From our experience, they've got nice-looking young staff that attends to customers with aptness and respect.
Snail cafe was fully established around 2019 and since then, it has been a top choice for people around the area and beyond when it comes to the best place to chill out around command.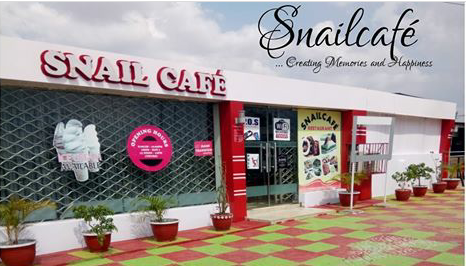 You can see the image above, it is a picture of the snail cafe building in the early days when it was established. The whole look is all developed and looks more luxurious now.
People who visit this snail cafe are both adults, youth, and children. They welcome any type of guest. We also saw couples having a nice time there which suggests it to be a nice place to hang out with your significant other.
It is a restaurant, bakery, and lounge.
Where is the Snail Cafe located?
Snail cafe-restaurant is located on the mainland of Lagos. The well-furnished restaurant is situated at 41, command Ajasa road, command, Lagos.
It is a very easy place to locate, but luck was not on our side as our driver took us around the whole of Abule-Egba before discovering the right path to the restaurant. Terrific!
The restaurant is designed with bright red and white colors and is directly built on the verge of the road. We expected this place to be too exposed and noisy as it was too close to the road. But fortunately, it sounds out that the interior of the snail cafe is built with a terrace that seems to be noise-proof.
What are the meals offered at Snail Cafe restaurant?
As with every other impressive restaurant, the snail cafe offers a wide range of local and foreign dishes. But significantly, they sell well-prepared snail in different recipe, shape, size, texture, and price.
They also offer chilled alcoholic and non-alcoholic beverages as well as smoothies. It is an all in one restaurant to have a nice time.
Food items like snacks, pastries, ice cream, and sauce can also be enjoyed at Snail cafe.
Their food is delicious, healthy, and well-served. We took our time to go through all the good stuff placed on the counter as well as asking the representing sales rep about each of the menus. We must also add that the workers were super attentive.
The food offered at the snail cafe restaurant is affordable and top-notch. Our team settled for a plate of Ofada rice, jumbo turkey, and a soft drink bottle. We also splurge on other cool stuff there as a take-home.
We loved the presentation of meals at snail cafe
Yes. It so much caught our attention!
Unlike other basic restaurants that will serve your dish from stainless steel basins, snail cafe actually packs their meals into disposable plastic cups that are covered. Upon reaching the counter to request your order, your preferred food item is transferred into a plate for your consumption. And if you want a pickup a thing, they simply pack the food plastic into their branded packs.
Cost of food in snail cafe restaurant
A stick of Assorted snails – NGN1,500
A Plastic cup of fried rice – NGN400 (individual will need to get two plastic cups for satisfaction)
A Plastic cup of Jollof rice – NGN400 
A Plastic cup of Ofada rice – NGN400 ( this is accompanied by a plastic cup of sauce which costs NGN200)
A Plastic cup of White rice and other types of rice – NGN400
A jumbo turkey – NGN1200
Bottle of soft drinks – NGN200
Different food items are showcased on a glass counter for you to see your order clearly. They serve hot food and accept cash and mobile banking payment.
The interior of the restaurant is well-furnished and fully air-conditioned. We also loved how the chairs were made of different materials and structures.
We could also observe some sort of underground tube on the floor that is transparent and designed with colored lights. The interface of this transparent tube beneath the ground contains huge snails in their numbers.
It was an interesting sight to behold. Super cool!
Who should visit the snail cafe?
Anyone can visit this cool restaurant located at Command, Lagos. It is a nice place to chill out with your family for the weekend. Couples can also visit this place to spend quality time together while enjoying their favorite on the table.
Although the interior is not as large as…LARGE, it is arranged to contain a significant amount of people.
If you think you feel lazy to cook, and you want to make your stomach smile at you, head to snail cafe restaurant.
There is no age limit for customers who want to visit the snail cafe restaurant.
Any thumbs down on snail cafe restaurant?
Well, this is probably the section where we tend to frown a little. LOL. One thing we do not really like about snail cafe restaurant is the fact that they do not have a Menu card to present to customers upon arrival.
When we entered, we had to spend some time trying to figure out how orders are to be placed until we summoned a sales representative.
We think an ideal restaurant should have a detailed menu card as with other renowned restaurants we have been to. We believe this is something they can improve on soonest.
In addition to this is the seating space available in the restaurant. Perhaps, the building is not designed for many people, but with what we saw, you may have to go back home when you get there and meet the whole chairs occupied.
Reaching out to snail cafe restaurants.
They run online orders and doorstep delivery. If you are going to patronize them via this channel, then you will need their hotline or social media contact.
Call: 08109123741
Click: snailcafe.com.ng
Social media: @snailcafefamily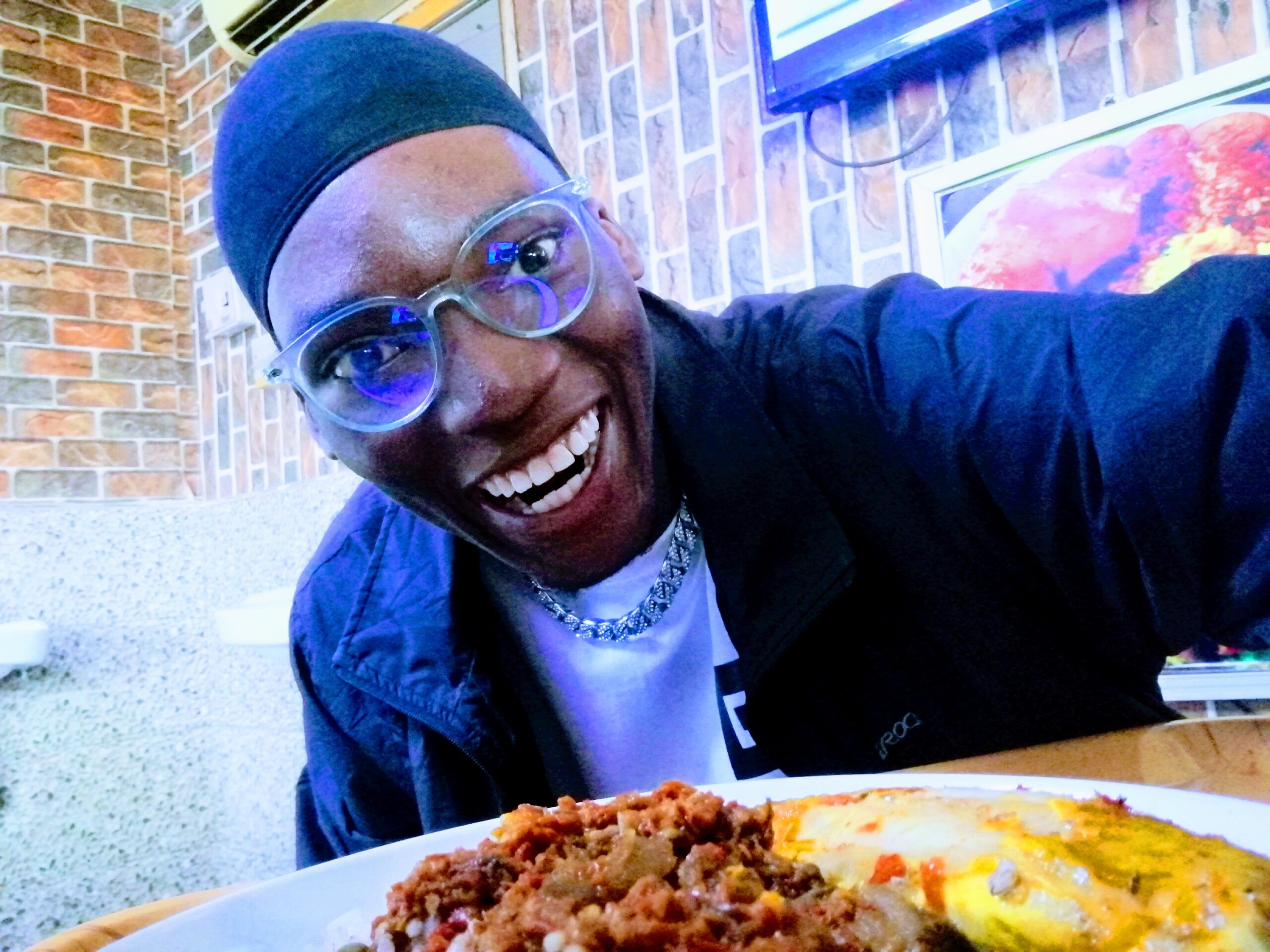 Final remarks on snail cafe restaurant
Honestly speaking, we had a nice time at the snail cafe. You should have no doubt when you are told that is a restaurant to enjoy delicious, mouthwatering delicacies. They gave us additional reason to believe that there are restaurants in the mainland that sets the standards too!
Do you want to know our next turn? Subscribe to our newsletter today to stay updated.
In the comment section, tell us what you think about the snail cafe restaurant.