"Omo ibadan kini so?"
As strangers or visitors, That's a very popular question we ask Indigenes to get them interested in what we are about to say.
When we think about the bright things of Ibadan, we can not help but appreciate God's natural endowment in that land.
My first travel experience to Ibadan was to attend a Milestone wedding ceremony. If you know the right places and meet the right people, you will fall in love with every bit of this place in Nigeria. I planned to attend the wedding on a Saturday and return to Lagos the next day. But as we had it, I ended up lodging for a whole week!!
One day was not enough for me to explore the wonderful places I have always heard about in Ibadan.
But I came to realize that among the things that delayed my return, the hospitality experience I enjoyed was extraordinary. Although, this took a heavy effect on my debit card. LOL.
Nevertheless, there are indeed amazing hotels and guest houses at Ibadan that are not only pocket friendly but ideal for any type of traveler.
Let's take a look at some of the best, popular hotels in Ibadan and what they have to offer visitors and Indigenes. Shall we?
Best Hotels in Ibadan 2023
The Orchard Hotel
Address: Opposite NDLEA by Golf Club, Onireke G.R.A
Average price per night: NGN7,000
I would have reviewed the hotel I lodged in first, but The Orchard Hotel is really worth this position.
Located opposite NDLEA, by Golf Club, Onireke GRA, Ibadan, Oyo state, this is the best hotel I can recommend to get perfect rest and relaxation. This adds to the fact that the hotel is situated in the serene Government Residential Area of the State. Very quiet and peaceful environment.
The rooms as fantastic and spacious, adorned with all the best amenities a modern hotel room should have. These amenities include luxurious king-size beds, sofas and center tables, refrigerators, Wireless internet connection, flat-screen television sets, en-suite bathrooms with shower facilities and complimentary toiletries, telephone, air conditioning, work desks, and tables, as well as wardrobes.
While some travelers say this is an expensive hotel, they offer great hospitality services such as a steady power supply, a restaurant with an array of excellent tasting dishes, bar/lounge with a collection of choice beverages, large parking space, top-notch security facilities, and a well-equipped gym. These facilities are really worth the money spent.
SU Guest House, Agbowo
Address: 3 Adebayo Street, behind Agbowo Shopping Complex Ibadan
Average price per night: NGN6,500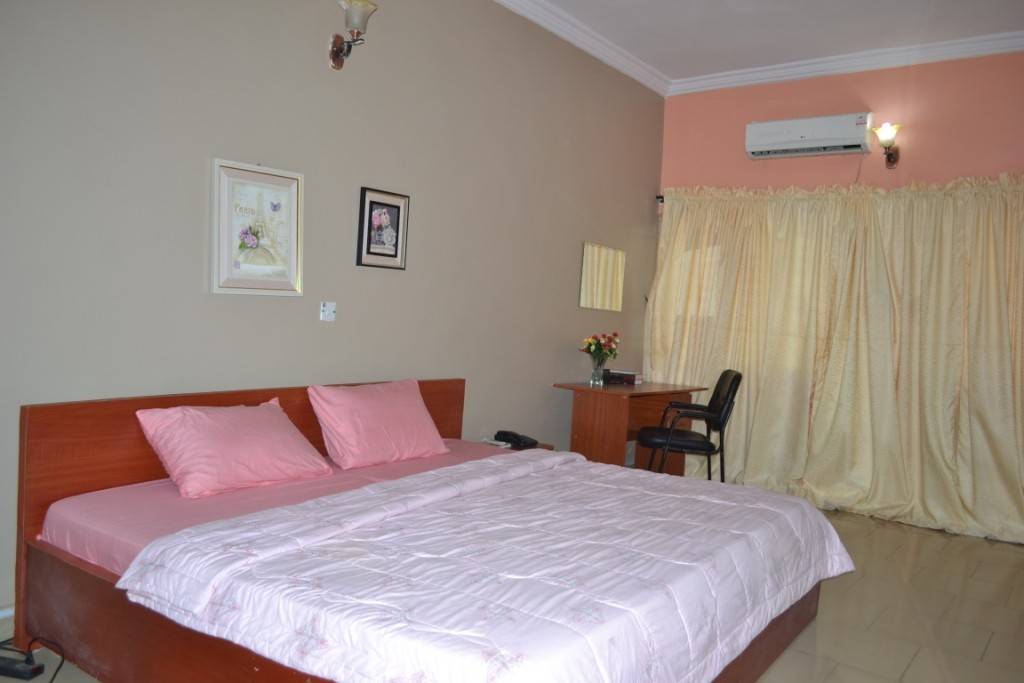 Do you want to lodge in a hotel with rooms containing king-sized bed, cable connected TV set, refrigerator, bedding items, and air conditioner? Then the SU Guest House, Agbowo should come to your mind.
Just like every perfect hotel out there, the SU Guest House, Agbowo provides affordable accommodation to guests. It is strategically situated at close proximity to the Ibadan Airport and surrounded with a peaceful atmosphere.
Guests also enjoy the free high-speed wifi, on-site restaurant, and exquisite bare situated in the guest house premises.
They also provide extra service which includes airport shuttle service(additional charges), ironing service(additional services) and whatever accommodation needs you to have.
Premier Hotel
Address: Mokola Hill
Average price per night: NGN16,560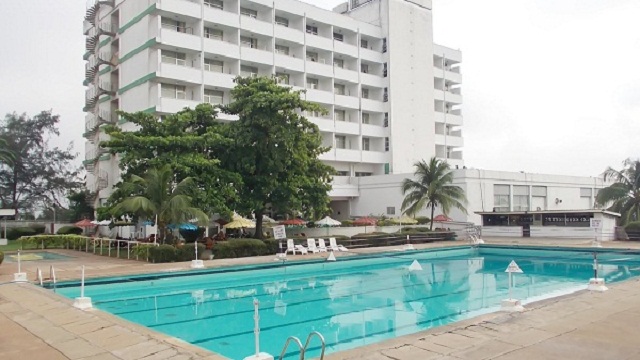 Premier Hotel is an elegant and phenomenal hotel situated at the famous Mokola Hill. The hotel is not just big for nothing.
The mighty building contains spacious rooms that are well lit for guests to stay and have a good time.
They also provide the best environment to get visitors to stay feeling safe, comfortable, happy, and satisfied.
It is a 3-star hotel with modern facilities and infrastructure tailored to give pleasure to guests round the clock. It is an ideal hotel for tourists and business traveler in Ibadan as it is situated in a good location
Their rooms are categorized into Classic, Deluxe, Executive Deluxe, Business Suites, Executive Suite B, Diplomatic Suite and Oduduwa Luxury Suite. This is to ensure affordability and classy comfort.
However, each room is fully air-conditioned and equipped with smoke detectors, bedside tables, satellite TV sets, dining and TV lounge area.
The hotel serves appetizing dishes to seduce guest taste buds including local and oriental meals. They do have a bar where good beverages are served.
You will love every bit of the environment as it is surrounded with a terrace garden. Other interesting things about this hotel is the large swimming pool, gym house, event hall as well as tight security to ensure the safety of the guest.
Most expensive hotels in Ibadan 2023
Golden Tulip Ibadan
Adress: Quarter 781, G.R.A, Jericho, Ibadan
Average price per night: NGN45,000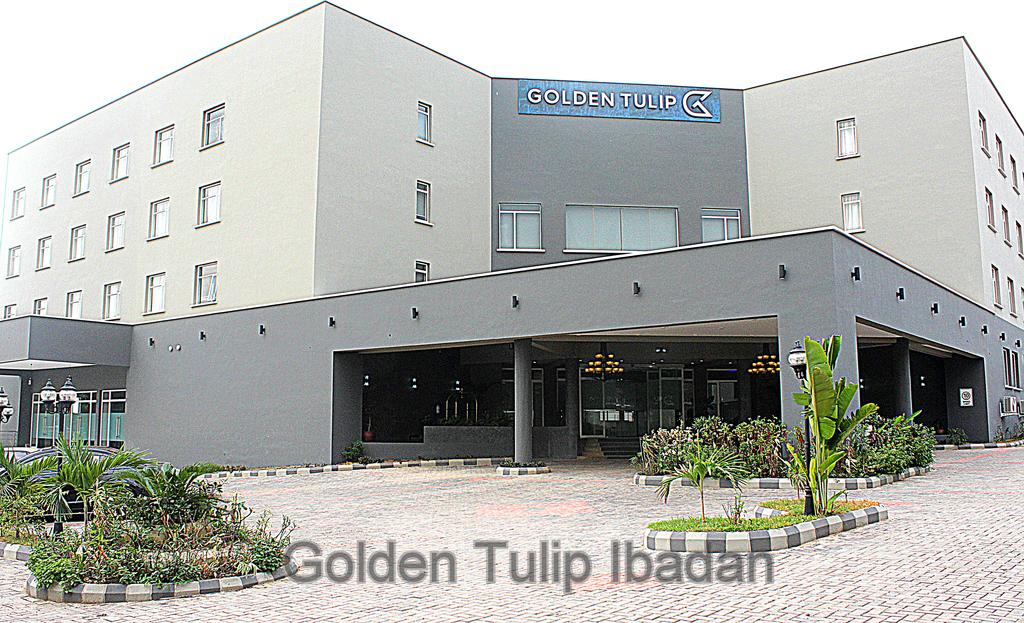 Who told you Ibadan is not a place where you can splurge on hotels? Have you been to Golden Tulip Ibadan? It is a very popular hotel because this is among the hotels where rich folks lodge at Ibadan.
It is really expensive compared to other basic hotels but the facilities there are worth every dime! It is a very classy hotel that presents the culture, tourism and rich history of the people in Oyo. Staying in the room of Golden Tulip Ibadan is enough to testify to the hotel's glory. The rooms are fully equipped with a top-notch work desk, an air conditioner, free wireless internet, a set of bathrobes, cable connected LCD TV sets, and constant electricity.
None of the hotels we have reviewed in this article beats Golden Tulip Ibadan when it comes to interior decor and presentation. They got a gift shop, a restaurant, an elevator/lift, a business center, and an event hall as well.
While they offer guest Airport shuttle services on request, this is a very ideal hotel to catch cruise!
Adis Hotels
Address: 1, Akinsehinwa Street, Off Favos/Mr Biggs, New Bodija
Average price per night: NGN22,500
When talking about a hotel that delivers comfort in a grand style, we are speaking about hotels like Andis. It is a 3star hotel that is located 23 minutes' drive to the University of Ibadan. Adis Hotels.
This is where most top business travelers in iband lodge and spend their time. It is also an ideal hotel for modern-day travelers. When I went through their reviews, I hardly came across a bad result.
The rooms at the hotel are super spacious and well equipped with all the facilities to make you happy and comfortable while far away from home.
The staff at this hotel are trained of offer quality service with promptness. The decoration, colors and designs of the hotel are lush and adorned with superb furnishing.
Each room in the hotel also have high-speed wireless internet access to help guests communicate and work better as well as an intercom for easier communication.
Never be hungry and dry-mouthed as they also run a cool restaurant and exquisite bar in the hotel premises where guests can enjoy a plethora of both local and continental dishes served with a chill beverage of both alcohol and nonalcoholic.
They have security personnel that works round the clock to ensure guest safety as well as a constant power supply they never go out!
This hotel is all about enhancing their comfort.
Have a beautiful stay in the largest city in West Africa.