Most Beautiful Places in China: Uniquely filled with an endless amount of mysterious attractions and treasures yet to be discovered, China is one of the world's largest and oldest civilizations.
While other country houses most of their tourist centers and breathtaking sceneries in their major cities, some of the smaller towns and villages in China offer their own treasures and, in fact, the most alluring places to visit in the country.
A single visit to China leaves you with unforgettable experiences. Indeed, blessed are those who see beautiful things in humble places.
Just as a certain Chinese man had said "it is good people who makes good places" China's distinct and natural comeliness is as superb as thier impressive culture.
There are many cities in China with the best spectacular views in the world that would make a fiesta for your eyes and would amusingly lead you into a sort of dreamy land.
While some people may be interested in exploring the most beautiful natural landscape, others are interested in visiting historical sites; many others would prefer to view the modern cities' sceneries and skyscrapers in China.
These remarkable wonders of China correspond with its diverse outstanding man-made attractions. However, I can boldly tell you that it is impossible to explore all of the sceneries in China in a first visit as there are myriads of them.
In this article, we shall be closely looking at some top most memorable places in China. Certainly, we won't be able to cover all of them but below lies some of the most remarkable sceneries in China that you need to know and, perhaps, visit during your travel to China.
Most Beautiful Places in China You Need To Visit
1. Hongcun
Emerging as a UNESCO world heritage site in 2000, Hongcun which is literally said to be "Hong village" is located in Hongcun village, Yi country, Hungshan city in China.
With a total population of one hundred and five people, Hongcun has been in existence for over nine hundred years.
Most tourist that have visited this memorable village can tell you that it is notably remembered as a result of its charmingly landscaped rural architecture, Chengehi Hall, countryside and ponds.
Both indigenes and foreigners in the Hongcun village have considered it to be among the must-see areas of the yellow mountains. Significantly, the Quing and Ming structure and the preserved layout of the village is partly reasons for the UNESCO cognizance.
Hongcun is a landmark of Huizhou traditional and local culture, landscape design and building manner. It's historical, scientific and artistic value makes it a memorable place in China till date.
It is recommendable to pay a visit to the village during March and April for outstanding spring scenery. During these times – in the falls – the village is beautified by the highlights of red leaves on the trees.
While in spring, you can see the village burrowed in rape field flowers which are yellow.
A walk or visit anytime in the year is worth the remarkable countryside around Hongcun.
2. Zhangye's Danxia Landscape
Settled in the northern foothills of the Quilan mountains, in the counties of Linzes and Sunan, under the administration of the Gausu province, Zangye's landscape possesses an awe-inspiring bird view.
While others admire this mysterious natural scenery, a lot of questions have been asked on how the Zangye's landscape came about its current look.
Historically speaking of about five hundred and forty million years ago, the area was said to be part of the ocean. The land gathered and formed mountains due to tectonic plant crash, lifting above the sea levels.
Its current mysterious look was formed by the erosion of the red sandstone, forming isolated peaks and steeps stratified outcrops.
The wind, waters, special geographic structure, freeze-thaws peeling combined with a long-term desert condition gave rise to the image particularly embedded in this slot which you are looking at.
The advisable period to pay a visit to Zhangye is from mid-year to September because the weather will be quite pleasant during these times.
Do not go when it is cloudy or rainy because the mountains do not show their radiant rainbow-like colors without sunshine.
It is hilariously true that some people believe that God himself overturned his palette while Zhangye landscape was formed.
As for photographers and tourist, you can take great pictures here and get the best out of the Zhangye's landscape.
3. Jiuzhaigou Valley
This is such a beautiful and colorful place on earth to visit and talk about. As you can see in the image, the Jiuzhaigou has a very greenish clear lakes with leaves of various colors surrounding it.
It is often eulogized as a world of magical fairytale. Over the years, this alluring and memorable place in China has been able to charm a lot of visitors and tourist as a result of its abundant wildlife, luxuriant forest, high mountains, colourful lakes and, by icing the cake, its gushing pure waterfalls.
Every lake there is called "Hazi" by the inhabitants of Jiuzhaigou which means "little sea in Chinese." Now, Jiuzhaigou has a total of about one hundred and eight "hazi" of divers shape and size in its valley.
Algae from underneath the sea reveal their bright coloration during the sunny days, giving the sea a multicolored look which its local people called "Wuhua Hai".
The Jiuzhaigou valley can be located in the Abanbetan Autonomous prefecture, north of suchuan province in China and October is the ideal period of visit.
There is no doubt that the ziuzhai valley National park is a huge magnum opus of nature having imaginary views from the flourishing forests, to the snow-covered mountains, blue lake waterfalls and the unique customs of its inhabitants – the Tibitan and Qinng people.
4. Gullin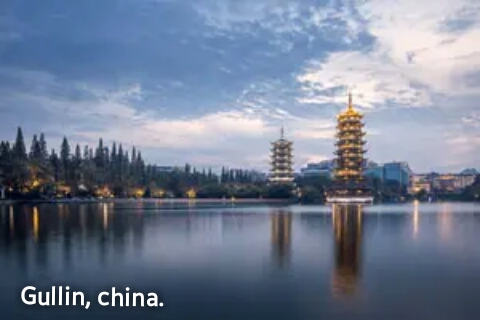 Beyond the must-see attractions in China, some indelible experience will decorate your stay in Gullin. Gullin is a small city in the southern area of Chinese with approaching one million people.
It has a reputation of being one of the most beautiful places in the world with its idyllic countryside, majestic rice terrace, ethnic minorities, clean rivers, karst landscapes, and many others.
Gullin actually means "Sweet osmanthus forest ". It was given its name because of its many fragrant wonderful osmanthus trees.
The city comprises of four lakes which are joined together with the Li and peach blossom rivers. Flourishing bamboo trees are not left out in this confluence as they are found in the river banks and lakes.
You won't want to miss this scenic place at night when the lake's features are glowing charmingly.
Farming activities like plowing a field in Goaton, learning how to make hand-painted fans in Fuli, planting vegetables as well as learning embroidery from the Yao women can be practiced in a village near Yungshuo.
I will recommend that you pay a visit to the Gulliin city during the month of October when the osmanthus blooms, the city is filled with their wonderful leaves thereby beautifying the environment.
5. The Shaolin Temple
There's absolutely no way we could talk about the top most memorable places in China without including the ancient Shaolin temple of china.
Popularly known as the Shaolin monastery, the Shaolin temple has seated in Henan province since the 5th century. Being a Chan Buddhist temple at shong Shan (of what is now referred to as the Republic of China ), the Shaolin temple was built by the Emperor Hsiao-wen in 477 C.E.
One memorable thing in the Shaolin temple is the burnt-outline-into-a-stone of Budhiarma's body while he was meditating in solitude for nine years facing the wall of the cave above the monastery which can still be seen today.
The Shaolin temple is a place of pilgrimage for monks and lay Buddhist. It also serves as a tourist attraction as it houses seventy monks!.
Interestingly, a training hall has been constructed next to the temple for visitors or tourist who come to study martial arts or Buddhism. The eighteen frescoes are one of its greatest treasures which were painted in 1828 portraying ancient stories of the Shaolin temple.
According to legends, the popular Kong Fu was introduced to the Shaolin temple by the Indian monk, Bodhidharma, while he traveled across China to spread Buddha teachings.
However, there are different stories of how Kong fu was introduced, it depends on who you asked.
6. Tiamen Mountains
Personally, I love to talk about the Taimen mountains and the amazing things that surround it.
This is another interesting, natural and beautiful terrain in China located in the northwestern part of Huan province.
To help visitors and tourist in getting to the top of this very high mountain (heavens door), a cable car was constructed by the French company poma from a nearby Zhangjiajie railway station in 2005.
You will be suprised to hear that This incredible landscape was the inspiration behind the movie "Avatar". It has been called one of the most beautiful mountains in the world by many who have been there.
Popularly referred to as the "Heaven's gate", it heights about one thousand five hundred and nineteen meters. Activities like photography, gazing at incredible views, hiking and cable car riding can be enjoyed in the Tiamen mountains.
Why is it an ideal place to travel to? Well, you should know the answer by now. To walk on the glass skywalk, climb the nine hundred and ninety-nine steps to heaven's door, ride in one of the world's longest cable cars and to walk on the narrow plank paths attached to vertical cliffs.
The famous 99 blends can also be found in the Tiamen mountains.
7. Lijiang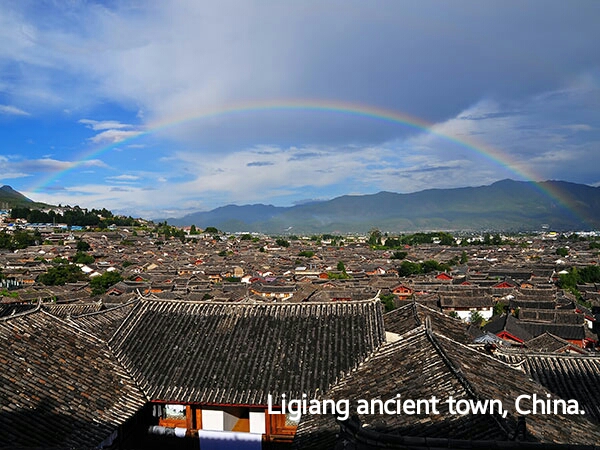 Thinking of a city that is naturally blessed with plentiful sunlights? Lijiang!. Lijiang is one of China's memorable and historical city found in the northwest of Yunnan province and housed a total population of 1, 244, 769 people in 2010 census.
As a result of its rich sceneries, culture, historical sites, mountains, and rivers, it is renowned for being the most visited place in the province. I can tell you that traveling to this site is an ample opportunity to witness one of the greatest sceneries in China.
The Lugu Lake in Lijiang remains uncontaminated plateau lake with the crystal-clear water! Having a dept of forty-five meters and fifty-two square kilometers.
Like a silver dragon lying in the cloud is the Jade dragon snow mountain in Lijiang which remains awesome and unconquered till date. From April to June, the Azaleas turn the mountain into a riot of brilliant colours.
Liking is surrounded by wonderful landscapes where hiking is the ideal way to enjoy the high mountains and rivers.
Their architecture, culture, famous hiking areas, and finally, unique cuisines will make it difficult for you to say goodbye after your visit.
8. Hangzhou
This astonishing place is considered to be one of the most important tourist center in the whole of China. It attracts a lot of visitors as it is gradually transforming into a city of technology.
Hangzhou is famous for its vast tea and silk plantation. Ever since ancient times, it has been known as the capital of tea in china.
Hangzhou was formed to the quin dynasty over two thousand two hundred years ago. This made it flourished after it was merged with the north and the Grad canal. It is also memorable for its cultural, historical, architectural, and artistic value.
I will advise that you visit the Hangzhou city during the spring and fall times.
9 CHENGDU
Chengdu is another amazing place in China that is notably known for being the home of China's most famous creatures – the giant pandas.
It is also referred to as the cultural city of China and received cognizance from UNESCO as the "gourmet city". Chengdu is located in the Shunan basin.
Like I said earlier, pandas are a big deal in Chengdu. Just outside the town is the Giant panda breeding research base that is accessible to tourist.
As a traveler, you can also enjoy the city's relaxing teahouse culture as wonderful varieties of delicacies.
Indeed, there is definitely something for everyone in this blooming capital of shunan.
10. Wuyi Mountain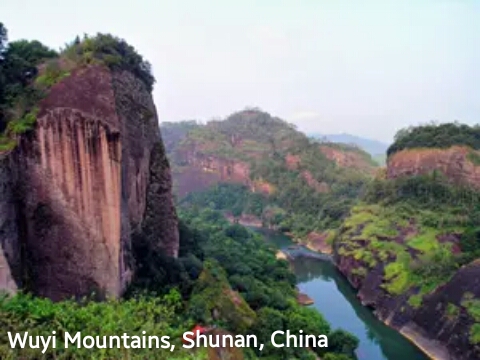 And finally, is the mount Wuyi. The Wuyi Mountains is, in fact, the only best spectacular areas of China's southwest. Located between Wuyishan city in Fujan province and Wuyishan town, its highest peak is about seventy thousand and eight feet.
The Wuyi mountains are divided into four parts. The nine-bend river areas, Wuyishan National reserve, Wuyishan National scenic area, and a special zone that houses paramount cultural remains.
Visitors can best enjoy the wonders of nature in Wuyi mountains during the warm, dry days. And trust me, If you are a nature lover this is the best Idyllic destination.
So, what are you waiting for?, Spend time with nature now and broaden your views!