Looking for tourist attractions to visit in Paris, France? Our list will get you packing your bags.
Travel makes one modest; it makes you see what a tiny place you occupy in the whole world. As you know, Paris is the capital of France and, of course, a populous one. Interestingly, there are a lot of things to do in Paris.
This large city received about 15.6 Milion foreigners into its capital as at 2014, Needless to say, Paris is one of the top tourist destinations across the globe as a result of its breathtaking art, culture, and lifestyle.
This should, at least, give you a glimpse of how famous Paris is and how ideal it is for tourism. The capital is abundantly blessed with artifacts, museums, art galleries, breathtaking landscapes, and awe-inspiring river scenery.
For visitors, there are always things to do and places to go regardless of the time and season of the year which the visit was paid. You can imagine how fascinating it would be to spend a vacation in Paris.
Founded in the 3rd century BC, Paris is best known as the home of myriads of most visited museums in the world.
It is indeed a great delight walking past old streets and walkways seeing some of the greatest and historical treasures. Paris is a very large and chock-full city though.
Hence, you'll need well-detailed information on some of these places as it may seem difficult if you solely rely on your knowledge. And if at all you do not plan to visit Paris any sooner, no knowledge is lost, reading this article can help you prepare for it.
Top 10 Places To Visit in Paris
I would recommend you visit these ten places in Paris If I had to select them. These are ten tourist centers to Visit in Paris that you definitely do not want to miss out.
1. THE EIFFEL TOWER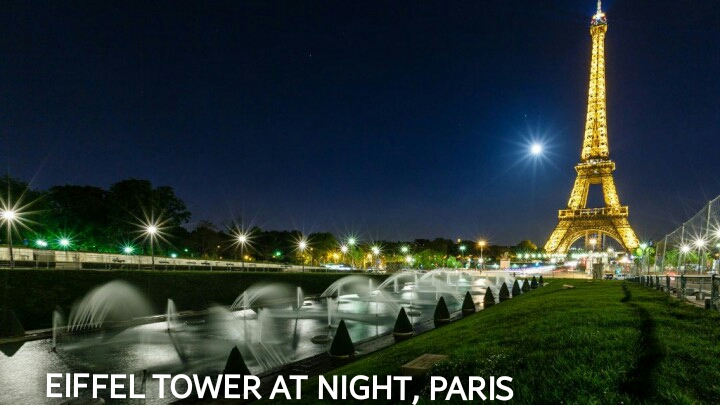 The Eiffel tower can be found on the camp de Maris in Paris, France. This is one of the well known and topmost architecture in the world.
This gigantic structure was designed by Gustave Eiffel to be nine hundred and eighty-four (984 feet), that is, three hundred (300) meters high. Embodied with over ninety stories, it seats on the earth with three hundred and twenty-eight feet wide.
One of the things that make the Eiffel tower celebrated is the fact that the building was never supposed to be where it is now. During your tour, you'd be fascinated by not only this wonderful sight to behold but also other magnificent structures constructed all around the Eiffel tower.
Although, at the beginning of construction, it was seen by many as the ugliest building in Paris, soon it drastically became the emblem of the city!
The likelihood is that you know of the French capital's most cherished benchmark: The Eiffel tower, whether you are fortunate to have visited Paris or have only longed for going there.
It was built to commemorate the centennial of French's revolution and to establish France's industrial gallantry to the whole world. Historically speaking, The Eiffel tower (Latour Eiffel in French) was the major exhibit of the World's fair of 1889.
Not only this, it's vibrant coloration still keep tourist talking till date. According to Gustave, French architect, and civil engineer, the initial red colour made it simpler to secure the structures from corroding, but ever since its construction the tower has been painted with yellow, ochre and little shades of fine-brown, revealing a gigantic colourful view that leaves you relishing.
Certainly, you would not want to miss out the Eiffel tower while touring Paris.
2. THE LOUVRE MUSEUM
I fell quite excited when I talk about the Louvre museum. If there's any place you can think of when you want to catch fun in Paris, Visiting the Louvre museum is a great idea as long as tourism in Paris is concerned.
As a matter of fact, the Louvre contains one of the most impressive and awe-inspiring art compilations in history. Being the world's biggest and most important museum, it is located along the banks of the Siene River in Paris.
I will like to briefly take you back to a significant aspect of its history that makes it what it is and seem to be today. The Louvre was actually built as a sort of citadel or better put, fortress but over time, it was reconstructed in the 16th century into a royal palace.
Its rapid expansion came about as a result of nearly every monarch that expanded it. The Louvre museum experienced hive development during its time as a royal residence. And today, it covers sixty thousand six hundred meters. (6,600).
As a visitor, I'd tell you that it is almost impossible to witness all the places in the museum as it is a very vast one. The louver is opened every day for visitors but on Tuesdays, Christmas day, New year day, and International workers day (May 1st).
The hours are Monday, Thursday, Saturday and Sunday from 9 am to 6 pm. While on Wednesday and Friday from 9 am to 9:45 pm.
And guess what, Admission is free for those who are under 18 years of age!. I'd advise you to prepare for multitudes especially around famous works of the museum because the museum reported about 8.1 million visitors in 2017.
One other amazing thing is that the Louver is known as being accessible to physically disabled visitors. Visitors with wheelchairs could also access the main entrance at the pyramid. Wheelchairs may also be at lease there. I must say that it is a must-visit for anyone who has an interest in art.
3. CENTER GEORGES POMPIDOU
This is yet another classical benchmark of Paris that you will love to visit. It is among the ten tourist centers to visit in Paris as a result of its magnificent architecture and Europe's most valued modern art museum.
But most significantly, it houses a wide range of world-class collections of modern arts. Omr fun fact about the center Pompidou is that it contains over fifty thousand artworks including sculpture, photography, paintings, drawings and a host of others.
While you get the best views of the interior of center Pompidou, do not miss out the breathtaking Stravinsky fountain in Paris located at the fort in the Beaubourg square. Nicknamed 'Beaubourg', center.
Pompidou is the third most visited tourist attraction in Paris with over five million visitors in a year. Don't forget to experience the all-embracing paranomas of Paris on the rooftops of center Pompidou!. Altogether with the art museum above five acres with a floor space of 103, 305 m2.
The center Pompidou was built right in the center of Paris, making it paralleled from the Louver Museum and Notre Dame Cathedral which we shall be looking at next.
4. NOTRE DAME CATHEDRAL
Displaying the notable role of Paris in terms of economy and spirituality in the 12th century, The Notre Dame Cathedral has a millennium of France's subsequent history embedded into every of its stone.
It was constructed between the 12th and 14th century. This is also an ideal place for tourism in Paris as thousands enter its doors every single day to discover, feed their minds and get the best out of the cathedral.
Like others, the cathedral possesses one of the earliest and astonishing structures with two exterior flying buttress which is an iconic aspect of Gothic design.
And of course, Notre Dame cathedral has set the pace when it comes to sacred constructions. Although, there have been some arguments over whether it was the first church to have these buttress.
The two towers planted in the cathedral will look like identical twins at every first look. But when you really examine them, you'll discover that the north tower is a bit bigger than the south.
The Notre Dame organ comprises of about eight thousand pipes! , this makes it the largest pipe organ in the whole of France. Consider the Notre Dame Cathedral as a must-be place in Paris.
5. MUSÉE D'ORSAY
Still in the mood of appreciating and exploring the amazing tourist centers in Paris let's also consider the most visited museum in the capital, The Musée d'Orsay.
This museum seats on the 7th Arrondissement of Paris and has its own specific history including how it transformed from an ordinary station to a depot, and finally, into a well-known museum.
It is considered to be a prominent center for western art like the centre Pompidou. It houses an impressive collection of photographs, drawing, craftwork, sculpture, and etcetera.
Examples of these art works that you can find in the Museé d'orsay are Gustave courbet's The origin of the world, Edourad Manit's Lunch on the Grass, Degas' The little fourteen-year-old dancer and many other sculptures available for visitors.
6. BOAT TOUR OF THE SEINE RIVER
If at all you only have a slight interest in architecture, you can't afford to be bored when you take the amazing boat tour or wonderful walk around the Seine river in Paris. As family, couple or friends, either during the day or night, you can enjoy Paris as you've never seen it…
Gleefully sailing from under one bridge to another with a gaze at the most fascinating moments with some time soothing at the soul of Paris – the Seine river.
You can also enjoy that fantastic gaze upon the Eiffel tower and the louver museum and then give an icing to the cake by enjoying a dinner, savoring mouthwatering delicacies and a glass of wine – all at the Seine river.
It is a must-do list for every visitor in Paris to witness the alluring city by boat, and interestingly, the Seine cruise is the best most preferred way to do this.
This gives you the opportunity to take in the best view of the city – from the Eiffel tower to the Louver museum to the Notre Dame cathedral and others. Worry less about its cost as the Seine river cruise can cost anything from €10 per person for a basics boat tour.
7. TOUR MONTPARNASSE
Just in less than 40 seconds, yes, 40 seconds and you're already 200 meters above Paris!. How would you rather love to view the whole of Paris and take amazing pictures?. Visit the Montparnasse tower and get an unforgettable experience with the Eiffel tower right in front of you.
Its panoramic observation gives you an altogether special and glamorous view of the whole of Paris and its mammoth. This is the place where you can get the very best view of Paris, especially as a photojournalist.
It is free for children under the age of four and is opened every day. While you visit the Montparnasse, always feel free to access the free WiFi connection which has been made available for visitors.
Do not worry about how safe it may be as security checks are performed on all visitors before entry to ensure your tour is totally untroubled.
When night falls, enjoy the best view you can get from the Eiffel tower as different glowing lights twinkles every hour. You can also enjoy a glass of wine with your family or loved one in the most romantic city.
8. PÉRE LACHAISE CEMETERY
Being the most prestigious and most visited sepulchre in Paris, pére lanchaise cemetery takes its name from king Louise xiu's confessor, father françouis d'aix Dr La Chaise.
It extends 44 hectares, containing 70,00 burial plots and can be found in the 20th arrondissement.
As of today, the cemetery is home to permanent Parisians and a few foreigners from all walks of life.
9. SAINTE CHAPELLE
The Sainte Chapelle is another amazing place among the top ten tourist centers to visit in Paris as it is a jewel of Gothic art.
It seats on the Ile dela cite, not too far from the Notre Dame cathedral. It's one of the most complete and remarkable sets of glass in this era that you should visit during your tour.
10. SAINT JACQUES TOWER
And finally, the Saint Jacques tower. It is located idly in the middle of a little garden which takes after its name. A wonderful architecture also built in a flamboyant Gothic style from the 16th century.
This is quite a lovely place to visit too just like some recreational centers in Lagos. The tower contains some interesting historical details. From its rooftop, you can take great pictures of Paris.
The basis of tourism is the perception of otherness; of something different from the usual. With this article, touring Paris will be such a great and unforgettable experience you will ever have.
You can also read our TOP TOURIST CENTERS IN EGYPT WORTH VISITING. Nigeria