Check out our list of the best movie theaters in New York City 2023.
Do you know that a visit to the movie theater can fill the empty space in your life and aloneness?.
Movies go beyond ordinary entertainment, you will be shocked to discover that they can help us to have a better understanding of the lives of the people around us and even our own lives.
The connected effect of dialogues, sounds, images, music, and plots can affect many of us with might and main. They draw out intense feelings from depths which reflects on our lives. What interests me the most is that a lot of individuals change their ethics and beliefs in view of what they see in films.
When it comes to the top-notch of cinematic experiences, no other country can boast of theirs than New York City. Its remarkable and various presentation of cinemas remains unrivaled.
As a film-lover, I am sure that you might have encountered odds like obstructed views, bad seats, technical flaws, broken air-conditioners, and at worse, noisy multitudes in some cinemas.
But this list of best movie theaters in New York city that I am about to share with you are, in fact, the perfect places to comfortably witness the biggest, latest and best films in town.
As a visitor, resident or film-lover in New York City, while you search for any movie theater around, you should also consider the fact that not all multiplexes are constructed the same. And so, this list provides you the cinemas that you could go to without feeling disappointed at the end.
And, if you've decided to go to the cinemas any time soon, by now you should know that it all depends on what you want to do there. But going to the right place will make your trip more delightful – even if what you really want to watch is not what they are filming.
Best Movie Theaters in New York City 2023
So with a lot of options running through your mind, we have graded the very best of the New York city's movie theaters – established on what you really want.
1. AMC LOEWS LINCOLN SQUARE 13
Experience the real IMAX 90mm or IMAX 3D movies in Amc Loews Lincoln square 13. Do not be deceived by other fake IMAX screen that is obviously all over town.
Having the largest IMAX screen in the whole of New York City, the adornments for various entrance to the theater contains wide lobbies and amusing passage.
You will be impressed by their high sound quality and exquisite projection. You don't really need to be bothered about something to eat or drink, because they offer services right at your seat.
Head straight to 1998 Broadway, New York 10023 and be rest assured that your eye will be buried in the legit largest screen In NYC. Travelers who have been to the AMC Loews Lincoln square 13 testified to the friendliness of the staffs, a menu containing wonderful food and beverages and the IMAX movies.
Amongst others, the experience becomes totally different in AMC facilities, ranging from their innovative menu to the spacious rocking chairs and the premium IMAX. A trial will definitely convince you.
2. REGAL UNION SQUARE STADIUM 14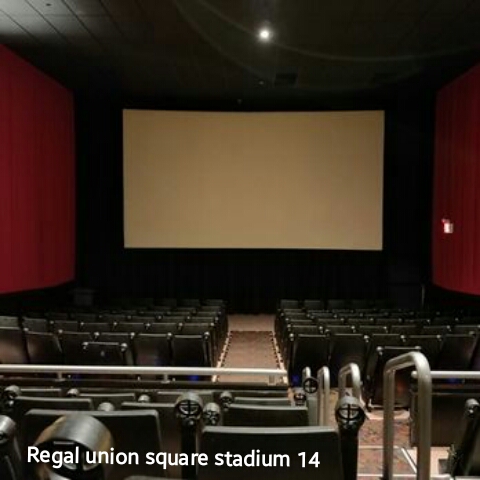 The regal union square 14 in 850 Broadway, New York is yet another awesome multiplex with multiple screens.
Being one of the most successful theaters in Manhattan, its body comprises mostly of Major-studio Hollywood that is standard. Regal is also remarkable for its 4dx theme pack. Watching a movie in regal is revitalizing. It allows you to disconnect, relax and have a splendid time.
There are a lot of theaters scattered around the union squares but regal outshines notwithstanding. Unlike the rest, there's a wide selection of viewing options from different screens and immersive projections on the walls. These include screen X, the blockbuster hit 4dx, and the regular 2D.
The theater is also accessible to those who use wheelchairs as there is an accessible entrance, lift, and seatings available for them.
3. THE PARIS THEATER
Get thrilled by this single-screen theater with gallery seatings that features both foreign and independent films. I will recommend this place as a great idea for a date, because of its homelike and intimate setting. The city's cinema Paris center in midtown is just a stone throw from the 57th street subway. Special hearing apparatus is made available for those who have impaired hearing and also accessible for handicaps.
Being the last single-screen theater in New York, the Paris theater has a jazzy corridor and luxuriant, blue availing interior. A touch of class in the restroom downstairs will surely impress you.
If you are in desperate need of soothing air conditioning, you should not think of anywhere else. This movie theater shows only one film in a week and has about six hundred deluxe seats for viewers in it.
Apart from featuring other films, the theater focal points on both contemporary French and classic films.
Its location is right opposite the popular plaza hotel, one of the best hotel in upper west side NYC.
4. AMC LOEWS 84TH STREET 6
Till date, people are still loving the comfortable red armchair seats of AMC Loews 84th street 6 – this, in a sense, makes the cinema stand out.
There is also a lot of space within the seats so that you do not feel too close to your neighbor. Although, the cost of a ticket in this theater is a little bit more overpriced than the others, it is worth it.
This theater is particularly unique and different from all other AMC theater centers.
Get the opportunity to reserve your seats in advance via their mobile app, you do not need to get there super early to reserve one.
AMC Loews 84th street excels as a result of its standard popcorn, fountain soda machine that allows you to do the mixology of tons of flavors, lots of candy and appetizing foods.
Are you thinking of the best screen views? Their screens are huge with 3D surround sound and equipped with large leather.
What would make any New Yorker fall in love with the AMC Loews 84th street 6 is the automatic reclining red armchair seats and the satisfactory auditorium with quality sound and projection.
In one, it is clean, handicapped accessible, so comfy and presence of elevators. You will never be in a more enticing theater!.
If you have not been there before, just go reluctantly for the first time, and after then, begin to count how many times you go there in a month.
5. LANDMARK SUNSHINE CINEMAS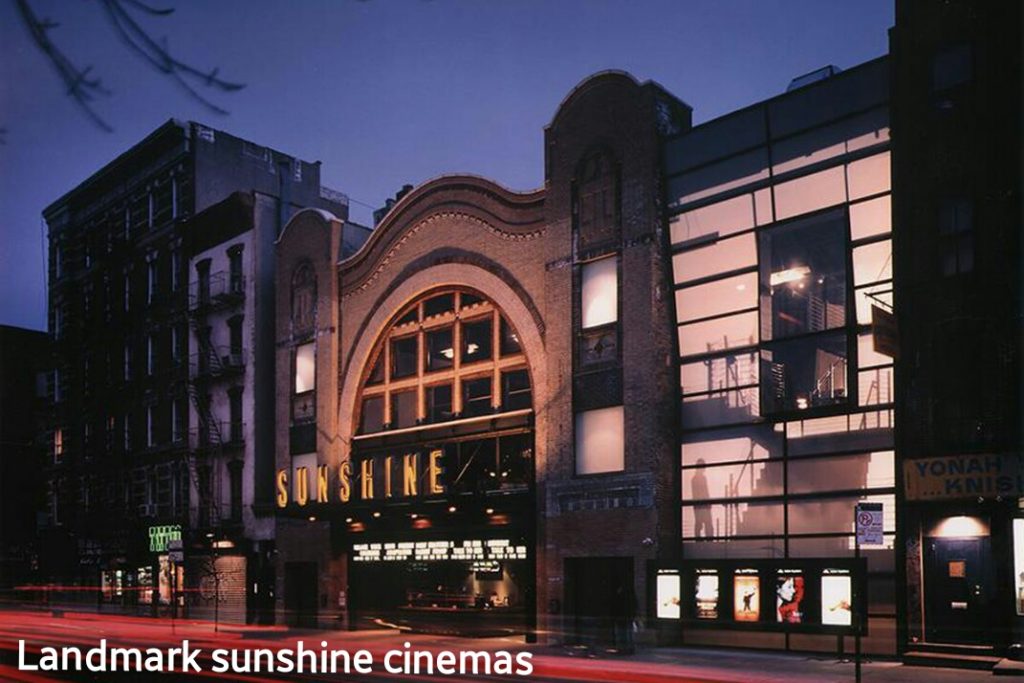 You will not want to miss the serving of great popcorn and other privileges for the second time after your first experience at the landmark sunshine cinema.
After it fully reopened in 2001, they now display art-house, independent and select Hollywood films on five different screens back in the former Hippodrome movie theater.
6. ANTHOLOGY FILM ARCHIVES
This is a movie theater that screens nine hundred programs in a year. I will call it a means of continuous preservation of films and a means of provision of reference to films.
Currently seated in the east village, the anthology film archive is a serious place for enthusiasts of film and cinema. It was founded in 1969 and still undergoing the yet-to-be-completed Essential cinema repertory collections.
Actually, no drinks or snacks are sold here as it is not really meant to make profit. It is really a suitable theater for hard-core film dweebs.
7. REGAL BATTERY PARK STADIUM 11
When there is an extensive crowd in a movie theater, the possibility of enjoying its presentation is very very slim. This can pose great trouble to the theater especially during weekends in Manhattan. But the case seems to be the opposite in the regal battery park. Getting a seat of your choice to watch the best films in Hollywood is very easy in regal battery park.
The capability of the theater to comfortably contain a lot of people remains a queer and an amazing mystery to most people. Generally, regal is proudly one of many hosts to the enormously popular Tribeca film festival.
Regal battery park stadium 11 is the best place to see a movie and have the entire place all for yourself. The process of getting there is somewhat indirect. To start with, you will find it at the top of a building that seems like an office or hotel.
You will have to go through the foyer and head towards an elevator, and within a twinkle of an eye, you find yourself in a very large, conventional and sophisticated movie theater.
It may be somehow weird to sit in this large auditorium with a few numbers of people in there. But still, if you really want to be alone while watching movies in a theater, head straight to regal in battery park city.
Top Most Memorable Places in China
8. AMC LOEWS KIPS BAY 15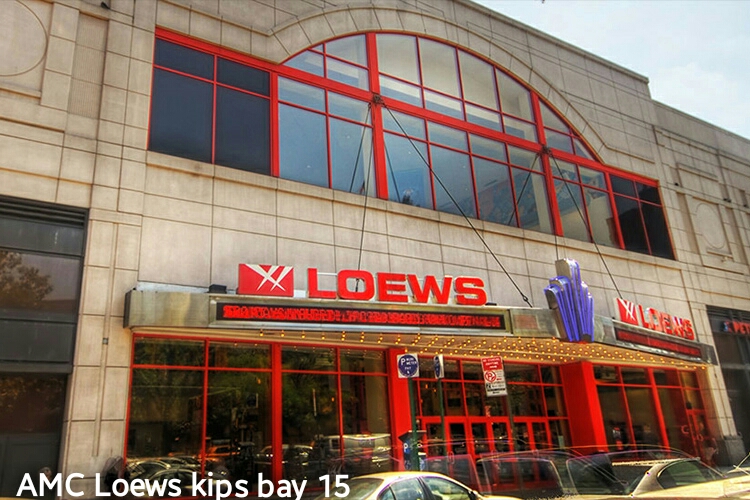 One can never get obstructed views in AMC Loews kips bay 15. In terms of avoiding the crowd in cinemas, this is the best place for you to go as it receives quite a few numbers of viewers in each program.
The seats have been carefully arranged such that one could watch without any experience of blocking whatsoever.
It is a great option to consider to catch new releases and for recent films that have been out. During showtimes, the AMC Loews kips bay 15 is often quite and subtle with the thin crowd in it.
9. MUSEUM OF MODERN ART – MOMA
The museum of murder art boasts of its remarkable and expansive film 'ex post facto'. Interestingly, the films that are displayed in the MOMA are usually centered around a particular theme based on the choice of the director, or a specific movement or something significant.
Tickets to films are added to museum admission. MOMA features only two theaters and exhibits are typically devoted to the film.
10. ZEIGFELD THEATER
Just like the city cinema Paris theater, Ziegfeld is another single-screen cinema with classical screening room which advertises luxurious engagements.
Its renovation in 2017 has drastically transformed it into a gorgeous and spacious multiplex as it now continues to be a site of attraction to film-lovers, galas, and premiers.
Zeigfeld has been in operation since 1969, the legendary cinema is amazement in an age of businesslike event space. The Chandeliers and lushing red velvet drapes will catch your eyes.
11. THE MUSEUM OF THE MOVING IMAGE
Visit the most magnificent theater curtain on earth with the main screen as a state of the art affair. The museum of the moving image in Astora offers one of the museum's excellent collections and new film release. The hair of Frankenstein's bride can also be found amidst the changing exhibition and communal gallery.
It screens both contemporary and classic movies, displaying over four hundred films in a year. Not only this, but the museum of the moving image is also among the topmost cinemas in New York City as a result of its features on interesting history, the technology of the moving image, wonderful repertory and techniques.
Similarly to MOMA, the tickets to watch daily movies in The Museum of the Moving Image is Included in the admission into the museum.
12. THE FILM FORUM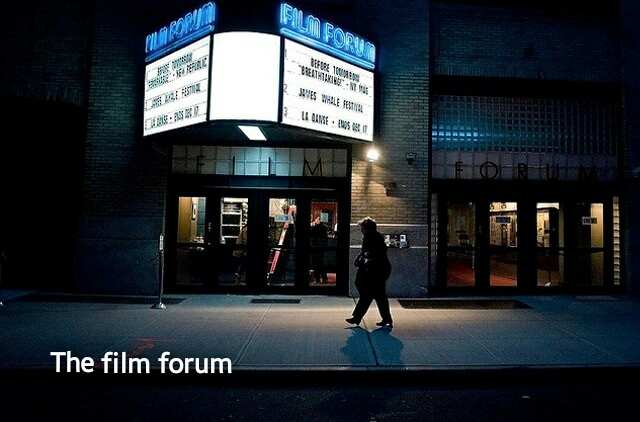 As a matter of fact, Film Forum is the only cinema in New York City that is a not-for-profit independent movie theater. It showcases foreign films, independent films, and collection programming.
It is not really obvious that Film Forum often dedicate two of its three screens to films that are old, but they actually do.
13. CINEMA VILLAGE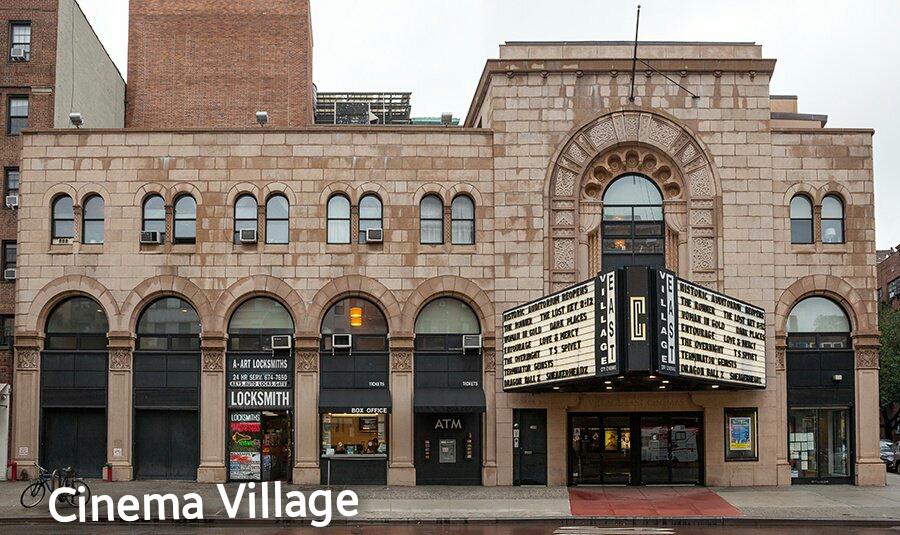 And finally, The Cinema village which is the oldest operating cinema in Greenwich village – and still functioning quite well.
It has three large screens each with about sixty-seven to one hundred and fifty-six viewers. They also feature in foreign and independent films.
In as much as going to the cinema is mostly seen by people as a social activity, there is absolutely nothing wrong in having your own personal taste of movie theaters. And hopefully, this article has helped in actualizing such.