Whether you want it or not, the end of the year is gradually coming to knock at the door. The frenzy and catchy activities that envelops the atmosphere at the end of the year and welcoming of a new year celebration will soon begin to take its place across the country.
Families who go out on vacation to have a wonderful time together during December holidays are surely going to look out for the best destinations in the country to have fun together. 
In Nigeria, there are some tourist attractions that can make your adventure worth storytelling for children in Alma mater. 
Instead of choosing to spend the whole full December at home, it is a great choice to visit a new environment, explore new places, meet new people, and most of all, make fresh, exciting memories. 
Nigeria is a blessed country with an abundance of tourist attractions that includes natural scenery which will serve as a good environment to spend December vacation. 
In a bid to spend quality time with your family, friends, loved ones, relatives, significant other, or… Yourself alone… 
Hold on! 
Yourself alone?? No, that would not be nice.
Either way, we bring to you our top 10 destinations located here in Nigeria to spend the best out of the December vacation. These are places that you can be sure to catch fun and have memorable experiences that will last for a lifetime. 
Best destinations in Nigeria to Visit This December

 
1. Obudu Cattle Ranch in Calabar
This is among the most popular destinations in Nigeria where families go to spend a vacation during the December period. There are so many things to do at this tourist attraction. This is a place where most foreign tourists come to have fun in Nigeria and appreciate the wonders of nature. 
The Obudu Cattle ranch is naturally blessed with a water park, water slide and swimming pool for those who are good at swimming or those who love the view of a large body of water. It is also the best place to feel nature itself from the forest hiking to the views of animal creatures of the air, sea, and land. It has been developed into a more sophisticated place to spend a vacation and you do not need to worry about the cost of things there as they are affordable and quality. 
2.  Wonderland Amusement Park & Resort
This is yet another place to get adorable entertainment and spend leisure time. It has been reformed into a world-class recreation center. 
It also surrounds itself with famous landmarks of Nigeria which include the national stadium opposite it. 
At Wonderland Amusement Park & Resort, one can enjoy fun games and cool rides for guests. Ranging from little kids to adults and the grannies.
This is the best place to relax and reminisce about all the good times you've had throughout the whole year as you celebrate the beginning of a new one. 
3. Idanre Hills
Have you ever heard of Idanre Hills? Sounds like a tourist attraction in some other African Country but it is actually located here in Nigeria. 
This particular place holds lots of historical items about our motherland as well as other architectural works. It is located in Ondo state and filled with naturally arranged ills that will blow your mind. 
What makes it a really interesting place for tourists is that it will take you 640 steps to get to the top of the hill and 5 resting spots in these steps have been constructed so far. 
For those who love the view of green vegetation and everything that has to do with nature, the Idanre hills is a very good place to have a memorable time this December. 
4. Yankari Games Reserve
The Yankari games reserve should not sound new to any Nigerian child who loves wildlife. Children in Nigeria are even taught in school that the Yankari games reserve is among the Best locations to see baboons, hippos, elephants, and other 50 species of wildlife including a variety of fishes and birds.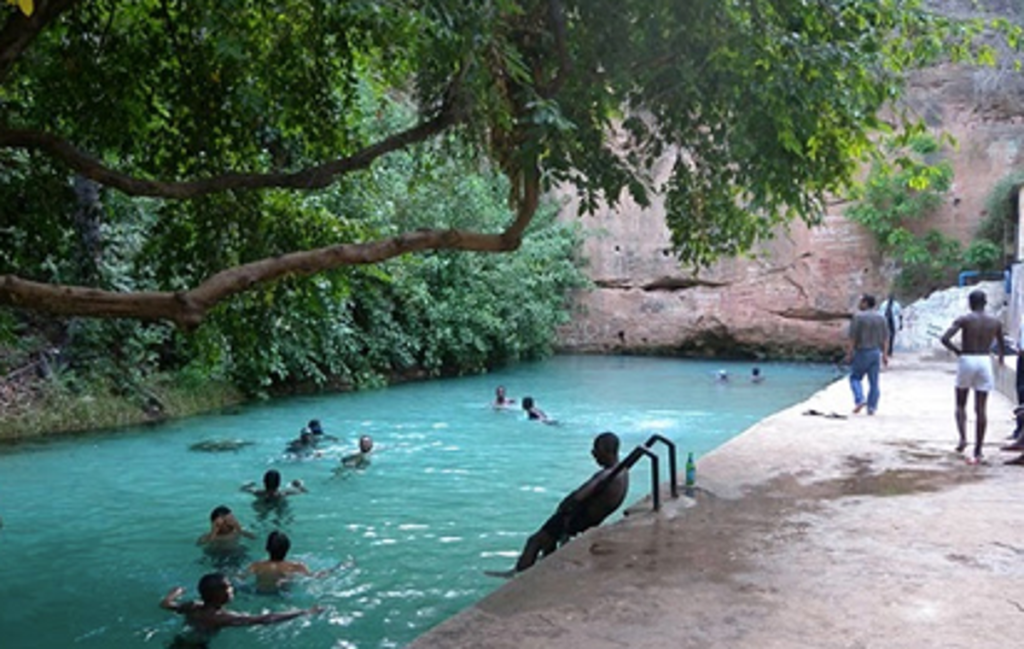 There is also a natural swimming ground called the Wikki River. It is a place that is suitable for accommodation and holds both outdoor and indoor sports activities. 
5. Ikeja Shopping Mall
There are various ways to spend your December holiday. The way you choose to go about your vacation can determine what location or destination you'd opt for. 
A visit to the Ikeja shopping mall in Lagos State is a sure way to catch pure fun and entertainment. To me, I'd say it is more than going to a shopping mall. 
Located at the heart of Ikeja, this place is well known for offering a range of entertainment options for families including cinema and kiddies zone.
The shopping mall also houses dozens of restaurants that will serve you the best definition of an African dish on a hot plate. 
6. Okomu National Park, Edo State
We can not conclude our list of best locations to visit this December without mentioning Okomu national park in Edo state. You know why? 
This is a perfect place for a picnic! Family picnics! An umbrella, mats, drinks, foods, fruits, balls, and we are good to go. 
Being a Rainforest, you will be thrilled at the view of  150 varieties of birds each with its distinctive acrobatic display. 
This is where you will see  White-throated monkey, forest elephants, and other 33 wildlife species.
7. Olumo Rock, Abeokuta -Tourist Centre
Olumo rock is among, if not the most popular rocks in Nigeria. Located In the capital of Ogun State this is an area that comprises of massive outcrops of granite rocks of prehistoric formation.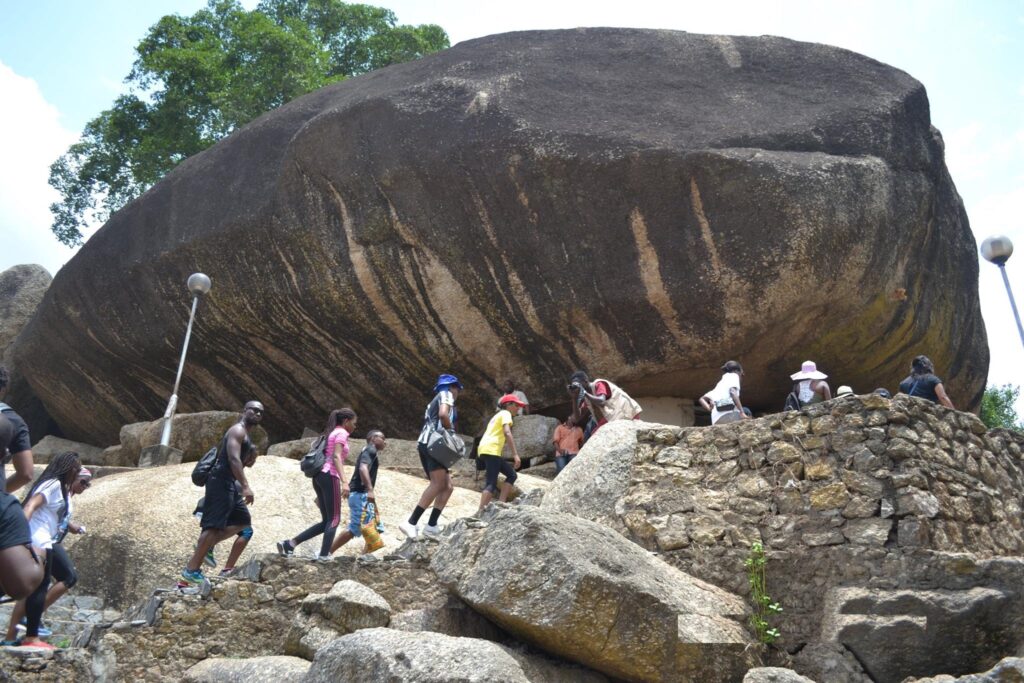 This is a cool place to be because by standing on a rock you can see the whole of a state. The caves in the rock are some of the things that will interest you. The highest point of the rock is about 137m above sea level. What a sight! 
8. Enemabia Warm Spring
A journey to Benue state in Nigeria to spend the December holiday will be worth the while when you take your family or friends to the Ememabia Warm Spring. This is a sure place to swim in natural water and enjoy every bit of it!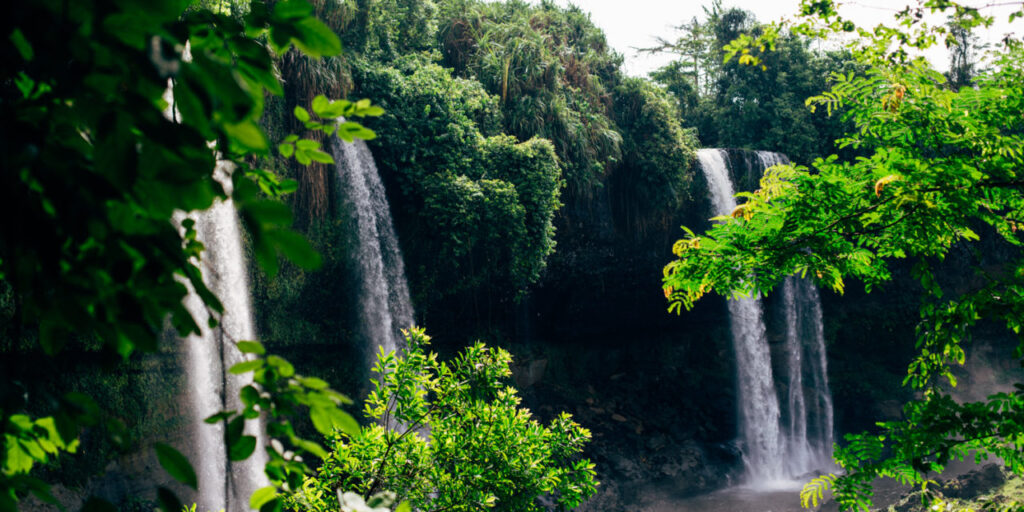 Schools also choose this place as a great location for an excursion in Benue state. Get your ass away from that couch you have been sitting on throughout the whole year and head to the Enemabia warm spring for some great sightseeing adventure.
9. Owu Water Falls
Maybe it is my bad that I have failed to mention this earlier, but when you are reserving the best for the last, then we should be talking of a waterfall in Kwara state – Owu waterfalls.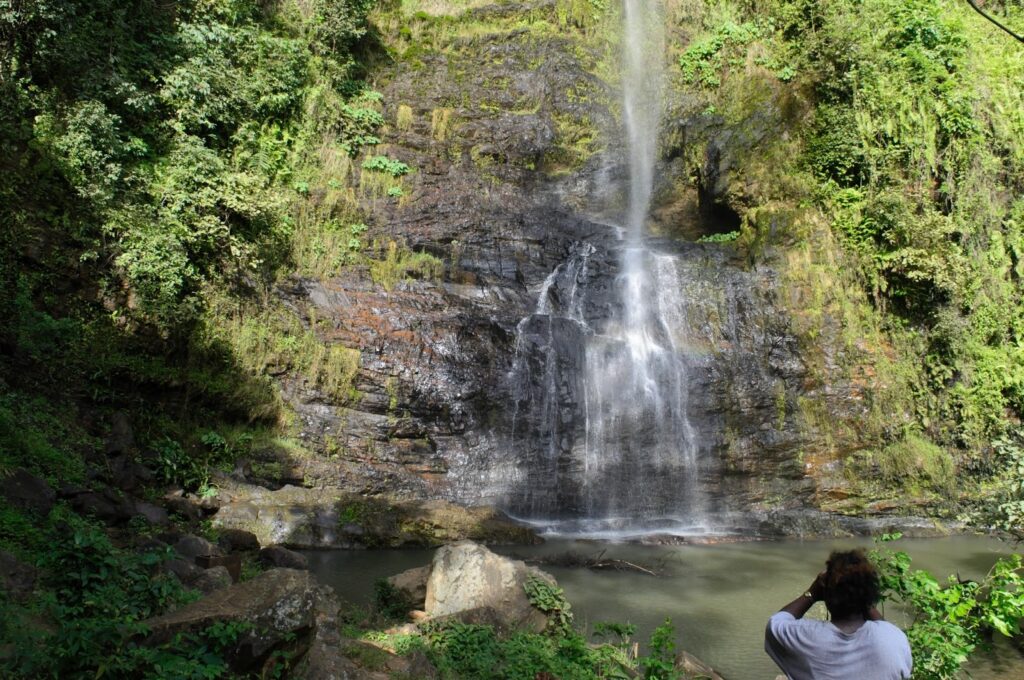 Precisely located at Owu Isin Local Government of Kwara State, it is a very dreamt scenery to visit this December. There is an ice-cold water pool formed below the waterfall which tumbles down 330 feet through the rocky landscape. 
While it is a very favorable location for most Nigerians, especially in that state it is advised to know the guidelines when traveling to a waterfall scene before hitting the road. This is a place you can go even on a budget.
10. The Benin City National Museum
Lastly, on this awesome list, we will talk about a wonderful and well-known location in Benin city of Edo State. 
I learned the Edo language during my stay last year but I'm not really fluent. I'd have love say one or two things about this location in their dialect but that may have you twisting your tongue. LOL. 
Benin is known for its deep historical background and pre-colonial stories. The   Benin City National Museum has on exhibition an array of artifacts related to the Benin Empire like terracotta, bronze figures, and cast iron pieces. 
I can recommend this place to anyone who is looking for the best place to visit this December as there is no dull moment when visiting this museum. Go with a jotter, camera and… Well, a company. 
So where is your favorite destination in Nigeria? Ever been there? Do you think such a place will make this awesome list? I'll be in the comment section to hear from you!