Omu Resort – Ideal Place For Adventure in Lagos!
Following our recent blog post on IMAX cinemas at Lekki, it is time for us to quickly take you through one of the city's most reputable resort. The OMU resort. Trust me; this is an ideal place to spend a vacation.
Where is OMU resort, what happens there? What are the exciting things to do there? And how do  I get to its location? These are some of the things we shall be discussing on this blog post about the phenomenal OMU resort here in Lagos. Read on to find out more
Omu Resort is a Recreational center nestled in the Ajah axis of Lagos, with a lot of fun activities suitable for single adults as well as families, which allows guests to experience and be inspired by the wonders of nature. It houses a zoo; Freshwater SeaWorld; Wax museum; Amusement rides; Go-karting; Quad biking and more.
Rested in a peaceful neighborhood, it occupies a land area of approximately 22 hectares and boarded to the North by the imposing clear waters of OMU CREEK.  On a geographical view, the resort can be found in a rainforest environment, hence visitors are able to experience and be inspired by the wonders of nature.
All about Omu Resort – Nigeria
The Resort has a flat fee policy which means you pay once and have access to the entire facility all day long, with minor restrictions on go-karts/quads and rides. Omu Resort is located along the Lekki-Epe road, Lagos, about 10 minutes drive from the Lagos Business school. Omu Resort is designed as a destination point for schools, families and corporate organizations.
The resort also has an event hall for weddings, parties, awards, retreats and any other function that comes to mind. There is plenty of parking space for cars and ground to set up a tent & have a good party. Omu Resort has the first wax museum in Africa, the first purpose-built race track in Nigeria with a different array of karts for all ages, Amusement park, horse riding, quad biking, Wax museum, archery, darts, a zoo with 40 animals from around Africa and lots more.
A trip to this resort is perfect for fun lovers, families and adventurous adults who wish to discover the fun side of life. Features include breakfast and lunch and return transfers to Omu Resort (pick up and drop off at Wakanow HQ). This package also offers Prime Ticket Access to all activities including Paintballing, Go Karting, Quad Biking, Roller Skating, Zoo, Seaworld, Horse Riding, Archery, and lots more.
At the entrance of the resort, you will find amazing pictures and facts on forests and some fruits, you will feel very close to nature with all the local decoration and friendly people waiting to receive visitors.
Straight to the zoo, which will always remain my most interesting parts, you will find lots of friendly animals, most of which you would love to share their pictures and videos on your Instagram page.
Omu Resort is an ideal place for entertainment, activity, & adventure. The Resort gets it's patronage from schools (all levels), families, companies coming for retreats, departments within companies, tourists, couples & individual adventurers.
Just so you know, Omu resort now offers its guests, the ability to purchase tickets directly from the comfort of their homes with the introduction of online ticket purchase at OMU RESORT ONLINE PAYMENT. This development will help the resort grow exponentially and serve guests better
Where is Omu Resort and How You Can Get There?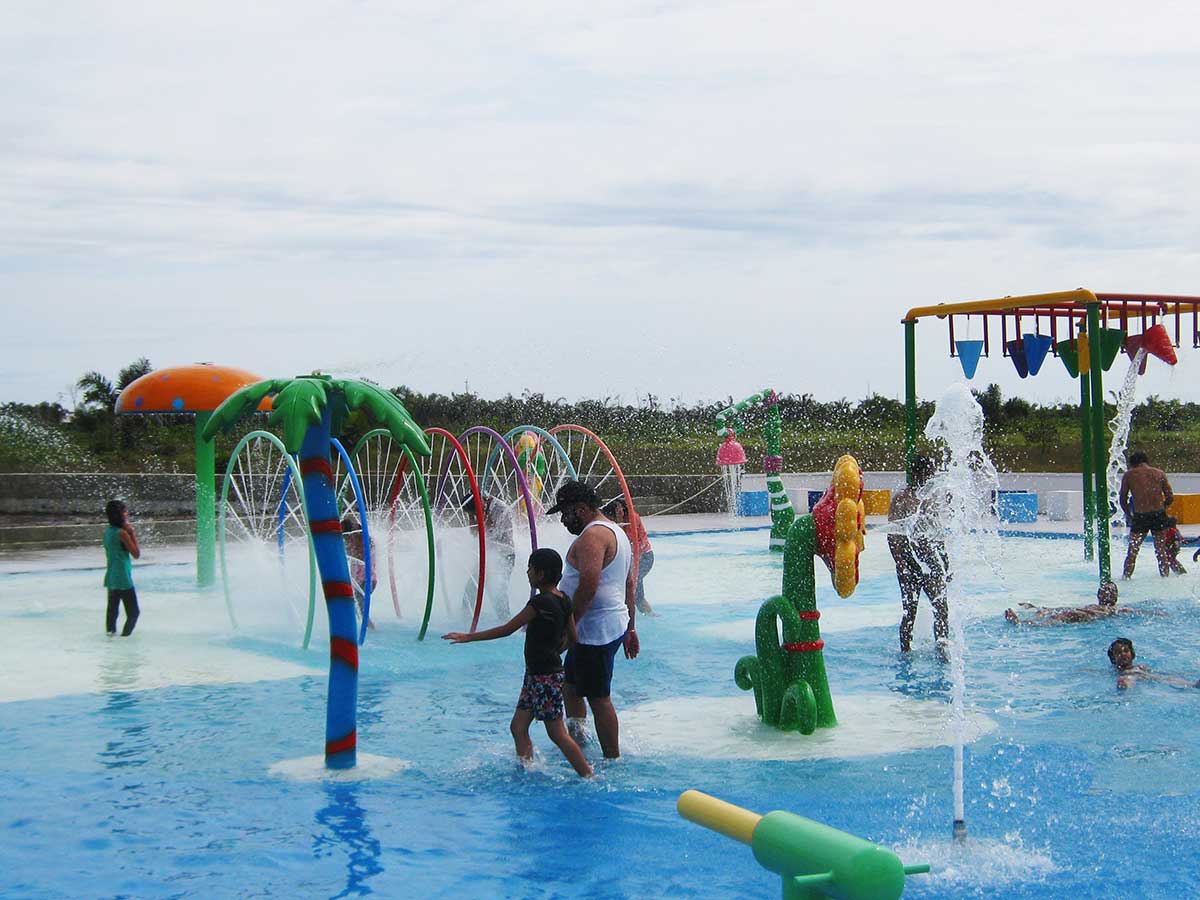 Omu Resort is known amongst the residents of Ibeju Lekki due to the presence of a live male lion present in its zoo. From the Lekki toll gate, the resort is a straight drive past the Lekki Peninsula, Chevron roundabout, Victoria Garden City, Ajah roundabout, Lakowe town into Bodije town. There is a sign to your left that says OMU RESORT. A 'U' turn is available shortly after the spot where this sign is & here you can turn, then take a right into the road leading to the resort. A good practice is to let the resort know you are coming so they make preparations for your arrival & if it arises, make special preparations to receive you.
The resort is a 45-minute drive from the first Lekki toll gate after the Lagos Oriental Hotel. The resort is about 22 hectares large and currently uses about 4 hectares for a go-kart raceway, a mini-golf course, a zoo, a sea-world, merry go rides, event venue & wax museum for starters. The management plans to add accommodation to the resort in the nearest future
When you enter the reception, you will see two 'empty' cases to your right. While you might think they are empty, please look again & see the first of the many wonders you will witness at the resort. A royal python lives in one & a python in the other. You will see written editorials on the left hanging on the wall. You will meet with the receptionist who will confirm your booking with smiles while you take a seat (or offload the car for a full day of activities).
Afterward, you get introduced to your guide, then the fun starts.
How Much Do Activities Cost at Omu Resort?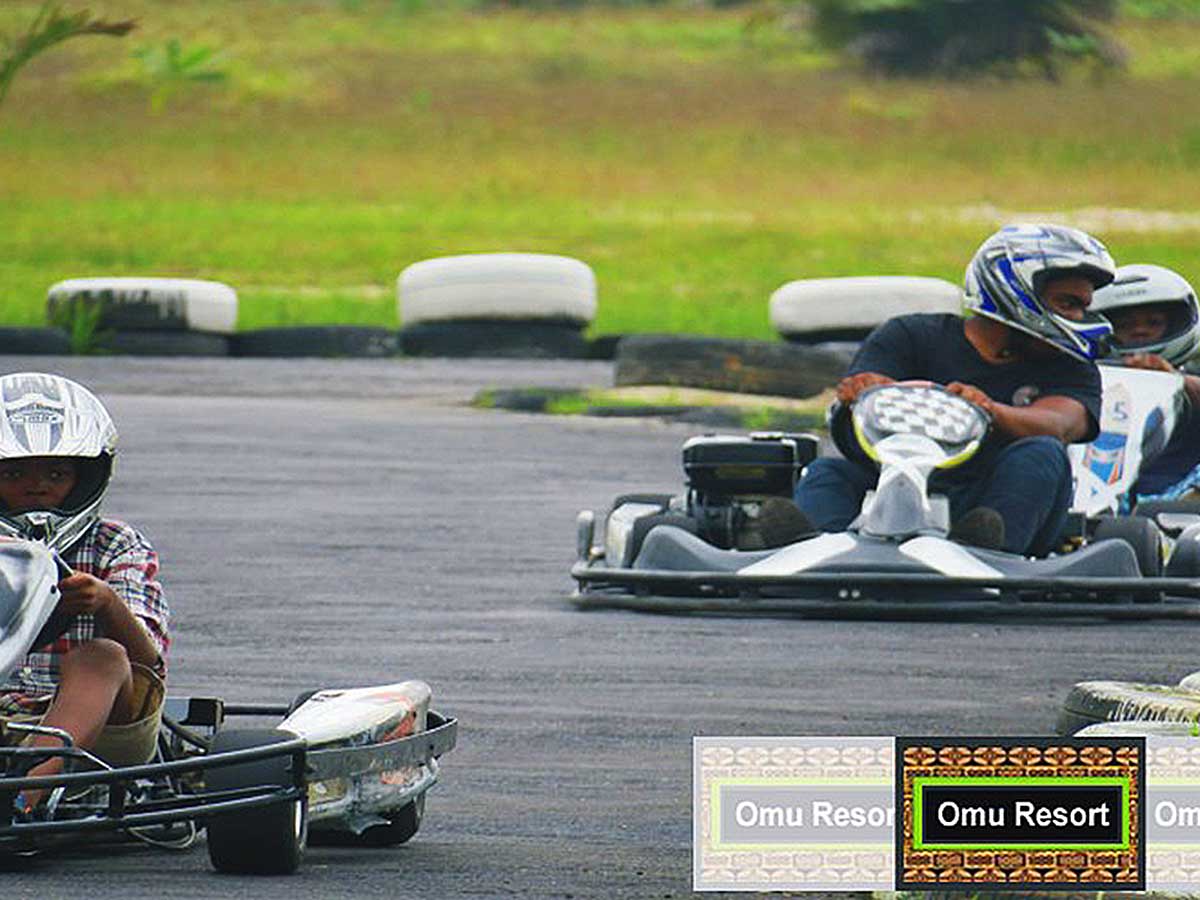 The resort is known around Lagos as one of the other places where you can Go-Kart, then go quad biking after (or vice versa). What makes this resort a favorite is a fact you pay a one-off fee to get access to most (N3000) or all (N5000) the facilities available on the resort.
In other words, paying N3, 000 gets you access to the resort to see the zoo, go on any of the merry rides, play at the bouncing castle, visit the wax museum, see the species of fish at the Seaworld, play archery & darts as well as play volleyball.
Paying N5, 000 instead gives you access to all of the above plus the added fun benefit of going on the Go Kart, Quad biking & playing mini-golf. (The resort allows you pay N18, 000 for 5 people instead of N25, 000)
Contact Details
These are the Numbers to call to enquire further prices i.e when there is a change in the price of an activity:
+234 814 281 2406
+234 703 584 7296
Website: www.omuresort.com
5 Interesting Things To Do at Omu Resort
The Kart Is Fabulous!
The Go Kart experience is easy to enter if you calm down & just follow the simple instructions given to you by the instructor. The Go Kart raceway is a good place to challenge each other to the best driver. The go-kart instructor will help you enter, show you your pedals & start the engine for you. Hold your left leg on the brake to keep the Go Kart grounded, release it gently to start moving, add some acceleration by lightly pressing on the acceleration pedal, off you go!
Do Not Miss The Quad Biking
A quad bike is a four-wheeled vehicle use don sand dunes & at beaches.
The Quad biking field is big! Really it is! Ride over sand dunes & pump up your adrenaline on these bikes in a race, catch a game or rescue the damsel in distress.
The Amusement Park
The bouncing castle is ideal for kids, most adults prefer to remain on the volleyball court. The amusement park has an archery unit, bouncing castle, volleyball court. You have to try the arrows. They are all 'swag' & 'heroic'…Well, till you shoot off point. Don't be discouraged, just nuke another arrow, pull, aim, miss again. (laughs at you). Please don't point the arrows at anyone in a joking manner.
Wax Museum
Inside the Wax Museum is the dart session. Darts are lovely till you miss the board totally. The wax museum has 3 wax sculptures. They are of Bola Ahmed Tinubu, Present Governor Babatunde Raji Fashola & Late President Musa Yar'adua. You should take pictures with the wax images. They are lifelike.
The Wax Museum houses the restaurant & bar where you can have refreshments. As at the time of writing this, you should ask the resort to prepare for refreshments if you want to. You have the option of bringing in your own refreshments.
Omu Resort is opened every day, there is an event venue for guests. How does getting married with a lion in the background sound like? The resort can be used to celebrate a birthday, a party, a company picnic/retreat, shooting a movie.
Exciting, Yet Dreadful Zoo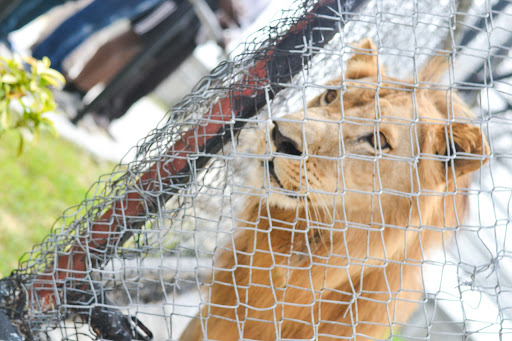 Bring some treats for them but first ask the zoo guide if it's okay to feed them. The zoo guide will take you through each animal shed.  The Zoo at Omu Resort is exciting & wonderful. The first point of call will be the geese shed. They will be actually calling you instead. You will see the camel(it isn't an adult yet), porcupine (the spines look scary), the monkeys are fun to play with, the hyena looks bored but is actually enjoying the attention from you. The lion is usually the last point of call for most people. There is a cage, it roams round & round. If you are lucky, or maybe if you requested, you will get to see the lion feed on a goat. Add the lion flicking its neck to the 'crack' sound of the goat you will loudly hear & you will begin to feel a new respect for this King of the Jungle. (We named the lion Simba).
In conclusion, you can see that a day at Omu Resort has so much for you. We advise you to spend a weekend here to squeeze the main fun juice out of the place. The resort has packages that will suit your budget. You can even get a discount if you have a huge crowd turn up.
The resort is safe, affordable & lots of fun. The activities will energize you, tire you & re-energize you bringing out your true fun side. Thinking of the perfect adventure to kick-start the new year? Think Omu Resort. Let us hear your experience and learn from them if you have ever visited this wonderful place!