The UAE implemented the Golden visa in 2019 popularly known as the UAE Golden Visa. This Visa enables foreigners to live, work and study in the UAE without the need for a national sponsor and with 100% ownership of their business on the UAE's mainland. These visas are issued for 5 years tenure or 10 years duration and can be renewed automatically when it expires.
The UAE government provides the Golden Visas to entrepreneurs, investors, bright students with promising scientific capabilities, specialized talents, and researchers in various fields of science and knowledge.
To be eligible for the UAE Golden Visa, the applicant must meet certain criteria, such as having a track record of success in their field, owning a successful business, or investing in certain sectors of the UAE economy. The application process is straightforward, and once approved, the visa is renewable every 10 years.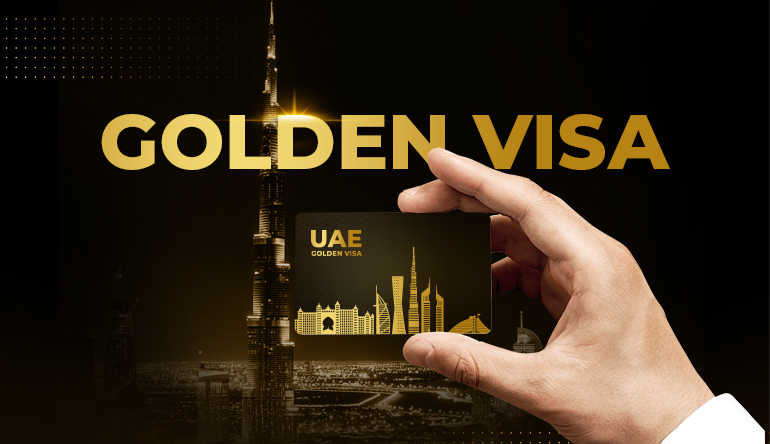 Eligibility for UAE Golden Visa
The UAE Golden Visa is a coveted residency permit for foreign nationals looking to settle in the UAE for an extended period. The eligibility criteria for the Golden Visa are straightforward, and applicants must meet specific conditions to qualify. To be eligible, the applicant must meet one of the following criteria:
For a 10-year visa, individuals with a public investment worth at least AED 10 million (in the form of either an investment fund or a company) can apply for this visa.
The Government will extend a 10-year visa to business partners (each) who contribute AED 10 million.
On the other hand, individuals with at least AED 5 million can apply for a 5-year visa.
Individuals should keep the amount invested for 3 years and must not loan it.
In the case of assets, individuals must have full ownership. In addition, 60% of the fund must not be in the real estate sector.
The long-term UAE golden visa includes the holder's spouse, children, one chief executive director, and an advisor.
The Golden Visa is valid for five or ten years and is renewable. It allows the holder to live and work in the UAE without the need for a national sponsor. Additionally, it also enables them to sponsor their immediate family members to live in the UAE with them.
Overall, the UAE Golden Visa is an excellent opportunity for foreign nationals to establish long-term residency in the UAE. If you meet the eligibility criteria, you should consider applying for this visa to reap the benefits it offers.
Documents Required
If you're considering applying for the UAE Golden Visa, it's important to know what documents you'll need. Here are the key documents required for the application process: 
Passport: Your passport should be valid for at least six months and have a clear copy of the biographical page.
Visa Application Form: You'll need to fill out a visa application form, which you can find on the UAE government website.
Passport-size photographs: You'll need to provide two passport photos that are recent and meet the UAE's photo requirements.
Proof of Financial Stability: This can include bank statements, salary certificates, and other documents that demonstrate your financial stability.
Health Insurance: You'll need to provide proof of health insurance coverage in the UAE.
Background check: You'll need to provide a background check from your home country or any other country where you've lived for the past five years.
Investment Documents: If you're applying for the Golden Visa through an investment, you'll need to provide the relevant investment documents.
Make sure you have all of these documents ready before applying for the UAE Golden Visa. With the right paperwork, you'll be well on your way to securing your Golden Visa and enjoying all the benefits that come with it.
Post Application Processes
Here's what you need to know about the post-application processes in a nutshell.
After submitting your application, you can track its status online using the relevant government portal.
Once your application is approved, you will receive an email notification to schedule an appointment for biometric data collection at an approved center.
During the appointment, you will have your fingerprints, photo, and signature taken.
After your biometrics data are collected, you will need to complete a medical fitness test at an approved medical center.
The medical test involves a physical examination, blood test, and chest X-ray.
Once you pass the medical test, you will receive a fitness certificate that you will need to submit to the relevant authorities.
Additionally, you may be asked to attend an interview with the immigration authorities.
To prepare for the interview, make sure you have all the necessary documents and information related to your application.
You may be asked questions related to your background, education, work experience, and reasons for applying for the Golden Visa.
Once all the post-application processes are completed, you will receive your Golden Visa, which is valid for up to 10 years, depending on the category you applied for.
Approval Duration
The UAE Golden Visa is a highly sought-after visa that grants long-term residency to eligible individuals. The approval duration for the Golden Visa varies depending on the category and criteria being met. Typically, it takes around 30 days for the visa to be approved. However, the process can take longer if additional documents or clarifications are required. It's important to note that meeting the eligibility criteria does not guarantee approval. The UAE government reviews each application thoroughly before making a decision.
Reasons You May Be Denied the UAE Golden Visa
If you're looking to get a UAE Golden Visa, it's important to know that your application may be denied. There are several reasons why this can happen, such as providing incorrect information or not meeting the eligibility criteria. Other factors that may cause a visa denial include criminal records, health issues, and insufficient documentation.
Hence, it's important that you have all the necessary paperwork in place and be completely honest on your application to increase your chances of approval. Additionally, seeking professional assistance from an experienced immigration lawyer can also help you navigate the application process and avoid any potential mistakes.
Conclusion
To sum up, the UAE Golden Visa is a fantastic opportunity for individuals looking to live and work in the UAE for an extended period. With its long-term validity and flexibility, the Golden Visa offers a host of benefits, including residency, employment, and investment opportunities.
To apply for the Golden Visa, you need to meet the eligibility criteria and submit the required documents online. The post-application processes involve biometric data collection, medical fitness tests, and possibly an interview with the immigration authorities.
It's essential to ensure that you have all the necessary documents and information ready before applying for the Golden Visa to avoid delays or rejection of your application. You can seek the help of a reputable immigration consultant to guide you through the application process and maximize your chances of success.