Fast Lagos Top Spas in Ikeja, Lagos
We all deserve to be pampered after going through the bustle and hustle of normal city life in Lagos. When you think of where to relieve from the rigours of surviving in Lagos – the most competitive city in the country, then you know you need one of the best spas in Lagos.
In this connection, FastLagos brings you the best places in Lagos where you stand a chance to be pampered even beyond what you think you deserve. Lagos is a City where health and wellness should be a matter of general importance.
At these spas listed here, you can get to enjoy a plethora of services, from manicures and pedicures to scrubs and body treatments. From our list, you will discover the ideal place to have your basic treatments and where you can book very special therapy.
List of Top 10 Spa in Lagos
Bioviva Holistic Spa

Rejuvenee Spa In Lagos

Studio 6

Beauty Beseech

Rose and Velvet Medspa

Apples and Oranges

Peaches and Cream

Venivici Health Club and Urban Spa

B-Natural MedSpa

Skin glow Therapeutics
Bioviva Holistic Spa (Best Spa In Ikeja & Ajao Estate, Lagos)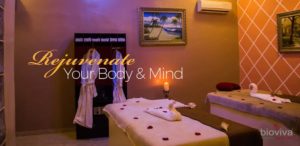 I'll label Bioviva Holistic Spa as the grandmasters of Spa if there's any label like that. The Bioviva Holistic Spa is a nice spa in Lagos, now moved to Ajao Estate, airport road because they are a classy and comfortable home of wellness and beauty
After your visit, you will definitely leave Bioviva exquisitely gorgeous, feeling great and rejuvenated. They are confident that through their professional services and amazing beauty products, you are guaranteed a world-class service.
It features perfection in Chiropathy, acupuncture, advanced skincare, facial treatment, special treatment for the aged, vitamin infusion, regenerating treatments, Christian meditation centre, and of course, spa packages
Why is it called a Holistic Spa?
Holistic Health is actually an approach to life. this ancient approach to health considers the whole person and how he or she interacts with his or her environment.
They do not just focus on illness or specific parts of the body alone. Bioviva Holistic Spa focuses on the whole of you.
Contact: 09010002221, 0706 104 0109 (Indicate you came through Fastlagos for bonus services at the Spa.)
Rejuvenee Spa In Lagos
If you are in Lagos and need a place to relax and get rejuvenated, then try out one of the highlighted spas and you can be sure to get wholly refreshed and rejuvenated. Here is one place where you can escape from all the chaos and distresses that Lagos could avail on a daily basis.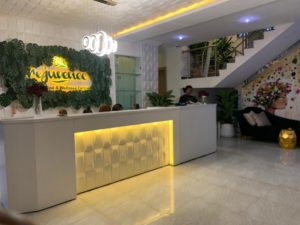 This particular spa cuddles at 55 Isaac John St, Ikeja GRA, Lagos. It can be easily located. It is regarded as the best spa in the state.
Rejuvenee is a holistic beauty and wellness center. They provide a range of world-class services that promotes inner serenity and general well-being. Inspired by the best minds, hands, and facilities. They are keen on excellence. Having been in the beauty, luxury spa and lifestyle industry for two decades, they've built a synergy of expertise, paying particular attention to detail.
Their services range from facial rejuvenation, body wraps & scrubs to cosmetic dental services. They also have a medical spa, henna lounge, nail studio, lash bar, hair salon, exercise studio, weight loss consultant and men's grooming room along with a terraced private area for intimate events.
Their staff are highly trained, very professional and friendly. Following a holistic analysis of your unique characteristics and concerns, their professional therapists will tailor each session for results that achieve your desired balance of physical and emotional revitalization. With their hallmark in the beauty industry, Rejuvenee spa & wellness center visit will be an end to end experience.
Studio 6
Studio 6 spa avail one of the best modern spa services including but not limited to: full body waxing, make up application, hand and foot treatments.
You can locate this state-of-the-art spa inside Lekki Phase 1, with their ultra-modern equipment.
Beauty Beseech
Let me be point-black. Beauty Beseech Spa & Salon is one sure path to rejuvenation through therapies and treatments that meet all ancient and modern international and local practices.
With some the best hands in the industry at the hem of affairs, This exotic spa and salon situated in Surulere are fully equipped with state of the art facilities for a seamlessly-fused spa and salon experience.
Rose and Velvet Medspa
If you have spent time on the internet searching for a perfect blend of customized personal spa services with high-quality products and hygiene standards, then look no further than Rose and Velvet Medspa.
Located in Ikeja, Rose and Velvet Spa to gives you one of the best SPA experiences as it offers qualitative facial treatments, body massages, body rejuvenation, chemical peeling as well as skin products that help you maintain a balanced & even skin.
Apples and Oranges
classy treatments in a very serene and peaceful environment, where you can be pampered beyond your taste are all you will find in apple and oranges
Located in Victoria Island, it is unarguably ranked as one of the foremost salon and spa, is said to be one of the first salon and spa, in Nigeria.
Peaches and Cream
We just talked about apple and oranges, now let's keep the symbolism in the thread. Peaches and cream hold exceptional beauty and wellness treatments.
A therapeutic method is applied to achieve stress-relief, wellbeing and stress management.
Venivici Health Club and Urban Spa
You need to visit Vennivici as soon as you can. Why? Hospitality is a top priority at Venivici, with well trained and dedicated staff tenderly putting you back together.
Don't be too carried away with the lush to try out these: Aromatherapy. body exfoliation. body brushing, biological age testing, colon hydrotherapy, facial treatments, mud wrap, peppermint sea twist, waxing
You can locate this lovely spa in Lagos at No 69a Admiralty way in Lekki Phase 1. There are a variety of awesome packages that availed at Venivici, they include bridal shower, spa splurge, grooms attention, executive retreat and so much more.
B-Natural MedSpa
One section I can not forget to mention in this spa is B-natural gym and fitness center, maybe you too could burn that extra calorie. Yeah?
B-Natural Medspa is a world-class facilities for cosmetics, laser, and skin treatments. Their services include but are not limited to manicure and pedicure, complexion blending, acne therapy, hand and foot treatments, hair removal,  botox cosmetic, massage, hydra facial derma fillers, facial Cutera titan mole, skin tag removal and a host of other skincare treatment.
With a team of qualified medical staff and specialists, the spa offers qualitative laser treatment, spa, and cosmetic dermatology.
Skin glow Therapeutics
If you are looking for one place in Lagos where you can get quality spa services to rejuvenate, renew and restore famished strength and lost beauty, the Skinglow Therapeutics is a sure bet.
In addition, it is a beauty center with a smooth blend of western technology and African herbs and styles to achieve optimum client satisfaction.
Located in Ikeja, skin glow holds a large variety of beauty products and services that takes care of your in skincare, Spa and makeover needs.
Now that you have seen it all, what are you waiting for?
Lastly, if you think that there are other top-notch spas in Lagos that FastLagos must include in this list, then do let us know by making your comments and we assure you to look up to them.
Bon, voyage!